Unless you've been living under a rock for the last few years, or somehow chose to disconnect from all human interaction/social media, you'd have noticed that the food industry has been going through a rather important, although controversial, change. More and more people around the world are opting out of their cultural upbringings and embracing veganism. While it's definitely been slower on the uptake here—after all, Indian cuisine is largely vegetarian and easily customisable to make it vegan—it's beginning to catch on with those who've been brought up on more varied diets too.
A further extension of this now includes vegan baked goods, because while our diet is good and taken care of, we'd all like a cheat day. And what's better than a cheat day with cheat food that's not really "cheat" but delicious at the same time? If you're all about that clean, vegan life, or you just want to experiment, we've got you covered. Bookmark this one, because trust us, it's going to come in handy for those days you need a pick-me-up.
I. Vegan & Gluten-Free Chocolate Chip Oatmeal Cookies at Bombay Bizarre Baker
The story behind the Bombay Bizarre came from an unlikely place. Tara Kapur's own son was diagnosed with certain food allergies so she ended up creating her first vegan cake in celebration of his birthday. And ever since she found her vegan cakes getting steadily popular: Tara substitutes apple cider vinegar and sunflower oil instead of butter in her cakes. Using heaps of dark chocolate and cocoa to boot, her vegan and gluten-free chocolate chip oatmeal cookies are not to be missed! Honestly, we wouldn't even know the difference between her goodies and the dairy-full versions.
Cost: INR 500 for 8.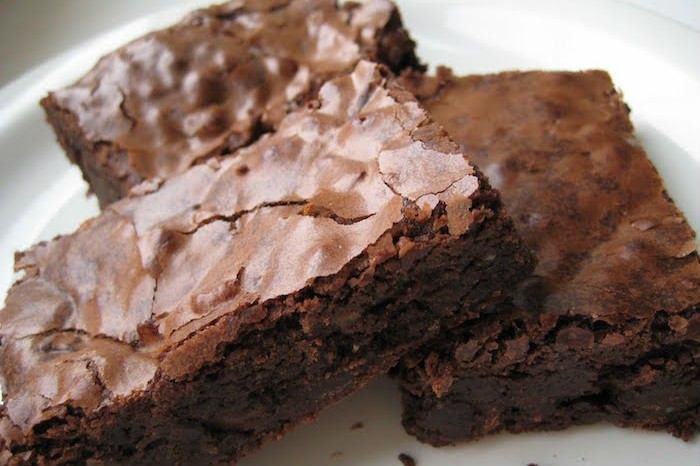 II. Homemade Chocolate Sorbet at Bombay Salad Co.
If there's ever a time you feel like treating yourself with an indulgent delight — this is it. It's purely vegan but it is oh so rich! There's no way you'll finish two whole scoops of this delicious dark chocolate sorbet yourself. Bombay Salad Co. knows what they're doing and while the rest of their dessert menu isn't vegan, they do have several food options that are. However, keep a look out for their daily specials! You may just get lucky and find yet another vegan treat coming your way.
Cost: INR 170 for a double scoop.
III. Blueberry Tea Cakes at Choco Kisses
A confectionery house in Chembur, Choco Kisses is the lovechild of Kairvi and Jayshri Mehta's efforts transformed into an eggless dessert bakery. Kairvi, who worked in the Pastry department at Grand Hyatt along with her mother, established ChocoKisses around four years ago.They specialize in vegan hampers and corporate gifting, and have been supplying to caterers, corporate, exhibitions, and trade shows alike. Their Blueberry Tea Cake is primarily made by using olive oil and almond butter and has many loyal patrons who swear by its light and fresh flavours.
Cost: INR 1,100 per Kilo.
IV. Crunch Chocolate Rocks at Get Baked
Sinhaar Rodrigues believes in a simple philosophy - don't cut down on junk food, just eat the healthy kind. Now that's the kind of philosophy we can get behind! Get Baked is a comfortable little pop-up situated in Colaba, which also offers a home-delivery service. Their legendary Crunch Chocolate Rocks are divine and substitute butter with extra virgin coconut oil to give it that extra-special something, and the natural talent of Chief Baker Prerna Rodrigues adds to it. Oats, nuts like almonds, walnuts, seeds like sunflower seeds and pumpkin seeds, maple syrup and organic brown sugar are often used in their confections so don't be shy about trying other options on their menu.
Cost: INR 240 for 200 grams.
V. Vegan Orange & Dark Chocolate Cake at Healthy Treats
Divya Ranglani introduced the concept of Healthy Treats with a her simple desire to substitute the unhealthy with the healthy. A self-identified naturopath, she completed a formal course in baking and now bakes vegan cakes with the sole intent of promoting natural as instead of refined elements in baking. Instead of sugar and refined flour, she uses fruits or natural sweeteners and whole wheat flour with oats. Collaborating with son Hitesh, this home delivery service is based in Bandra, but do offer catering nationwide. Her Vegan Orange & Dark Chocolate Cake will please anyone with multiple dietary requirements and is made from fresh orange, vegan dark chocolate and whole wheat.
Cost: Rs. 1,700 per Kilo
VI. Chocolate Chip Muffins at Ketaki's Konfections
Ketaki Bhosale set up shop way back in 2008, and as a former Hotel Management student and Oberoi Trident Chef, we trust her judgment when it comes to vegan baking. An expert in exotic and premium chocolates, cakes and confections, Ketaki's uses only pure, natural ingredients - no chemical-based rising agents for any of her items. None of her products have any dairy fats or oils.
Cost: INR 1,200 for 12 mini muffins.
VII. Banana Bread at Organza Foods
As a dedication to her late mother, Asmita Deshmukh launched Organza Foods as a home-food delivery service based in Chembur. Their aesthetic is a raw, earthy approach to cooking. They offer packed tiffin services, snacks and healthy meals. Their foods are vegan, unrefined sugars, gluten-free, flax and other forms of seeds. Non-vegans should check this out as they do not compromise on flavour. Their Banana bread is an example of this, made with seeds, walnut, ripped banana, jaggery powder and flour. Absolutely no gluten and no refined sugar.
Cost: INR 200 for 400 grams loaf.
VIII. Apple Cinnamon at The Green Stove
Made-to-order is probably what vegans consider paradise. However, it only gets better when the chef in question already knows what you need. A vegan herself, Rithika Ramesh established The Green Stove in early 2010, with an aim to provide a plethora of options to people like herself. And a plethora it is. The Green Stove also makes amazing wedding cakes! Don't worry - your health is in safe, sugar-free hands.
Vegan food made-to-order would bring joy to any Vegan's mouth guaranteed. The chef in question, Ti
Cost: INR 800 per kilo.
IX. No-Bake Cheesecake at Vegan Bites
Possible the most-well known bakery service in the city, Samir Pasad and Hemali Gala (Raw Food Chef) have run this joint for four years. Their specialty is their no-bake cheesecake; with a crust soaked with dehydrated nuts and a cheese layer compromising of cashews, coconut meat and natural sweeteners like coconut nectar. The cheesecakes come in a myriad of flavours, all fruit-based.
Cost: INR 4500 for an 8" pie.
X. Raw Cacao Chocolate Ice Cream at Yogisattva

Through practicing Ashtanga Yoga, Raveena Taurani discovered raw foods and started a journey by training in Bali as a chef and raw food specialist. All of Yogisattva's foods are made with 100% pure ingredients, nutritionally coated and high on antioxidnats. They are also completely organix, dairy, refined-sugar and gluten free. Their Raw Cacao Chocolate Icecream is a particular winner; it's completely dairy-free and sweetened with maple syrup.
Cost: INR 700 for 200 ml.
Research by Meharunnisa Sahib.
If you liked this article, we suggest you read:
Mumbai, Try This 100% Vegan Burger Joint For Lunch Today
Bangalore, Indulge In Gluten-Free Goodies From This Healthy Bakery
Bombay's 13 Most Delicious Vegan Dishes & Where You Can Eat Them [Vol II]