It tends to take an occasion--preferably of the numerical kind--for one to really reflect on their respective journeys. It's usually a more profound personal realisation to most but last week, it was The Reggae Rajahs that had us introspecting about the same thanks to the announcement of their 5 year anniversary (6th February) which just happened to coincide with Bob Marley's 69th birthday. As they continue blazing trails of red, green & yellow across our country courtesy an international tour, Homegrown pays homage to India's first reggae sound system in the best way we could cook up.
Sonically speaking, it's been easy enough in India's alternative music scene for artists to pronounce themselves as the 'first' of their kind when it comes to pushing sounds whether it's as pioneers of bass or future garage or, of course, reggae, simply due to the sheer nascence of it. But when it comes to really sticking out the struggles of introducing something fresh to audiences; not to mention putting the country on a much larger map for that sound, not everyone has what it takes. Unsurprisingly, The Reggae Rajahs are making their own rules. Mostly because it's what they do best.
Over the past 5 years, the original trio made up of DJ MoCity, Diggy Dang and Mr. Herbalist have quite literally done it all as India's first reggae Sound System. They've travelled the world, forged some serious international bonds and created a stellar fan-base completely from scratch. The one thing we're still often left confused by however, happens to be their on-stage vocabulary. No one's denying their performance energy and we're pretty sure we'd enjoy their shows all the same but if they're going to be around for another five years, we figured it was time to get them to decode their dictionary.
Read on as The Reggae Rajahs tell you what's what in a raasta man's dictionary.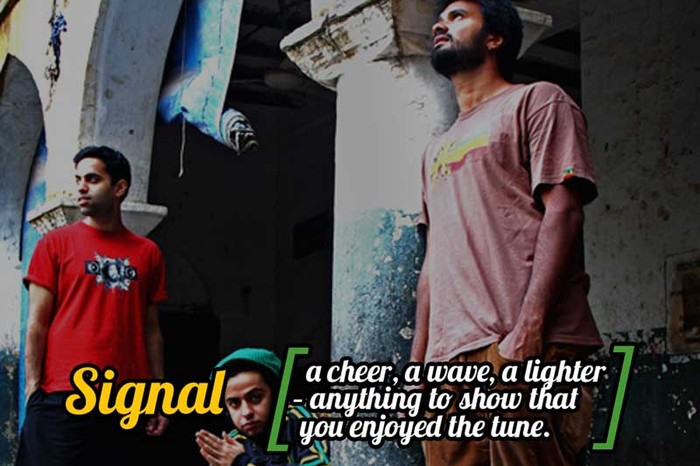 Here are the remaining dates of their 5th Anniversary Tour:
Image Credit: Mudit Ganguly