Shweta Malhotra
is a 32-year-old graphic designer from Mumbai who is currently based in Delhi, India. Post graduating in Applied Arts from Sophia Polytechnic in 2004, she started out as an art director with advertising agencies like McCann Erickson, Contract Advertising and Ogilvy. In Feb 2008, post a short stint at Fabrica (Benetton's Visual Arts Research Centre in Italy) she decided to pursue a career in Graphic Design and has since worked with firms like Grandmother India and Rediffusion Y&R Design.
She is currently working as an independent graphic designer. She has a keen interest in design for lifestyle, music and fashion. And a love for all things design - photography, illustration, typography, fashion, products, interiors etc.
Recently, Shweta reached out to us with her innovative Fashion illustrations series that represent her favourite design picks from Lakme India Fashion week that quite literally took over the pulse of the city just a few weeks ago. We found the series to be a unique and well-executed recap of sorts of an event that's used to more traditional coverage so we felt compelled to showcase her work for more people to see.
Here's what Shweta had to say about her own project:
"The idea for the illustrations basically stemmed from an ongoing online graphic design experiment of mine -www.somethingcooleveryday.in - where I essentially create and post some sort of graphic art/design piece everyday. So when Lakme India Fashion Week started, I started off doing these illustrations - one everyday of my favourite pieces.This by the end of it turned into a series of 10 illustrations which I then decided to publish on my blog .Besides I've always been very interested and passionate about fashion, and I'd like to think I have a flair for it. As a result of this, i'm always trying to marry graphic design and fashion in different ways. And this would be one such attempt. It was a super fun project for me, following fashion week and then curating my favorite looks and illustrating them."
And what of her own personal style and her selection process for the series?
"My favorite designers' collections from the summer resort 2014 would be Payal Khandwala, Sailex and Pratima Pandey.My personal style is very graphic, minimal, relaxed and sometimes androgynous. I tend to go for more comfort, anti - fit and relaxed silhouettes. I guess this aesthetic also kind of translated onto the selection of my favorite looks to create this series."
Scroll on to see the ten ilustrations that made the cut:
I. Purvi Doshi
II. Sailex
III. Nishka Lulla
IV. Payal Khandwala
V. Krishna Mehta
VI. Huemn
VII. Pratima Pandey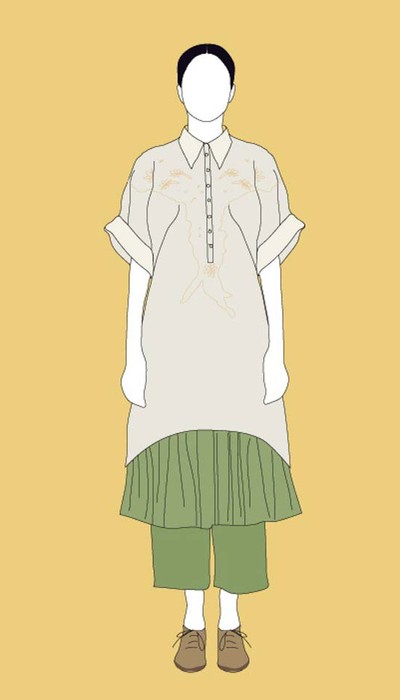 VIII. Sailex 
IX. Payal Khandwala
X. Payal Khandwala 
You can get better acquainted with Shweta's work on her website or her blog.