We laugh in the face of those who think a backpack is just the same as any old bag. Oh no, you did not just reduce a trusty companion to just 'any old bag' - this is so much more than that. A real backpack has the same qualities as a partner-in-crime in the truest sense. No adventure is complete without it, it has space for all that you need, and it rarely, if ever, fails you. We understand this, and so we've scoured the interweb for the most trustworthy (and sartorially-slick) backpacks being made in India right now. If you're in pursuit for your newest partner in crime, we've got your back.
This Calcutta-based company works with third and fourth generation artisans to make high quality, eco-friendly and high quality bags made of Burlap. What makes these bags unique is their use of the vintage wash technique, giving their products an aged finish, complete with salvaged leather making for straps and corners folds. Their palette extends to over 23 colours, and you can even customise elements of the bag.
Where to get it: You can write to them on [email protected] or place an order on their Instagram.
Cost: INR 3,200 onwards.
II. Nappa Dori
Literally translating into 'leather and thread', the aesthetic of this company celebrates the intrinsic traveller, steeped heavily in nostalgia of an India long gone. Specialized in handcrafted leather products, Nappa Dori's bags are available in solid and printed canvas with leather embellishments. These backpacks are sure to get you on an explorer's quest for the unknown.
Where to get it: Online or at any of their stores in Bangalore, Delhi and Mumbai.
Cost: INR 1,050 onwards.
III. Cord
Cord's leather bags are constructed with pure vision, structure and style. We spoke to Pranav Guglani, one of the founders who told us that "the traditional technique of hand-stitching the leather is applied to almost all our bags which makes every piece look unique and carries a character of its own. Each piece we make is detailed to be used day in and out with a focus on comfort, material and interaction to body." Their use of coloured fabric sets the leather off beautifully, and they have myriad options to choose from.
Where to get it: You can buy your bags online, directly from their website.
Cost: INR 3,800 onwards.
IV. Poem Bags
This brand's forte lies in leatherwork, and is perfect for anyone looking for a classic no fuss black backpack - if you don't already have one, this is an absolute essential. The beauty is in whats hidden, and that's what we love about Poem's bags. While black on the outside, there is a pop of colour in the lining of the back on the inside - you can choose from white, red and yellow.
If you're in the mood for something a little more fun, they're got you covered with their BNB backpacks, complete with eyes and a zipper nose - we like what we see.
Where to get it: Visit their Facebook page for more details.
Cost: Visit their Facebook page for more details.
V. Haans
Combining global aesthetic and Indian craft, Haans' bags are high quality and designed for the world traveller. These bas are wholly leather, but what is unique are the tones of leather used, for brown is never just 'brown'. We've got our eyes on the Brooklyn Bag as it is not a colour that we come across often, and is perfectly gender neutral.
Where to get it: You can buy these bags here.
Cost: INR 5,499 onwards.
VI. Aulive
The new kid on the block, Aulive's handcrafted bags are made of vegan, cruelty-free leather (or PU leather). Founded by husband-wife duo, the brand's core philosophy is that fashion shouldn't bleed. Clean cuts, simple shapes and a minimalist design aesthetic, their totes, backpacks and laptop slings are all made of artificial leather and the differences (when compared to genuine leather) are barely perceptible.
We love the Explorer backpack that's practically screaming for a road trip.
Where: You can buy these bags here.
Cost: INR 2,499 onwards.
VII. Forth Goods
Forth Goods started off as a Bangalore based graphic designer's personal project. However, it soon evolved into a design driven business venture. Founder Varun Panesar aims to create premium designer goods that changes the way India interacts with the products it uses. "The products are looked from the perspective of how an interaction can be simplified to make it easily accessible and also make a product that is very personal to the user, because we feel good around things that are very personal to us. Also, products like wallets and bags, we tend to keep them most of the time with us. That's where the materials play a vital role, not only to make the products last for at least a decade but also it changes over time as per how it is used," explains Panesar.
The brand uses 'full grain' vegetable tanned leather, which is the highest quality and the most durable leather tanned with all natural tannins. Forth Goods products are largely unisex and their designs ensure that they can be use by anyone.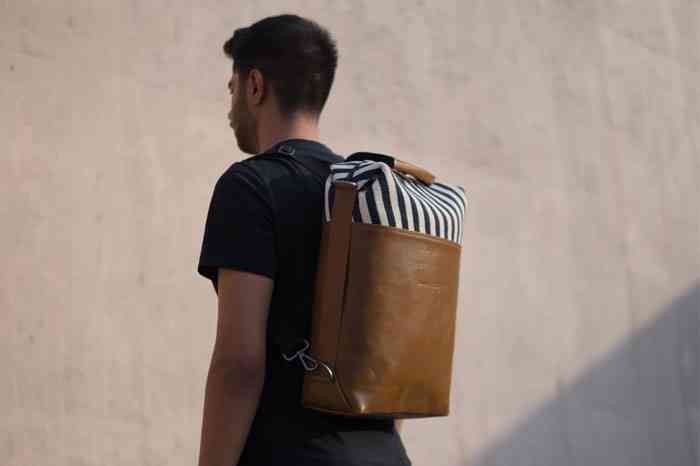 Where: You can buy these bags here.
Cost: Visit their website for more details.
VIII. Grain
A coming together of artisanal skills, premium leather and innovative processes, Grain is the brainchild of Mumbai based designer Avinash Bhalerao. The simplicity of the designs and the use of classic colours that make Grain's creations stand out. "Genuine leather lasts a life time. I wanted to make something that lasts long and looks better with age. Leather has a unique quality of getting better and younger every day. Grain bags are such that there is no other material in the inside lining, just leather. We keep it raw to have a natural look and finish, thus making them more premium. We may have roots in leather but are also open to other materials which will help us achieve our vision of making decent, minimal bags. We have already started experimenting with different cloth and canvas materials," said Bhalerao in an interview with The City Story.
Where: You can get your hands on Grain's products through their social media accounts.
Cost: Write in to [email protected] for more information.
IX. The Postbox
Born out of a vision to provide a platform for upcoming designers and photographers, the Postbox features some wonderfully unique items that you will definitely want in your wardrobve. They carefully select artists who have something different to offer making sure that their assemblage, though small, will remain distinctive.
23-year-old Madhuvanthi Senthil Kumar launched Postbox immediately after her undergrad in Fashion Design from NAFA, Singapore, with 26-year-old Nikhil Joseph, who was working at Facebook at the time. "Postbox was launched in Sept, 2014, as a platform with 6 products for upcoming artists and designers in the country. With every collaboration, we chose to introduce a different type of work that designers and artists are capable of," Madhuvanthi says.
Where: Visit their website for more details.
Cost: Visit their website for more details.
If you enjoyed this article, we suggest you read:
We Profiled 4 Indians Who Have Given Up Fast Fashion
These Sisters Can Turn Your Old Clothes Into A Quilt Of Memories
This Indian Documentary Shows Us The Real Price Of Fast Fashion