On the internet, anonymity is power. Hoards of ageless, genderless, faceless people connecting across servers, across all boundaries...but let that falter for a second and the true biases are revealed. For so many years video games have been thought of as a male pastime. No one can really pinpoint when or why this stereotype arose but its malicious fallout has continued til today. Many female gamers have suffered abuse, threats or worse for doing nothing but enjoy their hobby. Today statistics show that, at least in the US, almost half the number of gamers are women and yet there is a constant unspoken need to validate their existence.
In India nobody knows this world better than Dipica Jerome, a well known figure within the gaming and cosplay community, she is hailed as the first woman to set up her own gaming parlour in Mumbai. A well-known haunt for the Khar's gamers, Maximum Gaming was set up in 2009 and was the go-to spot for anything from practice sessions to LAN championships. With 18 powerful gaming PC's with Intel's Core 2 Quads and Core i7's, complete with NVIDIA Physx technology they are ready for some heavy duty sessions, they are also hailed as the first gaming cafe to support NVIDIA 3D technology.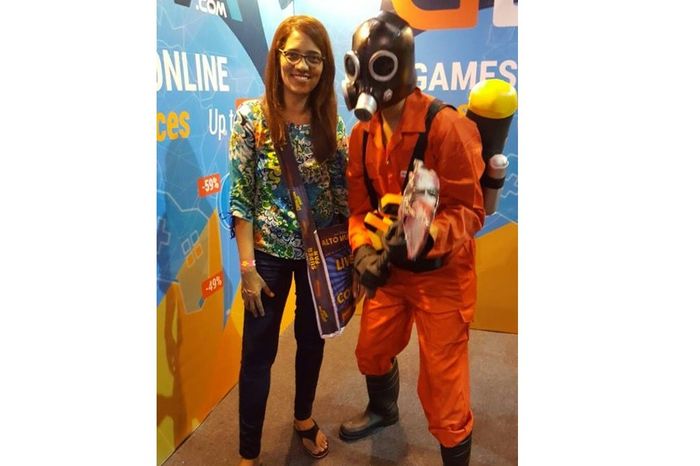 She first entered the world of gaming when she worked as the Marketing Head of a Digital Arts Company. When she was younger she played a number of different video games, games that are iconic of a generation " I used to play Pacman, Digger, Prince of Persia, Dave etc. Also played a lot on Atari, PS2 and PS3." she says. But it wasn't until she was working that she started taking it more seriously. Every evening after work the team would gather and play Crysis or CNC Generals and this is when the idea of making it a profession first occurred to her. She and her friend Alex D'Souza decided to convert the Digital Institute into a cafe for people who shared their passion "We really liked gaming and we also wanted the art of gaming to grow" And so Maximum Gaming turned from a dream into a reality.
Even though she was the first woman involved in setting up her own arena she felt that the process was fairly easy for her. At the time there were a lot of people who were interested in playing but didn't always have the resources or facilities and Maximum provided the space they needed. "We got a lot of gamers who played for fun and also for competition. There were many tournaments that we organised in house and in colleges and other venues too." Dipica herself is a regular at gaming conventions, her personal favourite is the E3 Expo but you'll always see her at the Comic Cons in various cities promoting her second love, cosplay. She heads various groups for Gamer Girls and a festival for Indian cosplayers called Cosleela, there is no end to her exploits!
Dipica feels that the possibilities for women in the field have realy expanded in the last few years. The stigma and unwanted attention of being a girl gamer is a thing of the past. "The Gaming scenario for women in gaming has changed drastically. Now a lot of women are into gaming be it programming, developing, designing or playing." This independence means that there are more women within the gaming network as well as in the competitive arena
To be helming a place like this requires dedication and passion and Dipica has that in spades she loves what she does and takes every opportunity to enjoy the games she hosts. She especially appreciates the perks of being her own boss, "I don't have to worry about taking permission or paying for the game time" she jokes.
Kids will probably still fight uphill battles trying to sell their mothers on the benefits of video games but perhaps now they can cite Dipica as an example of success. India has made huge leaps in their attitudes towards female gamers to the point that women interested in entering the industry have nothing to fear. Dipica's message to all these girls is simple "Play your game well and have good team spirit if its a team game. If its a solo game then you are the boss." The community is growing every day and now it no longer matters who you are, it's how you play that counts.
Feature image is for representative purposes only.