Few words can evoke emotions like a single photograph can. A single image weaves a story, leaving behind a visual imprint that resonates with an individual — a feat that Taha Ahmad hopes to do through his project. His interest in documentary photography led him to the narrow lanes of the old city of Lucknow, right to the Badlas. "Lucknow's culture has always compelled me to dig into the roots of its rich civilization, which has been a centre for arts and literature in the diverse landscape of India," says Taha.
Mukaish Badla is a form of embroidery, which at its peak flourished in the city, travelling across the world in all its glory. First introduced by the Nawabs who ruled the city to beautify 'chikankari', another form of embroidery, Mukaish ended up becoming an independent style. This form of art initially used precious metals like gold and silver to make metallic wires, which previously restricted the craft to the ruling class. The artisans behind this art were referred to as Badlas, who would twist these metallic wires into fabric to create magnificent metallic embroidery on the fabric.
"The story I am trying to tell through my photographs is the story of these artisans — their downfall, struggle and survival. They make a bare minimum of $2-3 per day, for 10 hours of hard work in extremely harsh conditions," explains Taha, delving into the reason behind this series. The city once had more than 3,000 Badlas but today, a mere 20 to 25 exist, all of them aged above 65. The art and artisans may soon die out amidst the frenzy driven by 'development' and 'modernization', due to apathy from the government.
It wasn't an easy feat trying to find the 20 or so Badlas in a city of over two million inhabitants. Luckily, right when Taha was about to quit his project, he bumped into an elderly person who provided him with an address to visit — the last existing Mukaish warehouse in Hussainabad, Lucknow. His excitement was short lived though, as the Badlas refused to let him enter their workspace and photograph them due to their ire with society and the government. After reporting of his failure to the same man he previously met, he requested Taha to come to the warehouse with him the next day. To Taha's surprise, the old man himself was a Badla artisan named Sabit Ali, who was not working due to cataracts.
Thus, after spending ten months with the Badlas, in the warehouses, tea stalls and even their homes, Taha compiled his project titled, 'Swan Song of the Badlas'. His photographs try to bring out their plight, as well as showcase their craft before this community, their skills and traditions simply become a part of history.
Scroll on for a look at the life of these Badlas, their families and their struggle to keep the art alive.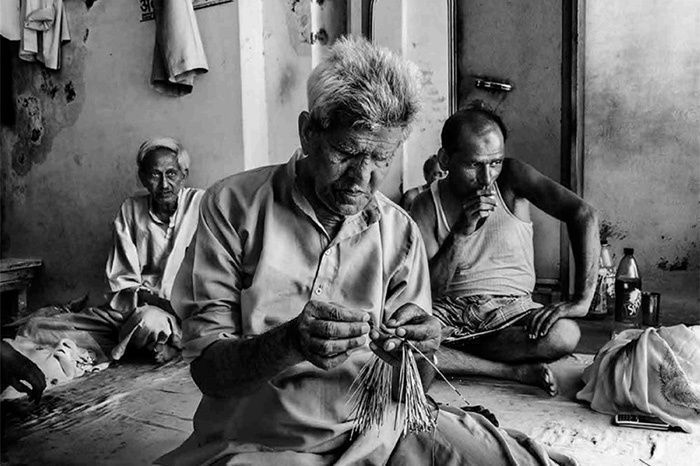 All the photographs used in this article have been published with permission from Taha Ahmad. If you want to see more of Taha Ahmad's work or reach out to him, click here.
If you liked this article, we suggest you read:
Intimate Photographs Of Artists In Their Spaces At A Himachali Residency
Stunning Portraits Of The Dwindling Parsi Community By Kurush Umrigar
'Falkland Road' Gives Bombay's Prostitutes A Voice In The Late 70's