Whether you're a resident, regular visitor or a total novice, there's one part of Goa that everybody knows and loves - the food. However once you've tasted the authentic fresh-from-the-sea fare or curries based on recipes that have been handed down through generations it's hard to reconcile yourself with a sub-par facsimile of that almost religious culinary experience.
Mumbai is home to people from all over the country and finding your favourite food represented somewhere n the city isn't usually a challenge. However there are many restaurateurs who have tried to profit from popularity of Goan cuisine by serving up appalling slop that they pass off as authentic. To help you on your search for the perfect meal to slake your seafood lust without suffering dire gastronomic consequences we've rounded up the best Mumbai spots for an authentic Goan experience.
I. Fresh Catch - Mahim West
With a name like Fresh Catch you know you're only going to be ordering one thing so get ready to treat yourself to a full blown seafood extravaganza. Though it will be hard not to order up the entire menu some items that have to make the cut include butter garlic crab, fried bombil, prawn balchao, and Ladyfish fry which are some of their most beloved dishes. Add a hefty order of neer dosa and a glass of soothing sol kadi and you'll have the perfect feast.
What it will cost you: A bit pricier than Goan standards at Rs. 1,200 for two.
II. Goa Bhavan Canteen - Juhu
True to its name, stepping into this restaurant really feels like entering a simpler world. They have no menus and instead the waiters will reel off the days specialties although we advise you not to be swayed by the impressive line-up and blindly order the fish thali. It does everything you need a fish thali to do and will satisfy all those cravings you've been building up since your last Goa trip. Curry, dry prawn pickle, rawa fried bombil, sol kadi and an assortment of veggies. Don't go looking for an 'atmosphere', this is a down to earth five table nook where all that matters is what's on your plate.
What it will cost you: True canteen quality at true canteen prices at Rs. 450 for two.
III. Goa Portuguesa - Mahim
If what Goa means to you stretches beyond the menu then this is the place for you. Located in an old Portuguese style bungalow, the riot of colour and music is what makes this place so intrinsically Goan, every meal feels like a celebration. Their menu includes all of your Goan favourites, (read: an overload of seafood) but they also have a wide range of Malvani dishes if you intend to mix cuisines. Round out your meal with a slice of Bebinca, the triumph of the dessert universe.
What it will cost you: Here, you're paying for the experience at Rs. 1,300 for two.
IV. Highway Gomantak - Bandra East
In a time where most restaurants have a shelf life of not more than five years, Highway Gomantak has managed to hold its own for over 20. Food is what it's about at this place, and while the cooking may be simple it's exactly what you'll crave when all else fails. Highway Gomantak is a legendary eating establishment. There's no point disputing that. And sometimes it's hard to choose what to eat because so much of their food is so good. But if you want a thali, it has to be the surmai curry thali that's served with sol kadhi, roti or bhakri, rice and spicy chutney.
What it will cost you: There's a reason this place is legendary at Rs. 500 for two.
V. New Martin Hotel - Dadar
Mumbai may be a cosmopolitan hub with Michelin stars and gastronomic luxuries round every turn, but any local will tell you that the true treasures are far from glamorous. Tucked away in a quiet by-lane of Colaba Causeway near the Strand Cinema, New Martin has been a go-to for locals in need of a quintessential Goan experience and it never fails to deliver. One of their sellout dishes is the beef chilly fry which is high up there on the spice scale but is balanced out nicely by the side of caremelised onions. If you're out for a more traditional route, go for the pork vindaloo with thinly slicedmeat and served with the softest pavs you'll ever find.
What it will cost you: The perfect end of the month eating at Rs. 450 for two.
VI. Mangoes - Malad West
The owners of this understated terrace establishment are a couple that hail from Mangalore and Goa, hence the name Man-goes. Witticisms aside, the food perfectly captures the highlights of both those cuisines. As the doors open, you're greeted by Konkani music and a sense that you've wandered into someone's home. Their typical Goan fare includes staples like Xacuti, Rechad masala and sorpotel. But if you're looking to try something unusual go for the beef (sorry, buff) tongue, once you get over the mental image of making out with a cow you'll be floored by the succulent and delicately flavoured dish.
What it will cost you: Order as much as you can handle at Rs. 550 for two.
VII. Snow Flakes - Kalbadevi
This restaurant is an ode to a forgotten time. Located in a small by-line of Dhobi Talao, Snow Flakes has a small set menu to choose from but what they do, they do with pride. Their style is unabashedly home-cooked and this no nonsense approach means that a good meal is guaranteed. Their pork sorpotel is a must-try with pieces of pork, fat, liver, skin and every other imaginable inch of a pig jammed into a spicy, soulful gravy. If you're in the mood for fish their ambotik should be your choice, sour and lightly spiced the flavour of the mori (shark) is truly allowed to shine.
What it will cost you: Probably less expensive than the cab fare at Rs. 200 for two.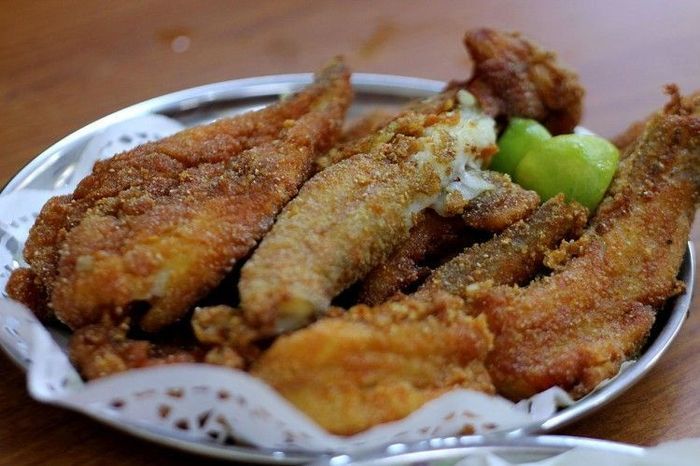 VIII. Soul Fry - Bandra
Bandra is well-known to be the Catholic hub of the city so it stands to reason that one of its most legendary Goan joints is right in its heart. Small, dimly lit and easy on the pocket this is a favourite for the city's youth who (after a few drinks) like to make the most of their weekly karaoke nights. Their prawn curry rice tastes like it it's come straight out of a Goan kitchen, which in a way it has. If you're not an adventurous eater, this is the place to be because they make a chicken cafreal to die for as well as chicken versions of all Goa's favourite masalas.
What it will cost you: A cool Rs. 1,000 for two, better set aside your beer budget now.
Special Mention
Bandra Gym
For those in the know, this is the go-to spot for a great meal that doesn't break the bank. Club food in general has made a name for itself as consistent but quite often average fare, but at Bandra Gym they will change your mind. We recommend a hearty serving of their Goan sausage with bread or even the sausage pulao with a side of xacuti and fried bombil. Be warned though, this is a members only affair so if you don't already have a friend on the inside its time to start networking for your dinner.
If you liked this article we suggest you read:
This Little Gin Joint In Goa Pays Homage To Street Bars Of The 60s
When Karachi Fell In Love With Goan Crab Curry