For a creatively bent person today, the road is long and winding — but often, fruitful. Social media has been the biggest platform for youngsters to put out their talent and we have had our share of YouTube superstars and Instagram mavericks. But the virtual space often lacks the personal element and the expertise that comes in with creative discussions and debates, exchange of ideas, artists collaborations and student-mentor interaction that is more efficient in real space. Moreover the feeling of being on an actual physical stage to perform or to put your art out there is more exhilarating than simply exhibiting it online.
As the urban spaces are becoming more culturally immersive, there are a plethora of creative spaces that are popping up in the country. From creating films to screening them, experimenting with alternate art and media, opening up co-working spaces and performance venues, organising art exhibitions and participatory museums, these places are not just providing a platform to budding artists but are also making art and performance more accessible to the common public under one roof and are cultivating cultural awareness amongst the people by promoting regional and indigenous art forms.
These spaces have also becomes venues for debate and discussion that are imperative for creative stimulation. These are organisations built by dreamers, for dreamers, whose feet are firmly rooted in the ground and they are working tirelessly to move towards more evolved forms of expression, but also to preserve the rich cultural heritage we draw so deeply from. Amongst these creative spaces however, there are a few that defiantly stand out in the ideas they propagate and the facilities they provide.
With no further ado, here are 10 creative spaces worth visiting:
Where: Aaram Nagar, Versova, Mumbai
Situated inside a quaint little bungalow in a nice leafy lane in Versova, Harkat Studios is one too many things. It is an international boutique studio with a passion of telling stories through moving images, a co-working space that offers a cool, cosy space for all creative ventures, and an alternative performance space that curates unique performances in the form of theater, music, contemporary and classical dance. Harkat Studios situated inside a former refuge colony has both outdoor and indoor spaces which are vibrant and hip. The interiors are swanky, done with low hanging bulbs, re-purposed furniture, bookshelves, antiques etc. From working and creating audio visual content for the big daddies of media, such as Walt Disney, UTV, Prakash Jha Productions etc. to organizing workshops, film screenings and participative museum exhibitions, Harkat is the one shop stop for everything artsy and creative. They even have a special Farmer's Market every Sunday.
The Inspiration: Founded by Micheala Strobel (or Mika), a street artist and Karan Talwar, a film-maker, it was started with an aim to transform the general narrative of art and culture by making it easily accessible to neighborhood. Harkat has already managed to do that.
HG Loves: Apart from the vibe and the unlimited coffee, we love how they can transform from a studio/co-working space to a performance venue within minutes.
Where: Kochi
This historically rich, coastal city famous for pioneering the first of its kind contemporary art exhibition in India- the Kochi Muzri Biennale has now a dedicated creative space accessible all year round for its artsy souls. The Pepper House Residency, run by the Kochi Muzri Bienalle is a creative space and an international residency opportunity for artists from all disciplines to work and collaborate within a studio housed inside a classy and a humongous old bungalow. Pepper House includes extensive studio facilities (for production), the Laboratory of Visual Arts library (for research), and the Pepper House Cafe (for dialogue).
The Inspiration: With its ethos rooted in the idea of artistic practice being supported by two necessary extensions — public interaction, and inquiry; the Kochi Muzri Biennale team has been working tirelessly to facilitate this dialogue in a studio that's equipped with any support the artists might need for research and production.
HG loves: How this residency is structured on the idea of a three-dimensional approach to creativity.
III. Ladakh Arts and Media Organisation
Where: Leh, Ladakh
The ethereal beauty of the Trans Himalayas is enough creative stimulation for its visitors but Ladakh Arts and Media Organisation (LAMO) goes a step beyond to articulate an alternative vision for the arts and media in this desolate region. Set up in two rustic, historical houses, situated below the 17th century Lechen Pelkhar (Leh Palace), they have been restored and beautifully converted to a creative space that comprises of an arts space with galleries, offices, a library and reading room, screening room, conference room, and an open-air performance site. Despite its harsh terrain, Ladakh has long been a location where cross-border trading has flourished and cultures have intermingled and its art forms do reflect multicultural influences. The Centre conducts outreach programs, lectures, film screenings, research and documentation projects, workshops and exhibitions that showcase Ladakh's material and visual culture, performing arts and literature .
The Inspiration: LAMO was started by Ravina Agarwal, an anthropology professor and Monisha Ahmed, an independent researcher on material culture and textile arts. Both have worked extensively on various elements of Ladakhi culture. LAMO was started with the aim to develop an understanding of various forms of arts and culture among the locals as well as promote and enhance their own indigenous cultural art forms and rich artistic heritage. This organisation also has a tailor made internship programme wherein it invites applications from creative people interested in the arts and the media, all over the country.
HG Loves: A one of a kind experience, LAMO gives you a taste of the local culture along with fabulous views.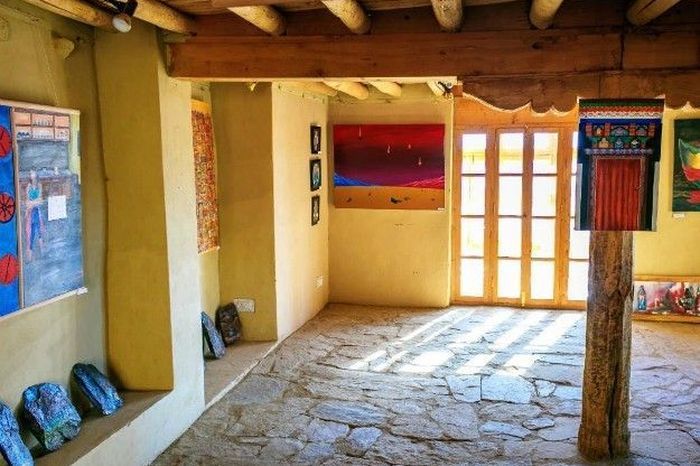 IV. Lshva
Where: Bangalore
This chic, elegant organisation is a place where dance, drama and martial arts comes alive. It is a place where 'artists and connoisseurs, meet, ponder, train and experiment'. A space that fosters the growth of art through collaboration, education, residencies and performance, it aims to influence society, initiate conversations between artists of varying backgrounds and provide quality training to community and aspiring art professionals. The training in art forms offered at Lshva include Classical Indian dance, Contemporary Dance, Kalaripayattu, Theater, Yoga and other performing and visual arts. Lshva initiates dialogues that encourage unique artistic collaborations. This space also provides space to many visiting artists on a rotation basis to create work, teach, choreograph or experiment with ideas.
The Inspiration: Run by an exceptionally talented team of dancers, visual artists and fitness experts Lshva was started with an aim to create an exceptional community of artists whose 'cultural ripples influence and change the world of art'.
HG Loves: How Lshva provides excellent education across multiple disciplines in the arts, and enables a variety of art forms to synergise on one stage.
Where: Punjab
Preet Nagar, often referred to as the first planned township of Punjab, was kicking up quite the creative storm of its own in the Pre-Independence era. With Gurbaksh Singh at the helm, the publication Preet Lari was founded here in 1933, with its name literally translating into 'linked through love'. Renowned Punjabi, Hindi and Urdu writers, artists and intellectuals would frequent the township, for it truly showcased composite Indian culture bereft of British influence, at the time. The facilities offered in this creative space include various workshops, community projects, creative collaborations where writers, photographers, musicians and performing artists are all welcome to come and work here, for a nominal pay per day budget that takes care of the food and housing. The team is also in the process of setting up equipment required to host ceramic and print-making artists in the near future.You will be provided a room, a studio space, internet, kitchen, and all meals. This creative space and art residency is functional from September to March, as the summers in Punjab are not quite pleasant.
The Inspiration: The idea of Preet Nagar was inspired by the struggle for survival that its founder Gurbaksh Singh had to go through since he was seven, when his father died," Gurbaksh Singh's son, Hridaypal Singh, narrates. "In all his experience at home and abroad, my father realised one thing—the value of friendship and support. This idea of a universal kinship permeated his entire vision, and became the basis for the conception of Preet Nagar," he adds.
HG Loves: We love how those who are creatively inclined can come, work together and evolve in a passionate setting situated at the backdrop of the lush fields of Punjab.
VI. Studio Safdar
Where: Delhi
The capital of the country is a hot bed for heated ideological debates and political activism. Studio Safdar provides more stimulation to the same. Named after the renowned political, cultural activist Safdar Hashmi, Studio Safdar is an independent, non-funded space for arts and activism, situated in the urban, multi cultural setting of Shadi Khampur in Delhi. It is envisaged to create an alternative and affordable space in Delhi for staging and experimenting with the arts and encourage and support activism that explores the 'multiple intersections of communities and politics'. This creative space also doubles as a platform for people to discuss social issues, political ideologies, philosophy and culture. Though their main creative outlet is theater and its variants where powerful narratives on controversial socio-political topics are performed; they have also started experimenting with other forms of visual media such as films.
The Inspiration: Established in 2012, Studio Safdar was started by the Jana Natya Manch, founded in 1973 by a group of Delhi's radical theater amateurs who wanted to take theatre to the people. Studio Safdar was initiated with an aim to create a space where thoughts on politics, activism and culture can flow freely, be exchanged and experimented with.
HG Loves: The idea of combining socio-political and cultural thought with that of campaigning creatively.
VII. Sunaparanta
Where: Goa
Goa with its pristine beaches, a vibrant culture and and an interesting architecture can be a great stimulator for creative people but a few know of its rich artistic heritage. Situated in the picturesque Altinho hills of Panjim, the gorgeous Sunaparanta-Goa Centre for the Arts is a non-profit education based arts initiative that is a strong advocate for the arts in Goa. The Centre has several exhibition galleries, a large multi-functional space for workshops and lectures, studios, two residency rooms for visiting scholars, artists and faculty, an open-air amphitheater, an outdoor courtyard that houses the lovely Café Al Fresco and a gallery for emerging artists. They are also in the process of setting up an art resource library for art students. It provides a working and exhibition space, infrastructural and creative support for special co-operative projects and assistance with exchange and grant funding initiatives. They also aid the artists in networking with state, national and international organizations. Apart from showcasing the work of several Indian and foreign artists, they have also exhibited works of Goan artists such as Trindade, Francis Newton Souza, Laxman Pai, Angelo da Fonseca and V. S. Gaitonde, Prafulla Dahanukar, Dalal, Chimulkar, among others.
The Inspiration: Started by Dattaraj V. Salgaocar, Sunaparanta Goa was his long term dream that slowly became a reality. He says "The organisation was initiated to encourage creation, learning, understanding, appreciation and enjoyment of the visual arts through education and dialogue in visual arts."
HG Loves: Their effort to re-ignite interest in the work of remarkable Goan art through diverse mediums.
VIII. The Hive & The Cuckoo Club
Where: Mumbai
Whether you are looking to finally get that business started or are just looking for a place to chill and play a board game, or are wanting to meet fellow travellers who wouldn't ditch the last minute like your friends, the The Hive is the place you should head to. This cultural space and community office built inside a beautiful heritage bungalow has experimental workshops, music and dance, an art gallery, a comic book store, a board games space, a meditation space, a theater space, an open office and a free cafe. It is also screens films and is a travellers' pit stop. With a dedicated co-working space called 'Daftar' for freelancers, The Hive is a 'one of a kind Eco-system' that is focused on developing the arts and technology. Their performance venue, the Cuckoo Club has a swanky black box theater and a really fascinating Inventor's Lab with 3D printers. It also hosts martial arts classes.
The Inspiration: Hive and Cuckoo Club were founded by Sudeip Nair and Sharin Bhatti, who wanted to encourage small startups by providing them space. It was begun with an aim to support co-working for start-ups, entrepreneurs and the creative community.
HG Loves: How Hive promotes and supports an unbiased culture where great ideas come to life in an environment where you can meet, collaborate and inspire each other. There are also lots of cute adopted cats to snuggle with, while you work.
IX. Studio 21
Where: Kolkata
Bengal, known for its powerful literature and rich cultural traditions in arts has given the nation many stalwarts in various creative fields. Studio 21 in Kolkata is harping on the same beat and has been conceptualised as an alternative space that nurtures creativity and cutting edge art practice. It is also a hotbed for dialog, debate and contemporary art experimentation that focuses on the 'process' rather than the final product. Studio 21 provides space for slide presentation & lecture, installations, performances, screenings and informal gatherings for artists and the alternative art community. It also serves as an artist residency and organises exhibitions on multi-disciplinary subjects.
The Inspiration: The team aims to assist and develop forms of performing arts, storytelling through audio-video, public and community based art, sound and other experimental modes of cultural production. They regularly engage with local artists, filmmakers, photographers ,writers, musicians and other creative individuals for the same.
HG Loves: How they are building a network of artists trying to experiment with alternative art.
Where: Trivandrum
Sometimes we all need a splash of colour and creativity on a boring, mundane day and Trivandrum has cracked the code to achieving this. Manaveeyam Veedhi is a 200 meter stretch connecting two busier main roads that are always buzzing with activity. An art and cultural space, this stretch hosts street plays, choirs, regional folk art, exhibitions, speeches, debates, mime, documentary screening and even magic shows.
The Inspiration: Maintained by a group of cultural activists named Manaveeyam Theruvorakkoottam, this space was envisaged to make art more accessible to the citizens and to cultivate cultural awareness of local art forms amongst them.
HG Loves: How this cultural corridor in the city is making the urban space more creative, vibrant and regionally immersive.
If you enjoyed reading this article, we suggest you read:
6 Beautiful Writer's Retreats Across India To Channel Your Creativity
Art From Behind Bars: Mumbai's Convicts Find A Creative Outlet