Ever heard of Clifford the Big Red Dog? As the name suggests, he was quite a big, red dog (approximately 25 feet tall) and his many adventures with his owner Emily Elizabeth made for a popular read amongst children, before it became a famous television series too. However, as time passed, Clifford's popularity began to wane—but it turns out red dogs are here to stay, with Taxi Fabric's latest design. From red dogs to blue cats, Anamika and Azadeh Changrani Rastogi have been painting animals in quirky colours since they were barely nine months old. Called Ana and Ozzie for short, the 11-year-old and 9-year-old are the minds behind Kool K.A.T.S. (which stands for Kid's Art To Strays), a name they use to exhibit and sell their art. All the profits are then used to feed animals in their locality, as well as provide them with better medical care.
Taxi Fabric came across these two individuals through Sameer Kulavoor, who had bought a couple of the duo's paintings before. When asked about the inspiration behind their design, Ana said, "We have always loved stray animals and all we wanted was for other people to love them too. So we made cute and lovable stray animals in our usual funny style. We had made some paintings of stray animals earlier and thought they looked really cute. So we decided to use those designs with a few minor changes. We have now adjusted those paintings so that they can be arranged on the fabric to make the final design." Their mother even helped coin the name for it, aptly titling their Taxi Fabric, 'Love Is A Four-Legged Word'.
Madhuvanthi Senthilkumar, Design Director of Taxi Fabric, talked about how after Taxi Fabric briefed the youngsters, they took care of the whole creative process, "The girls were amazing to work with. We spoke to them about the colours but that's about it. From thereon, it was our automated process of digitizing the paintings and having it fit according to our Rickshaw stencils for printing." Taxi Fabric bought and contributed the textile for this initiative, as it was also one of their Social Good Taxi Fabrics—a cause that involves children whose message or cause they want to support and communicate. Besides Love Is A Four Legged Word, Taxi Fabric has previously put out designs like HOPe On, an initiative conceived and supported by the Impacct Foundation along with Anjeze and Studio Anugraha. It aimed to make people more aware of Pediatric Cancer and the message that 80% of them, when diagnosed at an early stage, can be cured.
Love Is A Four Legged Word is also available as a print online, as well as a design you can purchase on a laptop sleeve, a tote bag and more. "The girls were particular that they wanted a Rickshaw driver who loves animals and understands the importance of what they were doing, would help spread the message, almost like an ambassador itself. Since they take care of the strays in Bandra, they spoke to a couple of auto-rickshaw drivers with the help of their mother."
Each product that's sold helps the two girls take care of these otherwise ignored strays.
Keep an eye out for Taxi Fabric's latest ventures towards the end of the year. With the launch of TF textiles, they'll be completing their first big edition of a curated set of Taxi Fabrics for the same. From being an Art & Design project, to now becoming a brand that has upholstered a cafe, to opening up their designs to the public at large—we already know they've got bigger things in store next year. For updates, follow them on Facebook or Instagram. To purchase their designs or merchandise, visit their website here.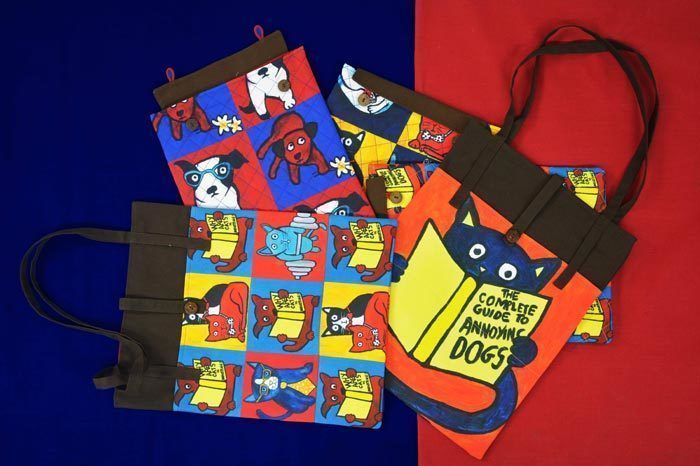 If you liked this article, we suggest you read:
11 Indian Art Collectives That Are Tearing Down The Boundaries
Inspired By Ghalib's Poetry, This Delhi Rickshaw's Redesign Is Stunning
This Photoseries Captures The Lives Of Mumbai's Iconic Kaali-Peeli Taxis