People often refer to literature as the foundation of a civilisation, but before the days of Calibri and the infamous Comic Sans, the visual integrity of the words themselves was equal to their actual meaning. Beautifully illuminated texts laboured over for years by dedicated individuals have found their way to museums across the world, and for good reason. The beauty of well-designed type can have a huge impact on how we approach a text. Imagine picking up a book with miniscule font and irregular spacing. That book's probably headed right back to the shelf from whence it came.
The world of typography today is so much more than a simple game of fonts, it's one of the pillars of the world's most profitable industry, advertising. For decades, people in the media game have known that a brand can turn on a single un-kerned letter and whether it's established industry leaders or nascent companies, putting together the perfect look is an essential part of success, with typography playing a big role in the creation of the brand image.
But the people on our list have gone beyond the technical necessities of typography and are highlighting it as a true art form. Whether that involves documenting India's legacy with type or moving it back into the limelight of contemporary design, these 7 pioneers are proving that this is one art that isn't ready to bow out.
As the co-founder of prestigious art organisations like St+Art Foundation and Guerrilla, an underground art and design studio based in Delhi, as well as the head of HandpaintedType; Hanif Kureshi is a saviour to traditional type artists. His work in street art and as organiser of large-scale art interventions enables young, upcoming artists to publically share their work and breathe life into design forms that have been too long ignored. His work at HandpaintedType is dedicated to preserving India's typographic history by documenting the styles of street painters across the country and digitising them for use by future generations.
II. Furqan Jawed
Like so many others, Furqan wandered into the world of Engineering before he really knew what his life's passion would be. As he played around with illustrations and type on photoshop he soon realised his mistake and dropped out to pursue a career in graphic design. His amalgamation of text, art and photography became the basis for a unique artistic signature. Today he's well-known for his 2-D poster work that plays on the mundanity of everyday life with a satirical subtext.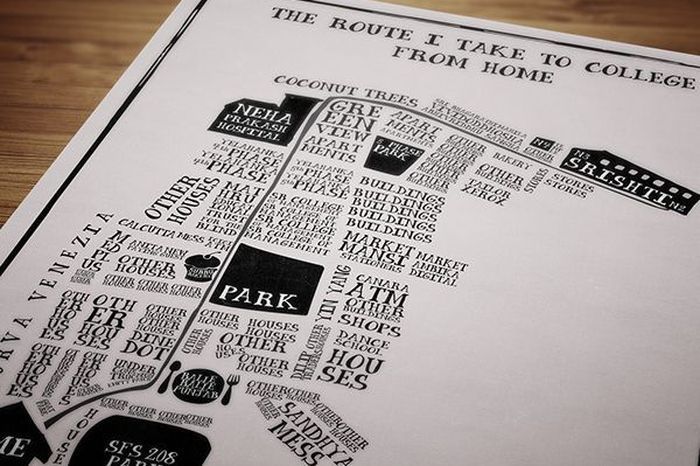 III. Khyati Trehan
Based in Berlin but with roots in Delhi's graphic design community, Khyati's style is one that is constantly in motion. She focuses her work mainly on illustration and typography but refuses to 'settle down' with a single direction and her continuous innovation reflects her own personal evolution. In her most widely covered series, she uses lettering to pay homage to the greatest scientific discoveries of our time which displays the true versatility and impact of the medium.
IV. Satya Rajpurohit
In 2009, Satya teamed up with Peter Bil'ak to co-found Indian Type Foundry - ITF, a definitive centre for the design and distribution of high-quality fonts both in the local and international market. A graphic designer by training Satya was always drawn to the impact a simple font could have on a consumer. Today, his original fonts are emblazoned on some of the most recognisable brands in the world including, Apple, Starbucks, Amazon, Sony, Discovery and 21st Century Fox. He was even awarded the prestigious "SoTA Catalyst Award" presented by the Society of Typographic Aficionados, for his achievements and in 2016 was named among Forbes' Top 40 under 40.
V. Pooja Saxena
Pooja's love for type came from her interest in learning languages, she loves the new scripts and exploring how each has its own distinct identity. She started practising type design during her Communication Design degree in Delhi and went on to earn her master's in Type Design when she realised she was ready to make it a full-time commitment. She then took on a typographic internship at Apple before returning to India and moved into type design and consulting. She - along with Nirbheek Chauhan - is also credited with the development of the Bharti Braille Converter a free online tool that converts Hindi and Marathi text in the Devanagari script to Bharati Braille.
A graphic and type designer based in Manipur, Neelakash graduated from the National Institute of Design and holds an MA in Typeface Design from the University of Reading. He has worked alongside brands like Adobe and Google and has co-founded the multidisciplinary type foundry, Brand New Type. He specialises in bringing lesser known Indic scripts into the modern type arsenal and is credited with creating the first Manipuri typeface.
With a PhD from the Department of Typography and Graphic Communication at the University of Reading, there's little doubt that Rathna is a leader in her field. She currently heads her own studio, minus9 (a hat tip to her bad eyesight), from where she helms projects in London and Chennai. Her work is inspired by 'the contexts of culture, language, typography and publishing' and focusses on her role as a communication designer within this interplay. She's done a lot of work with Children's Fiction and has been awarded numerous design accolades for her work with Tara Publications.
If you enjoyed this piece, you may also like:
26 Ways To Unfuck The Planet - An Indian Artist Shows Us How
Furqan Jawed's 'A Poster Everyday' Series Speaks People's Minds. Literally.