"#377 Quit India", a colorful board reads right in front of the August Kranti Maidan in Mumbai. It is a warm, sunny day in the city. People are dressed up flamboyantly holding bold, witty posters that openly disregard Section 377, one of our constitutions most hated, yet omnipresent laws. The mood is one of celebration. Celebration of love in all forms and a fighting spirit for a more inclusive nation gathering around the gate of the historical maidan where Gandhi first launched the Quit India movement in 1942 to lead the nation to freedom. 76 years later, the strong iron gates of the park see another kranti (revolution), this time however adorned with confetti, colours, cheers and rainbow flags, rallying for people who still do not have the complete legal freedom to love one another. The 3rd of February marked the Queer Azaadi Mumbai Pride March 2018. It was also referred to as the '2nd Quit India Movement' and the turnout was phenomenal.
At 4 pm, the giant rainbow flag made its way to the front of the crowd, and the march began. Rainbow posters and leaflets on Section 377 were distributed amongst attendees as well as curious bystanders, and Nasik dhols egged the crowd forward into a rhythmic march.
The streets have no gender and this was visible in the spirit of the people as the march wound its way from August Kranti Maidan down to Lamington Road, Opera House and then back to the maidan, curious bystanders and people leaning out of their windows were greeted by the incessant drumming of the dhols and chants from the parade, ranging from "We want justice" to "Azaadi," not to mention a particularly sweet Gujarati slogan, "Taaro Maaro Same Che, Prem Che, Prem Che" (You and I are the same; There is love where there is love).
This year's parade was markedly different from previous ones. For starters, there were a lot more people. The count was estimated to be around 10,000, a dramatic increase from the city's first parade, which saw only 1,000 attendees. And remarkably, only a handful still wore masks to hide their identity—a huge change from the first parade where more than half the people wore masks. "I have been attending pride marches since 2012 as a closeted androgynous, but never had the confidence to come out in my true colours. But looking at how pride has grown over the years, I feel so much more confident in being myself and carrying this look off," says Shreyansh Sharma, a 24-year-old Punekar, dressed beautifully in a long slit colourful dress sporting bright red wings and shiny white stilettos. Another participant, Roshni Mascara, 26, a transgender dressed in a hot pink dress with a princess sash says, "It's phenomenal how the pride march has grown. I have attended so many and I really feel that the ones in Mumbai are so culturally rooted. Pride is all about loving yourself and that's what we are here for."
This pride was also attended by the 1st runner up of Mr. Gay World India Pageant, Ashish Chopra. Pulling off a glamorous sherwani and sporting a glitter rainbow beard, he mentioned how the pride march has grown in the terms of the number of allies attending it. He has attended 6 marches so far and feels that pride is about celebrating self.
Another distinctive factor was the presence of 'Sweekar' (Parents of LGBTQ children have come together to form a support group that aims to offer support to other parents), coming in from various states who marched side-by-side enthusiastically, with drag queens, people in lavish costumes, the city's transgender community, and even straight allies, shouting powerful slogans.
"Ye Jo Humare Bacchee hai
Jaise Hai Ache hai
Ye Jo Humare Bacche hai
Jaise Hai Sache hai"
This was also the first pride in Mumbai where all the permissions were figured and taken by an all women's team. This was confirmed by Harish Iyer, a popular activist, influencer and one of the organizers of the Queer Azaadi pride March. "This March also has participants attending from other states," he added, posing stylishly in a short rainbow dress and a cool, red wig.
40-year-old gay man, Moksh Tiwari, travelled all the way from Ahmedabad with 4 of his friends to attend the gay pride. Although they fight for LGBT rights back in their state through social media campaigns, they still feel that awareness and acceptance is much less in small towns as compared to bigger cities. "Here I feel much more confident to be and express myself as I am," he explains. The pride also served as a platform for many closeted LGBTQs to celebrate their identity. 38-year-old government employee Swati, a closeted bisexual breathes easy today. "I am accepted the way I am here. But that's not the case elsewhere. To me, pride is identity and I only hope I can live up to mine without judgement from others," she states with hope.
This year's pride parade was held a month after the Supreme Court's decision to review its earlier overturning of the Delhi High Court judgement on 377, after the much required debate of right to privacy sparked on the social media giving hope once again to millions of LGBTQI Indians that the archaic Section 377 might finally be a thing of the past. While things are looking up for the community, it wouldn't be wrong to say that we live in a time where laws may be easier to change than the conservative mindsets of many people who continue believing in the sinister traditions of yesteryear. But the kranti continues through not just glitter, rainbow confetti and celebrations but also through the struggles of the everyday lives of these people as they hope for a better, more inclusive and a non judgmental tomorrow.

Until then lets keep bring the rainbows out.

Happy Pride!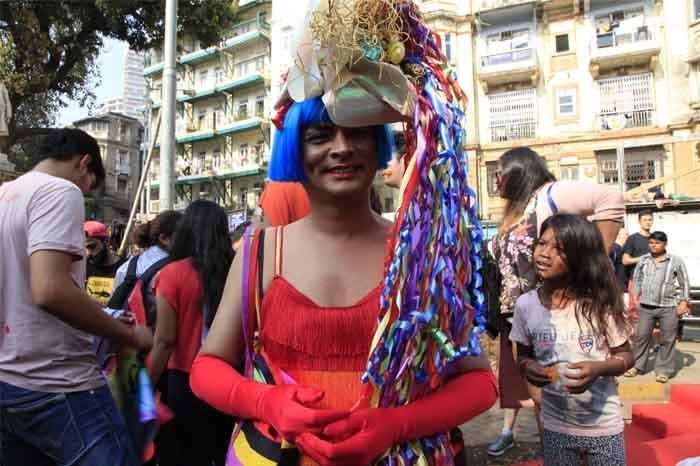 All photos by: Rashi Arora
If you enjoyed this article you might also like-
16 Young LGBTQ Indians Tell Us What 'Pride' Means To Them
6 Indians Share Their Coming Out Stories Vol. V
'I Don't Agree With The Current Stream Of Thought In The LGBTQ Movement'