Tucked in the shadow of a spring green bungalow a sprawling queue slowly shuffles closer to the wafting scent of freshly baked bread. The small Irani bakery that dons a rough, blue paint job is no stranger to the flocks of Hill Road residents gathering around their counter with nostrils flared in olfactory bliss.
In fact, eager lines have trailed from the glass counter ever since the Irani family behind the bakery migrated to India in the 1950s. Yet A-1's many regular customers don't crowd its facade just because the bakery is a neighbourhood classic. Nostalgia does not pay the bills, and A-1 has survived the years by serving up decades of deliciousness.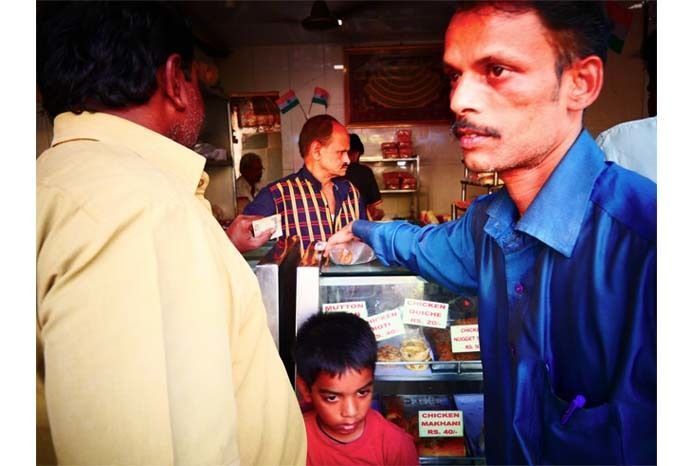 Nevertheless, fond remembrance does run deep with the Bandra bakery's rich customer base. Most of A-1's patrons were first taken there by their parents or grandparents for treats, and in turn, offer the same goodness to their own offspring. Many of the bakery's classics have survived the years (such as their incredible pan rolls and puffs), however, A-1 has also diversified their menu over time to better cater to younger generations. An example of this change is represented by their Chicken Nugget on a stick. This snack seems like it belongs at a Trump rally, not at a historic Irani bakery, yet it pains the author of this article to admit he shall be regularly frequenting A-1 for this miraculous monstrosity.
Beneath the fried exterior, the sizeable nugget is coated in a masala paste that brings the skewered snack together. Moreover, the chicken is cooked to perfection. Point being Mickey D's can't compete with this out-of-place treat.
The classics span from the mutton patties to the mawa cakes, both equally scrumptious. And if you want to throw together a simple lunch then their large Garlic Loaf for INR 20 is great for subs.
An expert tip for those who have committed the unwise decision of partying into the AM without a solid backup of 'drunchies' will find solace in the knowledge that A-1 rolls up their shutters at 5:45 in the morning. If your taste buds are still working at that point, A-1 kicks any soggy, late-night Chicken Tikka Roll to the curb. Moreover, for INR 250 two people with big bellies can eat to their heart's content as the bakery doesn't subscribe to the overpricing that seems to run rampant in Bandra these days.
Just remember, there are few things sadder than walking to A-1 early Monday morning with elated thoughts of mutton patties and chicken puffs only to realise they are shut. That kind of disappointment will earn you a 'Garfieldian' approach to Mondays.
If you liked this article we suggest you read:
Why Cafe Goodluck Holds A Special Place In Every Punekar's Heart
Falling In Love With Mumbai's Most Iconic Kheema Pao