All over the world, street style has taken to runways, walking shoulder to shoulder with haute couture. With its roots in California's skate and hip hop culture, street wear has often been regarded as an art movement marked by both rebellion and individuality. Perhaps that is why, though street fashion is largely nascent in the country, it has found its patrons and influencers in North-East India, where the two seem to meet harmoniously.
One of the things that distinguishes the North-East from the rest of the sub-continent (apart from their natural inclination towards music!) is their impeccable and unique sense of style. While a majority of Indians derive their fashion aesthetics from the glamorous world of Bollywood, genres like rock, metal hip-hop and K-pop–synonymous with street fashion influence playlists and wardrobes in the Seven Sister States. Moreover street style in each age has always been regarded as representative of a subculture as opposed to just a trend. The North-East seamlessly adopts this aspect of street fashion by infusing their textile traditions with contemporary sensibilities.
This year the sustainable fashion day at Lakme Fashion Week, was a remarkable display of how North East India is catalyzing sustainable fashion in collaboration with United Nations, India. Titled #NORTHEASTMOJO, the show presented five designers who spun local crafts into stunning sartorial creations, along with the proficient 'masters' or artisans of these crafts. This was perhaps the first time that the usually under-represented region of India was put exclusively on the national fashion radar. Many of these labels have taken their state's handlooms to international ramps as well. One such example is Arunachal Pradesh born designer Nixon Bui who presented his collection at the Green Week runway show at Copenhagen, Denmark. A ready-to-wear menswear brand, Bui's line blends the ancient tribal motifs of his own heritage with the minimalism of Scandinavian design. If it's not a balanced sense of tradition and trend that lends itself to the North-East's head-turning street style, the availability of export rejects and the surplus goods from Western streetwear labels in their local markets makes the region one of the most fashion-forward in India.
It's no wonder then that, while navigating the realm of Instagram, the street fashion stars of urban India had a similar North-Eastern legacy. Though what ultimately binds them is not just their ethnicity but their spirit of experimentalism, realised through the common canvas of street fashion. Armed with the slickest sneakers, seasonally changing hair-colour and the right attitude, here is our curation of North-East artists at the forefront of street fashion in India.
I. Gaurav Karki , Photographer
For 28-year-old Gaurav Karki his love affair with photography began with self-portraits inspired by various Instagram feeds. Over time this passion organically extended to professional shoots over the past three years. What sets his work apart are the breathtakingly raw and fierce stills he takes. His frames use stark colour palettes and rustic outdoor backgrounds while his models always embody a delicious nonchalance. Having worked with brands like Coach, Nike, Fizzy Goblet, Zodiac and Kica, Karki believes that streetwear isn't just another trend but an art movement in which one must stay "true to themselves."
II. Shia Rai, Designer
"In a world that is so focused with uniformity street style fashion is a medium through which an individual can showcase their substance and personal style," confesses 27-year-old Shia Rai who is also the face behind one of India's most premiere street labels by the same name. Originally from Singtam, a small town in Sikkim, Rai now lives in Delhi. She initially worked as an assistant designer with Shantanu and Nikhil before she quit her job a year ago to start her own design brand. Breaking the notion of street fashion being associated only with contemporary patterns, Rai's aesthetics are greatly inspired by vintage fashion and subcultures that date as far back as the 1900s! "Though at the moment I am very taken by K-pop culture. Their colour contrasts and variety in silhouettes are no doubt extremely refreshing," she tells us. Rai whose work is driven by the need to give the youth a medium to diversify their style proves how fashion can thrive outside the realm of mainstream media. Catch Shia Rai with her designs at India's first ever sneaker and street culture festival –HG street.
III. Mayank Thapa, Stylist and Model
Manager and street stylist at Vegnonveg –India's first exclusive sneaker store, Mayank Thapa's (aka Chigga) street fashion enigma is seamless blend of chic and grunge. "Personally my fashion sensibilities are inspired by hip hop artists from Kanye West to Kendrick Lamar and fashion designers like Alexander Wang and Yohji Yamamoto," confesses 25-year-old Thapa who, having spent his childhood in Dharamshala now lives in Delhi. Having worked and collaborated with brands like Nike, Puma, Haul Apparel, Urban Monkey and a dozen homegrown labels along with soon-to-be face for Levis, Thapa's looks right at home in his street style. Perhaps because he strongly believes that streetwear, a culture within itself that is beckoning the youth to focus on individuality, is for him the "pinnacle of style."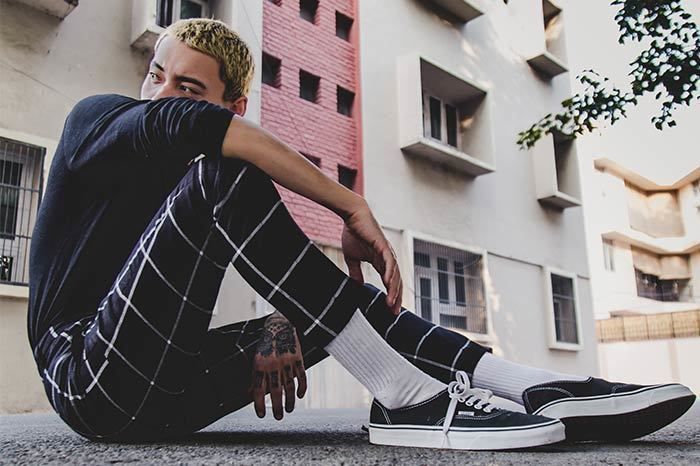 IV. Kangkan Rabha, Photographer and Model
For Kangkan Rabha street fashion is simply "being able to wear what you want to because it makes sense to you. The style of the 17-year-old student, who is also a photographer and model, can be described as an eclectic mix of timeless looks, with an unexpected burst of quirk. "It's never the same, there is always something expedient going on with my style. But in the end, I wear whatever I want to, without worrying about what others might think," says Rabha echoing the very foundation on which street fashion is stilted. To know more about this ambitious street style influencer, take a look at his blog TheQuirkyMinimal– a storehouse of personal style stories.
V. Shivani Boruah, Blogger and Model
29-year-old Shivani Boruah is multi-talented to say the least. Originally from Guwahati, she has been a vocalist in a metal band, currently works in a software firm in Bangalore and is also a blogger and model for street fashion. Bouruah's tryst with street fashion began from childhood–always a tomboy Boruah loved wearing sneakers and casual clothes, which others deemed as "ill-fitted." Comfort is her main mantra and Boruah began experimenting with her style which is now an invigorating array of spirited garb. Bouruah who believes that street fashion is all about "representing your subculture and community" is all set to lend tribal aesthetics to her upcoming sartorial creations. "I am planning to travel to North Eastern cities this year, to not only draw inspiration for my work but also to understand and document what the real street style of the various different cities in the region are all about." To prevent street style in India from becoming synonymous with only high-end streetwear brands, Baruah who currently works with an international sneaker label, will also be launching her own DIY projects.
If you enjoyed reading this article we suggest you read:
Six North-Eastern Designers At The Forefront Of India's Slow Fashion Movement
An Indian 'Thrift Shop' On Instagram Is Stocking Beautiful Vintage Pieces
Four Hand-Painted And Customised Denim Jackets By Indian Designers