I see a little bit of Sudeepti Tucker in the art she creates. Just like what a cursory glance at her Instagram page that stands out with bold prints in red, blue and green hues, would have you think, she too portrays the same boldness and vivaciousness. Her illustrations are vibrant and wild, coming alive with a splash of colours and themes revolving around femininity and identity that paint a hard-hitting picture and give out an equally hard-hitting message. The purpose of her illustrations is only comprehended when one really observes and understands the finer nuances of her art without getting lost in its unapologetic visual appeal.
Among India's vast and diverse artist community, there is room for everyone, every style and every idea. From the classically composed to the utterly surreal, digital media has thrown open the market for artists to find their audience. However, also making their way in here is the rebellious – the ones who challenge the very structures of society with their creative expressions. 25-year-old Tucker's emotive illustrations in her latest series, Prowl too tug at the same strings.
Painted in gouache, Prowl is a series of wildly colourful, luscious women with their animal counterparts. Draped in vibrant saris, buzzing with quiet strength, they are powerful and proud, fierce and fashionable, beautiful and unafraid. It is an interpretation and exploration of feminism and identity, women and their myriad modern personalities that she has met and interacted with. The freelance illustrator from Delhi says, "With the series, I hope to explore ideas of femininity and strength while also opening up dialogues about roots, identity and image."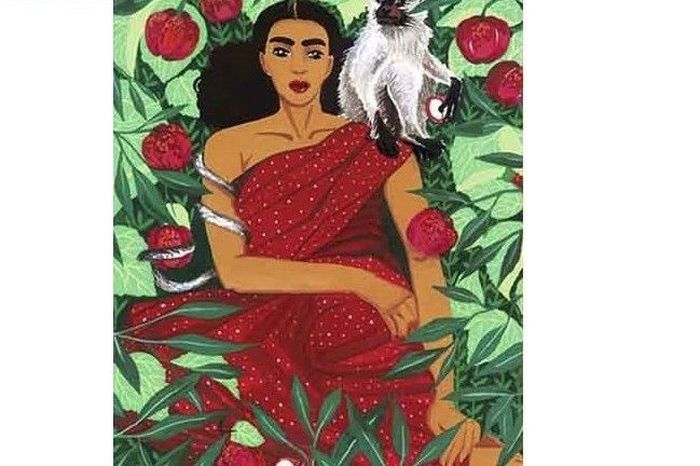 Having studied graphic design at the National Institute of Design, followed by a full-time job with a branding and illustration studio, Tucker then left for the States for a residency in illustration at the School of Visual Arts where she was reassured that illustrating was her true calling. She states, "graphic design can sustain me, but illustration gives me life. Here I am finally at it, for real, freelancing out of my tiny terrace studio in Delhi."
Tucker explains that her style is mostly dictated by the content she is illustrating, which of late has been an exploration of feminism. She paints by hand, mostly in gouache as it allows for creating imperfect and nuanced pieces, each different in its energy and emotion. "My paintings celebrate the personalities I find within the women I know and meet - colourful, confident and unapologetically themselves. They are also a reflection of strength, in its numerous forms, within all of them," she explains.
Tucker's illustrations use a lot of floral themes: plants, flowers and nature that the women in her art seem comfortably enveloped by. When asked what they mean to her art, Tucker responds, " Plants represent beauty and growth. Their presence nourishes and enriches - any work of art, any space. While they are never the sole focus of my paintings, I find that they add a great deal of aesthetic and emotional value to my work. Nature plays an important role in both my worlds.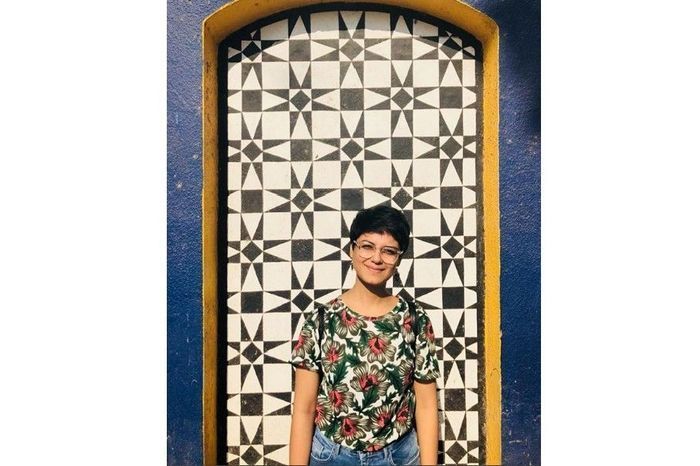 With a unique style and artistic expression, Tucker's vibrant prints have found space in several incredible projects. She has collaborated with big publications and institutions like the Times of India, PVR Cinemas, Titan and has even illustrated a fashion story for the Elle India x Rupi Kaur Jan'18 issue. She also recently worked on the illustrations of her first book cover with Speaking Tiger, for Abubakar Adam Ibrahim's Season of Crimson Blossoms.
Her personal favourite art piece is the one she created for Chokhri, a feminist women-centric online publication which deals with women, their sexual health and representation in popular culture in an Indian context. The style decidedly focuses on breaking stereotypes and highlights the strength in inclusion and the importance of creating an open community that rightly informs and supports women in their choices and explorations. She is currently thrilled to be working on two children's books illustrations but what has her excited for the future are the upcoming projects she is thinking of which would be based on a theme that she is particularly passionate to explore. She exclaims, "I have become fascinated with larger group settings of women. Who they are, what they do in their unobserved but collectively shared experiences. These spaces/interactions are nostalgic, like picnics at my grand mother's when I was little, or a day spent in the park with my sisters. I am quite curious to see how these emotions play out in my newer paintings."
See more of Tucker's incredible creations on her Instagram page and on Behance.
If you enjoyed reading this article, we suggest you read:
Thokchom Sony's Art Showcases The Many Faces Of Manipur's Beauty


Challenging Indian Women To Love Their Bodies Via Instagram