Across the world, architecture has had a ubiquitous and rich history of interacting with its surroundings. From the hanging gardens of Babylon to the verandas of colonial-era bungalows, tedious effort and time have been spent crafting designs that best allow a structure to become a part of the landscape it sits upon. Yet, modern trends often show a disconnect between people's homes and the natural surrounding that hosts them. As urban metropolis' grow at alarming rates, we've flattened more and more land to make way for concrete jungles and the little boxes we inhabit.
This is not to say that there hasn't been any pushback. There's been a shift in sensibilities recently as people are becoming more aware of the destructive footprint we're leaving behind on the planet. We're making more eco-friendly and sustainable choices and incorporating these into our lifestyles. This new conscious way of living has extended into the spaces that we live in, and the way that we create them as well.
There's been a surge in the revival of traditional Indian architecture styles. There's a new wave of sustainable architecture firms and architects that are changing the landscape of the country, taking a cue from the existing masters of the field who have been championing the cause for years now. When talking about sustainable architecture and design we're looking at people using local, naturally available resources, eco-friendly building materials, traditional and modern techniques of construction that make interference with nature minimal. These firms and architects are working in conjunction with nature – creating structures while keeping in mind the area's climate, environment, available resources and craftsmen.
From mud houses and open-air atriums to wooden roofs and 'collage' homes, today we look at some incredible architects working in sustainable and eco-friendly designs and their creations across India.
Shefali Balwani and Robert Verrijt's work may seem extravagant at first glance – just look at the beautiful House on a Stream – but that only goes to show that stunning architecture need not dominate nature and its surroundings. By entwining their tasteful vision with a comprehensive and sustainable outlook, BRIO manages to not only create domains that appear visually spectacular but also draw on the natural benefits of a property. Simply, BRIO's designs are delineated by playing to a given plot's strengths.
The integration of water is a common motif in BRIO's designs, yet how they graft streams and ponds to their structures allow the water bodies to breathe life into their work. Much like BRIO's use of water, playing with light is a definite talent of theirs. By not forcing the surrounding landscape of a structure to conform to it, Robert and Shefali come to a consensus with the natural idiosyncrasies of a specific area, allowing them to manipulate natural light and use it to cast shadows and interact with structures. This discerning ability has rightly put them on Architectural Digest's top 50 most influential designers in India for the past three years in a row. Maharashtra is now peppered with their creations, featuring an eagle eye penthouse duplex in Mumbai, the sprawling Riparian House on the ghats in Karjat, as well as Tala Treesort, a tree villa eco-resort next to the West coast's Kuda Caves.
Read more from our interview here.
Formed by the merging of Chitra K Vishwanath Architects and Rainwater Club in 2008, the Bengaluru-based firm has a strong focus on ecology, architecture and water. With a diverse team of designers, architects, engineers and urban planners, Biome approach to construction emphasis responsible use of renewable materials in place of chemical-based products, and the incorporation of renewable energy facilities, such as rainwater harvesting and solar panels.
Committed to spreading sustainable living practices, their designs are made keeping in mind the topography and terrain of an area, as well as the impact that construction can have on the land and its surroundings. They're responsible not only in their design methods and techniques but extends to the local labour employed with proper training and recognition of work.
Eugene Pandala gained tremendous recognition with Banasura Hill Resort in Kerala. His name has become synonymous with mud architecture and as an advocate for environmental sustainability when it comes to construction and building design.
With a Masters in Urban Design at the School of Planning and Architecture, New Delhi, he popularised mud architecture as an economically feasible alternative and eco-friendly method of construction. In fact, as per reports, the Banasura Hill Resort was built with mud from the very land on which it sits.
Championing 'earth architecture', Pandala's creative genius and designs have bagged several accolades, including the first Laurie Baker Award.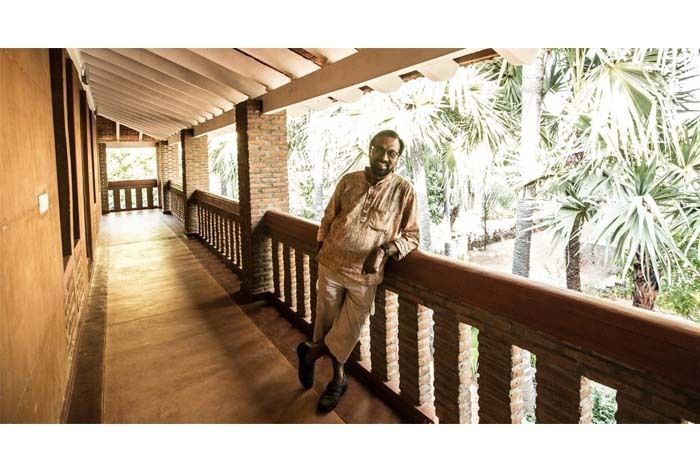 Anthony Raj
Anthony Raj was working in the corporate world when he began construction of his family home. He was captivated by the beautiful location a little outside Chennai and was inspired to create a structure that would complement its surroundings with minimal damage done. And thus, with direction from architect Dharmesh Jadeja, Arulville was born, an exemplary creation of indigenous architectural techniques and eco-friendly materials that today stands inspiration in itself for architectural students and professionals alike.
Falling in love with such buildings, he set up the Centre for Indigenous Architecture (CFIA) in Chennai to promote sustainable architecture, using locally sourced materials which includes bring on local workers to boost the economy of the region. "I plan to empower young architects, through CFIA, to study and collaborate with other like-minded architects and also to research on different techniques. With increasing urbanisation and changes in lifestyle, we are departing from the more sensible, healthier habitats. It is time for architects to demonstrate the benefits of indigenous architecture in urban and even industrial contexts. Our main goal is to leave the earth as a better place than we found it," he said in an interview.
Dharmesh Jadeja
Disillusioned and unhappy with the functioning of the mainstream architecture and construction world, Dharmesh Jadeja set off on a search for something better. Being introduced to the work of Laurie Baker, his exploration into his art and techniques changed his outlook as he set off on a new path – leading him to Auroville where he runs Dustudio.
A civil engineer by profession, he is now one of the eminent sustainable and indigenous architects in the country exploring local materials, techniques, principles and a collaborative approach to building and design. The firm champions these traditional practices highlight the past wisdom of architectural engineering while fusing their relevance into contemporary aesthetics and settings. Instead of disconnecting from the outside world, they bring in the elements, making constructions a social experience with local artisans and resources, as well as bringing the owners of the property into the fold of designing and construction, making them a part of this process as well.
Sustainable living experience is at the core of Trupti Doshi's philosophy and approach. An Architect and Integrated Sustainability Engineer and Co-Founder of The Auroma Group, Doshi has been a vocal advocate for ecological architectural design. Viewing buildings and cities as living breathing organisms that are a part of nature, not overpowering nature, she promotes the use of eco-friendly materials and environmentally appropriate building techniques, as well as the incorporation of proper rainwater harvesting mechanisms, waste management and other renewable energies.
Her flagship project, the Sharanam Rural Development Centre in Tamil Nadu was primarily built using the earth that this Centre itself stands on. Today, it stands as the perfect example of everything that Doshi believes in. More than just the ecological impacts of building the building, it was the act in itself that she too focused on. Along with architect Jateen Lad, with whom the building was designed, she would be on site and training over 450 local villagers in building skills to create this Centre – built by them, and for them. It was even selected as a model for Sustainable Development in India by the United Nations Environment Programme.
If you liked this article we suggest you read:
How One Man From Kerala Built His Home Entirely Out Of 'Trash'
Stunning Environmentally-Friendly Homes Designed By Indians
15-Year-Old Recycles Rice Waste To Make A Low-Cost Building Material