The few times I've mustered up the willpower to actually roll my own cigarettes, I end up asking the nearest paanwallah for the generic OCB. Not so generic really, OCB is manufactured by Chicago-based Republic Tobacco and went the same way as FedEx, Bubble Wrap, Chapstick, and Q-tips. In India at least, the rolling paper market was small but over the last few years local brands have begun to make their presence felt. So much so that, with no actual preference for one brand over the other (I hear you gasp, seasoned rollers), I'm an outlier. But a new brand has piqued my interest–Stash Pro is rolling paper with a purpose and a high commitment to quality. Most importantly, their range of products will appeal to both advanced rollers as well as newbies because they stock both pre-rolled cones and rolling paper.
Founded by five enthusiast-turned-entrepreneurs–Yash Shah, Sohel Shah, Sanil Mehta, Tanuj Jain, Saurabh Dugad–StashPro is making the entire experience convenient, enjoyable and mindful. With a larger purpose to 'weed out' certain taboos, they've developed an extensive product line with includes pre-rolled cones, paper tips (filters), rolling papers and a nifty emergency pack (complete with a pair of papers and tips).
Completely sustainable, StashPro's packaging is made from recycled material, founder Yash tells me. In addition, the brand is committed to women's empowerment and providing gainful employment. All the cones are hand-rolled, a skill that the female workers at the StashPro factory are taught, after being educated about the product. Up-skilling aside, they are paid fair wages and Yash is happy to report that job satisfaction is high–an important barometer for StashPro. Further, the FDA-approved brand consistently checks and maintains its quality so that their assurance of being a superior rolling paper is not empty and unfounded. The 420-friendly brand wants to providing an "elevated experience" through their thoughtfully-designed products. Their focus group? New-age creatives, city folk and all those consumers looking to lead a cleaner, greener life.
Scroll on for a glimpse of their products; you can place your orders here.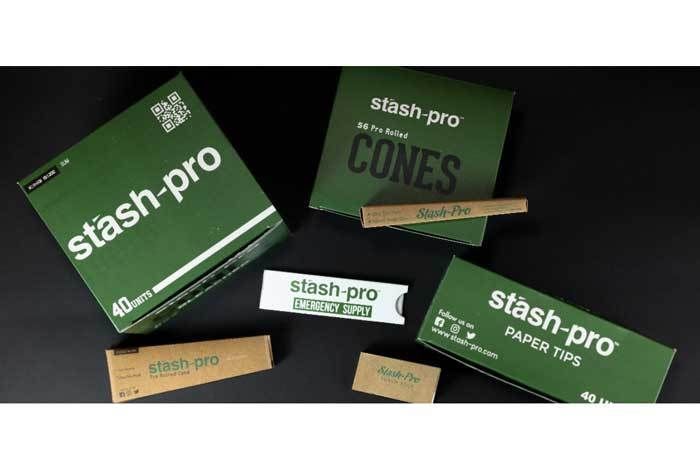 If you enjoyed this article, we suggest you read:
We Spoke To 4 Indians Who Are Using Cannabis Oil As Medicine
Patanjali Could Become A Major Player In India's Cannabis Industry