Walking into Champa Gali in Saket's Saidulajab village is quite like tumbling through an inconspicuous cupboard and finding yourself in another world. Straight ahead from a cigarette shop, turn right from a drab looking building into Lane No 3, and bam in the middle of nowhere, a Parisian paradise in the heart of south Delhi.
When Jiten Suchede, a graphic designer and "hobby carpenter" set up base in Saidulajab in 2013, it was only abandoned poultry sheds – perfect for a design space where he could make noise without neighbours complaining. In the evenings, his studio space would turn into an adda for impromptu jam sessions, a pot constantly brewing on the side for an endless supply of tea. From this vibrant gathering emerged Jugmug Thela, an artisanal tea and coffee shop that was one of the first to make Champa Gali its home. Soon, coffee roasters Blue Tokai moved in, bringing with them several champa plants, giving the street its name and a place on the map. Today Champa Gali is an up-and-coming cultural space, perfect for getting away from the chaos of the city.

Incidentally, Suchede stops short of dreaming elaborate for the gali. "We're already here on borrowed time," he says about the future of Champa Gali. "What we've built here is an organic being – we can give it direction, but we can't control it," he adds.
Suchede's investment in nurturing the space, however, tells a different story. Through his efforts, one can curl up with a book inside Jugmug Thela's 'The Reading Room', or enjoy one of their cuppas under the cloth canopy, on the wooden benches outside. In the evenings, the fairy lights come on and the bougainvilleas dazzle, along with an occasional live performance, courtesy Jugmug Arts and Culture Project.

Fellow Champa Gali resident, Blue Tokai sees a steady stream of patrons looking for a quiet, comfortable place to work. Its minimalist décor and sensible, but stylish furniture welcomes a diverse demographic – from college students to business associates. What's remarkable is how the story of each coffee blend at the shop is painstakingly told, engaging each patron in the origins of the coffee they're enjoying.
Gurpreet Sidhu, who runs neighbouring People Tree, a shop cum studio, is all praise for Blue Tokai's social media talents. Sidhu herself uses an old Nokia phone for work, and can't quite wrap her head around the concept of Instagram or 'social media influencers'. But what she does understand, and has been practicing for years, is putting soul into the art The People Tree creates. From the tiniest piece of jewellery to an elaborate dress, the heart of the artisan is in every People Tree product. One can spend hours browsing through the products at their shop – handmade diaries, wooden jewellery, signature People Tree T-shirts, etc, or walk through their studio at the back, where all the action takes place.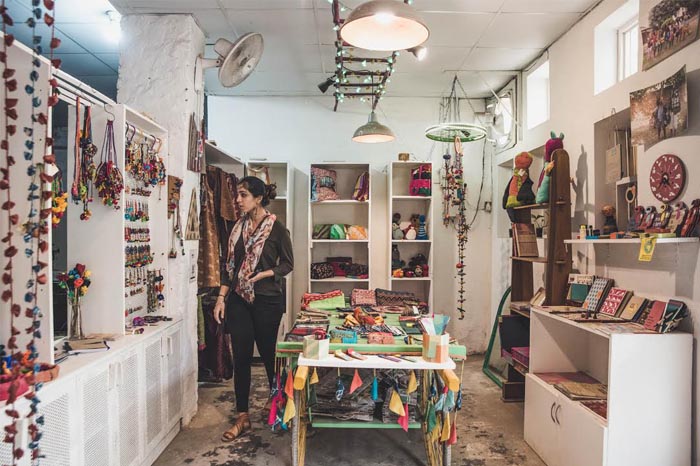 Other than the original triumvirate, several other establishments have popped up in Champa Gali. One can enjoy a sumptuous meal at Pho King, an Asian restaurant that is fast becoming popular; pamper oneself at R Hair Salon, and indulge in a milkshake at Cafe Morellos after; or spend time at Liberty Village, the flea market that has recently made its way to the gali.
It's apparent that the community of artists and entrepreneurs at Champa Gali are proud of what they have created, but there is a very real possibility Saidulajab's Lane 3, Khasra 258, will meet the same fate as Delhi's Hauz Khas Village – sky-rocketing rents, unmanageable crowds and a once flourishing arts space now devoid of substance. Sidhu and Suchede, at least, stake no claim to Champa Gali. "Once the developers move in, the artists move out," says Sidhu matter-of-factly. To their mind, it's only a matter of time before Champa Gali, Delhi's well-kept secret, is discovered.
Photographs taken by Kirti Narain for Homegrown.
If you enjoyed this article we suggest you read:
The Lasting Legacy Of Delhi's Priya Market
Dumplings At Daybreak In Kolkata's Chinatown