Ishrat Sahgal found her canvas in a completely unexpected place; she found it lying on the floor of her living room, blissfully ignored, almost as if an indifferent afterthought to the entire setup. Something had to be done. The carpet––a clearly integral piece of living room interior––was not getting the kind of attention it deserved and Ishrat was going to change that.
She established Mishcat Co in 2013. The idea was simple – a sustainable luxury brand that would play around with carpets and be indigenous in its own unique way. "I initially started Mishcat Co to shake up a complacency that had come about of the carpet being treated as a hand me down or afterthought, a neutral or mundane item. I wanted to find the sweet spot between sustainable craft, globally conscious design, and playfulness, and try to bring some of the fun back into the carpet selection and corresponding interior process," she tells Homegrown.
A graduate of Rhode Island School of Design (RISD), Ishrat's brainchild Mishcat Co lives an interesting double life. It's both a design house as well as an interior consultancy, with the aim of introducing its customers to a whole new world of rugs and the immense design potential it has to offer. But it's not just rugs––each carpet at Mishcat Co is upcycled specifically from leftover sari scraps, so as to ensure both, its quality and sustainability. They're not your run-of-the-mill factory carpets being produced in bulk, because unlike most, Ishrat has her own network of local weavers and artisans who give life to her imagination. "The beauty of our carpets is that they can vary from artisan to artisan, and yarn to yarn. Each of our carpets celebrates their inconsistencies which cannot be replicated by a machine or for that matter, even by hand––truly making them one of a kind."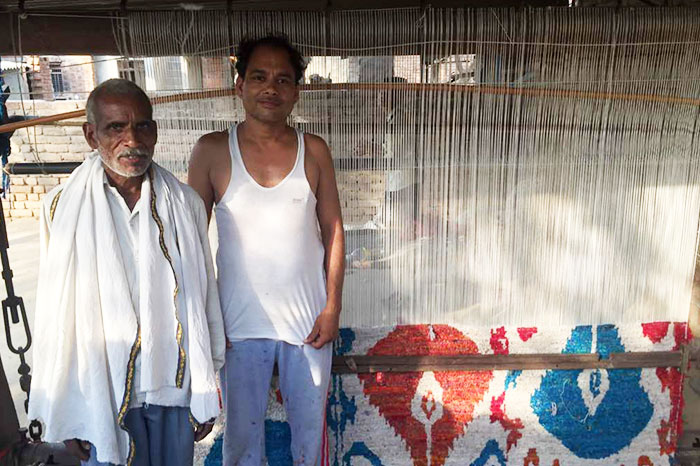 The process at Mishcat Co is extremely collaborative. Ishrat works as the connecting point between her customers and artisans––both enjoy immense creative freedom in terms of visualisation and designing of the carpets. The artisans, especially, are encouraged to keep experimenting with different patterns and materials. This not only keeps the monotony in check but also ensures a steady stream of new ideas. As far as the colour palette is concerned, one can't help but appreciate the eclectic tones in Mishcat Co's rugs and how they fit perfectly with the company's design philosophy.
As a child growing up in Chandigarh, Ishrat couldn't help but notice how a sari, which might seem like a mere (really long) piece of cloth, was always considered an icon of Indian culture. And that's when her design sensibilities first began to develop. Eventually, while studying Interior Architecture and Art History at RISD, she found a way to develop it further in the global context. Today, Ishrat likes to define her design sensibility as "constantly evolving", and the same is reflected in the way Mishcat Co is growing as well. "One of the main things I learnt at RISD was to think in a very multidisciplinary way, to question everything we know as "normal", switch it up, and find my own way of doing things. All these things eventually became the grounding thought pillars for Mishcat", she tells us.
Of course, working at a grassroots level comes with its own set of challenges, and no one understands that like Ishrat herself. "We once had over a two-week long delay in delivery because one of our independent weaver's cows was unwell in his village! I found it extremely endearing. It's funny how both the small and big things in life, give you perspective. It also got me thinking about how we can actually embrace these very real problems and relay them to our clients."

When she's not busy trying to find the perfect piece for her clients, Ishrat spends her time designing boutiques. Her second venture, Ishrat Sahgal Studio, is an attempt at combining architecture and art. She has designed various boutiques across the country. Some of her recent projects include Caparo London Headquarters in Delhi, Cafe Kothi in Jaipur, and a rooftop cocktail bar called the Upstairs Club in ITC Bella Vista in Chandigarh. But that's not the end of it. Ishrat has bigger plans for the future; particularly a studio on the bustling streets of London.
And since Ishrat already has a knack for all things unconventional, we really can't wait to see what this London studio will have in store for everyone!
For more information, you can visit the official website.
If you enjoyed reading this article we suggest you read:
The Fashion Label Uplifting Dalit Leather Artisans' Lives
These Sisters Are Turning Scrap Into Creative Accessories
The North East Project Champions Local Textiles Through Contemporary Design