In 2009, Section 377 of the Indian Penal Code (IPC) – the provision criminalizing sexual intercourse that is 'against the law of nature' – was scrapped as it violated the fundamental rights guaranteed in the Indian constitution. Four years later, the LGBTQ community collectively mourned the Supreme Court's decision to uphold the provision once again. Having witnessed a decade long journey of this fight to get rid of Section 377, we're now finally at a critical point in history.
What's Happening?
After being handed over the responsibility by the Centre, the Supreme Court is currently in the midst of hearing petitions that challenge Section 377.
According to a report by Economic Times, the Supreme Court has agreed to revisit its 2009 decision and examine the law from two perspectives: "These are whether sex against the order of nature, as prescribed under the law, was "retrograde" and can sexual rights to persons be denied just because they formed a minuscule minority."
To know about the timelines of events, click here.
What Is Section 377?
"Whoever voluntarily has carnal intercourse against the order of nature with any man, woman or animal, shall be punished with imprisonment for life, or with imprisonment of either description for a term which may extend to ten years, and shall also be liable to fine."
What Led To The Hearing?
In August 2017, the Supreme Court, in a landmark judgement declared privacy as one of the fundamental rights mentioned in the constitution. This brought in a ray of hope for the LGBTQ community. To further strengthen their stance, a three-judge bench agreed to re-examine the constitutional validity of Section 377 after observing a writ petition filed by certain members of the community stating that they lived in constant fear of legal action because of their sexual orientation.
(With inputs from The Indian Express)
The Petitioners
12 petitioners have questioned the validity of Section 377 have been filed in the Supreme Court. These include Bharatnatyam dancer Navtej Johar, culture expert Aman Nath, restaurateurs Ritu Dalmia and Ayesha Kapur, media person Sunil Mehra, hotelier Keshav Suri, the Naz Foundation along with various other individuals.
The five judge bench being headed by Chief Justice Dipak Misra and comprises of Supreme Court Judges - Justices R F Nariman, A M Khanwilkar, D Y Chandrachud and Indu Malhotra.
Key Arguments On Day 1
The proceedings in the court began roughly around 11.45 am.
Protection Of Rights & Indian Order
Former Attorney General Mukul Rohatgi began his arguments by quoting Article 21 of the Constitution that protects the rights of all Indian citizens. He further questioned what the 'order of nature' mentioned in Sec 377 meant.
The order refers to Victorian principles of 1860. He then pointed out the tale of Shikhandi in Mahabharat and stated that the 'Indian Order' was much older.
Legality Of Same Sex Relationships
Rohatgi also put forth a strong point stating that the legal state of same-sex relationships is unclear and that this case goes beyond Sec 377.
To this, Solicitor General Tushar Mehta who is representing the Central Government responded that for now we must only look at the provisions under Sec 377.
The bench agreed with Mehta.
Mixing Gender & Sexual Orientation
Rohatgi then clarified the difference between gender and sexual orientation, arguing that they should not be mixed up. "The issue deals only with sexual orientation and it has nothing to do with gender."
Current Government's Stand
Solicitor General Tushar Mehta who is representing the Central Government put forth his statement saying that current government's stand on the matter was unclear.
Section 377 Is Unconstitutional
After lunch Arvind Datar, representing one of the petitioner's put forth his arguments and told the bench that the imposition of Sec 377 is unconstitutional.
The Bench then asked Datar to convince them that 'if a law like this was made now, it won't be sustainable.'
Arvind Datar explained to the court that if a person has a different sexual orientation, it can't be treated as a crime. He concluded by raising examples about the LGBTQ position in Europe and decriminalization of homosexuality in Trinidad and Tobago.
With inputs from The Quint and Gaylaxy Magazine.
Key Arguments On Day 2
ASG Mehta tells the bench that the Centre will leave the matter of Section 377's constitutionality on the apex court. The Hindu, putting forth his points reported 'the court should specify that the right to choose a partner should not extend to perversions like incest.'
Equal Opportunity
Meneka Guruswamy, representing a petitioner against Sec 377 argued that "LGBT people deserve to be protected by court, constitution and country. Section 377 denies the LGBT community the equal opportunity of participation."
Beyond Consensual Sex
Meanwhile the centre asked the bench to not deal with issues like gay marriages, property and inheritance rights. The Supreme Court made it clear that this hearing will restrict itself to 'whether Section 377 is unconstitutional with regard to consensual sex between two adults.'
Sec 377 – Violation Of Other Articles & Laws
Guruswamy added that Section 377 is arbitrary, further stating that it violated articles 15, 19, and 21 of the Constitution.
Jayna Kothari who is the counsel for one of the petitioners put forth a key argument stating that 'Section 377 nullifies the judgement which declared transgender people to be the 'third gender'.
Sec 377 – Bias To Heterosexuals?
Another important point that came up during this hearing was put forth by Advocate Shyam Divan. The Quint putting forth this argument, reported,
"Section 377 criminalizes certain acts only, but in its application, it is not used against consenting sexual acts between heterosexual adults, but against members of the LGBT community."
He concluded by adding that Sec 377 makes LGBTQs second citizens of India.
With inputs from The Quint and The Hindu.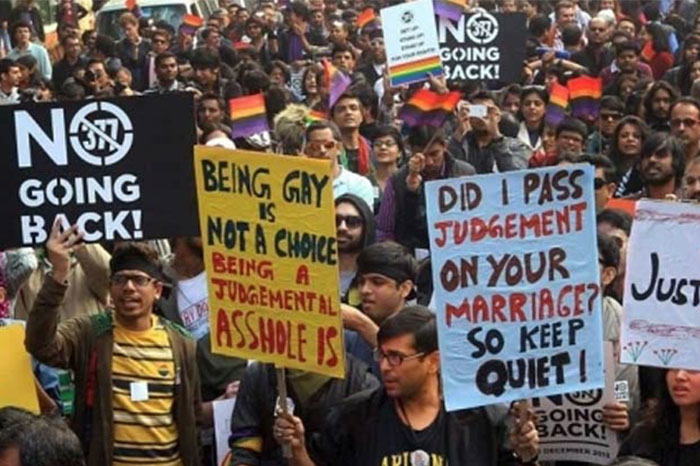 Key Arguments On Day 3
The hearing on Day 3 began with Justice Indu Mehta, acknowledging mental health issues faced by LGBTQs. She noted,
"Homosexuality is not an aberration but a variation. Homosexuals don't disclose there sexuality & due to family pressure etc. get into marriages. Then frustration etc. leads to bisexuality."
Reference To The Mental Healthcare Act
Justice Chandrachud referring to the Mental Healthcare Act says "there should not be any discrimination on basis of sexual orientation."
To this, ASG Mehta responded that the 'Centre was providing options for LGBT community to get help.'
Sec 377 – Violation Of Freedom Of Speech
Senior advocate Krishnan Venugopal, appearing for a petitioner submits that Sec 377 violates the freedom of speech. He says, "when someone is unable to express their identity, it also affects their freedom of conscience."
Constitutional Morality & Development
Another important part of the discussion came through when a lawyer opposing decriminalization of homosexuality said that the centre should consider the views of the public. To this, CJI Dipak Misra said, "We don't decide Constitutional issues by referendum...we will follow Constitutional morality."
Another senior advocate Manoj George who is representing two Christian associations supporting Section 377, opposed the scrapping of Sec 377 and said that the government was 'taking a U-turn'. To this, Justice A M Khanwilkar said, "It's not a U-turn. Why can't you see it as a development of the law."
Day 3's hearing concluded with this remark.
With inputs from The Quint and The Indian Express.
What's Next?
The Supreme Court will resume hearing next week on Tuesday, 17 July 2018.
Read the detailed report of The Quint, here.
Feature Image Courtesy: India Today
If you enjoyed reading this article, we suggest you read:
The Other Side Of Coming Out - 5 LGBTQ Allies Share Their Stories
16 Young LGBTQ Indians Tell Us What 'Pride' Means To Them