"I'm interested in the world as it is, not so much of an imagined idea of what art can be," says 35-year-old artist Sahil Shah over the phone. Two days earlier, I was sitting at Kulture Shop's Bandra-side store when Kunal Anand, the Co-Founder, Design Director and Curator, whipped out three posters made by Shah, placing them side-by-side on the table. "These prints are amazing," I said, looking closer at the detailing of each individual image that comprises each of the posters. "Oh, these aren't prints, these are his originals, he makes them all by hand," replied Anand. I delicately placed the sheets back down on the table and took a step back by instinct.
It's been hard to forget his work since then, the bold lines and colours. Art was always part of Shah's life growing up, with an Architect mother and many others in the family with training in art and drawing – it came naturally to him. "I knew I didn't want a regular 9 to 5 job, I was never going to be a doctor, lawyer or engineer. Art was always part of my life, on my mind, so when the time came, it was a natural path," he says, adding that he did have a brief stint as a copywriter at Ogilvy & Mather.
Citing tattoo culture, American and traditional Japanese designs as inspirations, there are certain elements that clearly spill into the way he draws but his style and thought are unique to him. He also refers to video games and comic books, which makes sense of my initial thoughts when going through his work on Instagram – "this one kind of reminds me of a mix of old Amar Chitra Katha and Panchatantra covers."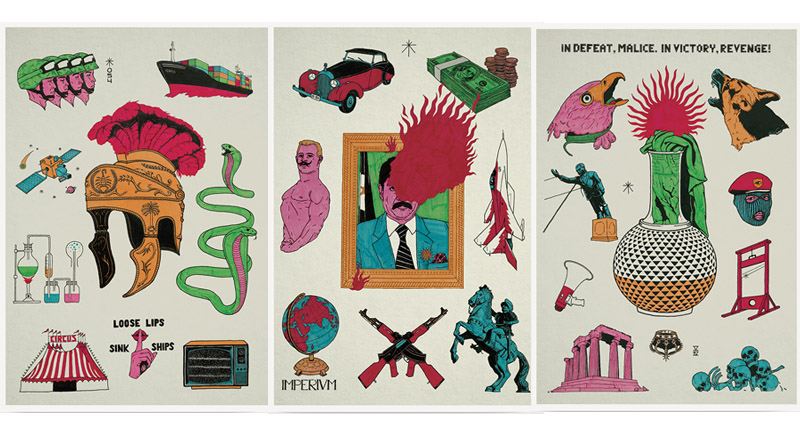 All of Shah's work is handmade, pen to paper (or other choices of stationery and material, but you know what I mean). When asked if the choice was a conscious move towards going old-school or away from digitisation, Shah explains his thought after first clearing up a popular misconception, "I think there's a misconception that digital work and mediums are easier and quicker, I really don't think it is. It's just that once you've taken years and years of training and become good at doing something then it's quicker. In my position, I haven't taken much time to get good at digital work, so I work quicker doing it by hand. I honestly also just don't like sitting in front of a computer screen for hours on end. I concentrated on getting better at drawing by hand on paper and I'd rather have somebody else do any digital aspect of it, someone who is skilled at the digital part."
While client commissioned work comes with its set of requirements and needs, I ask Sahil if there is anything theme or element that he notices running through his entire body of work that strings it together. There's a questioning of the system, he points out, to some degree in all his work. A certain amount of institutional critique that speaks through all of his creations.
"Is this a conscious criticism you incorporate into your work? Making art political and questioning?" I ask him. "Yes and no," he responds matter-of-factly. "From a young age, my parents taught me to question everything. I don't take things for granted, or as a given, at face value. Even if it is something that comes from someone in a position of authority, like what a teacher tells me, for example, and those that are supposed to know better than you. So I've grown to always question any institutional system that I've been a part of and whatever was in front of me. I guess you could say my work is a bit rebellious if I had to characterise it, but it's hard to tell without having any perspective."

Shah believes that traditional design holds up through the test of time when talking about the influence of traditional Japanese tattoo style on his work. "Trends in tattooing, and in the art world in general too. They come and go, but some stuff just stands the test of time. Heavy outlines, simple colour schemes, bold designs that are easily visible. You wouldn't call it delicate in design – it's a very graphic style, to put it simply.
Bringing the conversation back to his series for Kulture Shop's Propaganda themed-collection, Shah explains that he initially was trying to conceptualise one image that would represent some concept of propaganda. Looking through a lot of Chinese and Society propaganda art, hundreds of ideas went through his mind so he decided, instead, to put multiple images into one drawing, with a narrative going through all of them instead of a single image with a single idea. "So the idea was to put a bunch of images into one, using the symbology of the Institution against the Institution itself. The kind of imagery that people in power use to push their own agenda, using those and similar images and symbols against them instead," he adds.
Shah's hand-drawn posters trace the rise and fall of leaders and empires. His creations, titled 'Rise', 'Decline' and 'Fall' elaborates on the cyclical nature of this phenomena through a story and puts it forth to viewers in a pop of colours. From Roman helmets (which Anand (KS) says Shah put hours into researching about) to the pulling down of Saddam Hussein's statue by citizens, each individual image tells its own tale.
Currently, Shah has taken a step back, moving away from client work and design, instead, getting back to his own paintings, one of which he says he had abandoned about 2-3 ago and he's trying to finish.
You can view more of Sahil Shah's work on his Instagram page and get prints of his work at Kulture Shop, online and offline.
View the entire collection of 10 artists' work for Kulture Shop's Propaganda collection here.
Feature image: (L) Artwork for Bonobo Bar's menu and (R) Skeletor Stickers, courtesy of Sahil Shah
If you liked this article we suggest you read:
Propaganda - Kulture Shop's New 10-Poster Art Collection Hits Hard
Heleena Mistry's Repping Brown Girls In The International Tattoo Industry