On the far edge of India's neglected Northeast, lies the state of Nagaland known mostly for its war-time sacrifices, tribal diversity, breathtaking scenery, cultural heritage, and Bhut Jolokia—the world's hottest chilli that is consumed worldwide but originates from the fertile soil of this region. Despite being home to all of this and more, little is known of the cuisine that is consumed here. Of course, some of us might find it possible to boast about our exquisite experiments with the 'northeastern cuisine', but the truth is that there is no such thing as a single 'northeastern cuisine' as each of the Seven Sisters come with their own unique offerings.
Nagaland's ethnic diversity is broadly made up of 16 tribes, with each tribe having its own sub-tribes and each sub-tribe having its own distinct food habits. However, some commonalities still exist. For instance, Ao Nagas tribe prefers to add a dried yam leaves preparation while cooking their pork whereas the Angamis tribe prefers their pork with fermented soybean instead. The use of Bhut Jholokia, also known as Raja Mircha, is another ingredient that is frequently used across the food habits of many tribes.
But what makes Naga food particularly stand out is the use of mild flavours that, albeit integral to the dish, do not overpower the natural taste of the vegetables or meat being cooked. The Naga people hardly use any masalas in their food – something I personally can't relate to considering the number of MDH packets constantly stacked up in my refrigerator at home. Instead, they employ culinary techniques that bring out the natural juiciness of the vegetables and meat, ensuring that the essential flavours remain undisturbed, affected only slightly by a hint of mild ginger or garlic seasoning.
So if you're as unaware and intrigued as I am by the mysterious depths of authentic, minimalistic Naga cuisine then you need not fret. For at Homegrown, we've rounded up a complete list ranging from restaurants and stores in some of the major cities to cookbooks and food bloggers you can follow to explore this particular 'northeastern' cuisine.
RESTAURANTS
Where: Jamlipada, Vidya Nagari, Kalina, Santacruz East, Mumbai
With its linoleum flooring, framed photographs adorning the walls and just four tables, this little cafe is the ideal place to visit if you haven't yet been introduced to the delights of Naga food. With the scent of bamboo shoot perpetually lingering in the air, Thotrin is run by a family that is Naga but lives in Manipur, making the food as exciting as it can get. From Mayangpai Manak (mashed potato with king chilli and fish) to Ngari (a brown paste that takes over six months to prepare) – Naga cuisine is well-known for its extensive use of ferments and Thotrin excels in achieving that.
Cost: A wholesome Naga meal for two at just Rs 400.
Where: 70-E,1st Floor, Humunyunpur, Safdarjung Enclave, Safdarjung, New Delhi
Skimming through the menu of a cuisine you haven't tried before can be pretty overwhelming, but Heritage Naga Food takes care of that with its array of authentic Naga thalis that come in three varieties – pork, fish, and chicken. A simple and quiet place serving delicious and affordable Naga cuisine, the menu here even has a separate section for chutneys! This eatery also doubles up as a bookstore for lesser-known Naga literature; all you have to do is ask. Try their fizzled pork and pork curry with bamboo shoot for a kickstart into the world of Naga food.
Cost: A delicious meal for two for Rs 350.
III. Nagaland's Kitchen, Delhi
Where: S-2, Uphaar Cinema Complex, Green Park Extension Market, Green Park, New Delhi
Nestled in South Delhi's Green Park area, Nagaland's Kitchen isn't the kind of place that could get lost in a sea of modern-day eateries. The theme-based decor of this place can be spotted from at least a kilometre away and we'd honestly recommend all the pork-lovers in the city to head to this restaurant immediately. The food here is just like real Naga cuisine, with flavours of garlic, bamboo, and chilli dominating your palette. The place also serves other cuisines, so make sure you double check your order with the waiter, so as to not be disappointed later.
Cost: A tad expensive but definitely worth it, the food here will cost you Rs. 1200 for two people (approx.).
IV. Bamboo Shoot Kitchen, Delhi
Where: 4/8, Gupta Market, Lajpat Nagar 4, New Delhi
With innovative bamboo interiors and comfort Naga food, Bamboo Shoot Kitchen is known for its unusually large portions of food and a soft, relaxing ambiance. The food here is indigenous and reminiscent of home-styled cooking for those who are no strangers to Naga delights. The exceptional pork here is always cooked perfectly and served with a hint of garlic, and this consistency is exactly what keeps the customers coming back for more. Non-vegetarians can try their smoked pork with bamboo shoot or the delectable pork chilli gravy. For the vegetarians, the restaurant offers dishes like shinju and ootti.
Cost: A full meal for two at Rs. 500.
Where: Basement, 104/A, Behind NCC Gate, Safdarjung, New Delhi
Walking into this basement establishment, you'll definitely be welcomed by wafts of fermented bamboo and smoked pork, accompanied by the smooth flavour of their fruit beer. Hornbill is known for providing an undiluted adventure into the world of authentic Naga cuisine. Their thalis are the most hot-selling item on their menu, although their pork preparations are pretty commendable too. Try their pork with Yam and Axone or their chicken and bamboo shoot for an experience you're unlikely to forget.
Cost: A meal for two at Rs. 900.
VI. Nagaland Food Stall, Delhi
Where: Stall No 19, Opposite Ina Market, Dilli Haat, New Delhi, Delhi 110023
Even though Naga food doesn't exactly have the traditional masala flavour to it, try the Smoked Pork Chilli at the Nagaland Food Stall at Dilli Haat to experience unbelievable levels of spice (we take no responsibility for all the tears thereafter). The Naga thalis served here are enough to feed two people, however the service might keep you waiting for a bit before your food arrives. So we suggest visiting this place with some time on your hands. Even though their specialty is Naga food, which is predominantly non-vegetarian, there are plenty of options for your vegetarian friends too, like a variety of soups, noodles, rice preparations etc. Also, it's an open-air restaurant so be prepared in case the weather seems a little sketchy.
Cost: Drop by for a lovely dinner at Rs. 800 for two.
VII. Zingron, Bangalore
Where: Solitaire, 62, 2nd Floor, 1st A Main, Koramangala 7th Block, Bangalore
With its custom-made Naga "King Chilli" sauce, pork dishes, and rice beer, Zingron in Koramangala tends to transport you to a typical northeastern setup by the hills. We'd probably not recommend this place to vegetarians but for our meat-lover friends we'd say, dive in! Try their smoked pork ribs that come doused in a fiery Bhut Jolokia paste. This eatery is especially known for its spicy food so let this be a cautionary tale for everyone experimenting with Naga cuisine for the very first time.
Cost: Rs. 750 for two people.
VIII. Somilan Steak House, Bangalore
Where: 52/2, Sujay's Pride, Opposite Blue Frog, Church Street, Bangalore
Located in the heart of Church Street, Somilan steak house is known (obviously) for its steaks but also its scrumptious Naga cuisine which comes in varieties of smoked, dried or fermented meat. With subtle lighting, exceptional food, and rice beer (called Zutho), this restaurant makes for a perfect Friday night out venue. It's also very conveniently located near the metro station so you can bypass the Friday night Bangalore traffic and head home after a hearty meal. Try their bamboo shoot fish with sticky rice or their chilli pork.
Cost: A Naga meal for two at Rs. 800.
IX. Smokey Tribe Restaurant, Bangalore
Where: 62, 1st Main Road, 7th Block, Koramangala, Bengaluru, Karnataka
Located just above the aforementioned Zingron restaurant, Smokey Tribe Restaurant is a relatively simple place, with a comfortable seating space, and a whole lot of Naga culture emanating from the walls around. The walls are adorned with striking war paraphernalia and some watercolour paintings that are effective in conveying the Naga way of life. The thalis served here are the best deal with a combination of steamed veggies, lentils, pork chilli, smoked pork with bamboo shoot and the quintessential king chilli sauce. You can also try their dry fish that is paired perfectly with mashed potatoes.
Cost: Rs. 650 for a meal for two.
Where: 2nd Floor, LA 6, New Nagaland House, Broadway Roadd, Sector 3, Salt Lake, Kolkata
Despite the vicinity, many restaurants in Kolkata tend to blur the lines between northeastern, Nepalese, and Indian Chinese cuisine. Thankfully, Nagaland House is not one of those places. In fact, many locals are seen regularly visiting this place for authentic Naga dishes, as this is the only joint in the city to serve such a specialised cuisine with such finesse. So drop by for a wholesome pork thali or a quick weekday dinner, Nagaland House has something for everyone.
Cost: Rs. 600 for two people.
XI. Meiphung, Goa
Where: Baga River Creek Near The Blue Whale Water Park, Baga, Goa
As the city's first Naga restaurant, Meiphung has set the bar pretty high for any establishment that might try to break into the scene. With its Smoked beef salad, stir fried pork, and black sticky rice, Meiphung is owned by Livingstone Shaiza who belongs to the Tangkul Naga tribe and hails from Manipur. The whole place has a very warm and homely vibe to it, which is further emphasised by the little fireplace where children and senior citizens both often gather to share stories over some mouthwatering meaty preparations.
STORES
XII. Perfect Marketing, Mumbai
From sweet Burmese rice cakes to garden-fresh produce from the hilly regions of Nagaland and Manipur, a little nondescript store in Khar is the one-stop shop for all your northeastern food supplies. Run by Aking Zimmick, a Manipuri brought up in Kohima, Nagaland, who gave up his corporate job in Mumbai to open, Perfect Marketing is located in a tiny by-lane of Khar Danda. Every month, Aking flies down to Nagaland to procure fresh supplies like aiyang thei (a type of brinjal) and ngayung (roots of chameleon plant). Despite that, everything in his store is priced at the market rate. Open from 5.30 pm onwards every day, one can also grab some rare northeastern literature here, which is placed right next to the colourful candy jars.
XIII. Uraki, Delhi
Whether you're in the mood for cooking some Naga food or straight-away chomping on a smoked pork dish, Uraki is your one-stop-shop for not just fresh meat preparations but also ingredients sourced directly from the hills of Nagaland. From fermented fish and pickles to chutneys and chillies, the organic produce sold here is fresh and appropriately priced. At the back of the store, is a little non-AC section for those who wish to order something off their limited menu featuring Naga dishes like Kohima Villa Style Pork, Pork Sumi Thali, and Duck curry with bamboo shoot. But since the seating space might be a little uncomfortable, we'd recommend ordering in instead.
XIV. The North East Store, Online
A passion project of Trideep Rabha and Catherin Dohling, former Google employees, The North East Store is an e-commerce website that sells authentic products from the remotest North-Eastern regions of our country. Among these indigenous products, is a host of ready-to-eat Naga food items like Bamboo shoot pickle, Pork with Axone Chutney etc. The website also sells unique handicraft and handloom items from the region. A wholesome attempt to bridge the gap between the need for authentic Naga products and vendors living in Nagaland, The North East Store sources products straight from the makers as well as NGOs and self-help groups who support local farmers and artisans.

XV. Giskaa, Online
An acronym made from the first letters of all the capital cities of North Eastern India (Guwahati/Gangtok, Imphal/Itanagar, Shillong, Kohima, Agartala and Aizwal), Giskaa is a Bangalore-based start-up selling a range of indigenously produced items, including foodstuffs like meat masalas, sengmai Ngari (dry fermented fish), Dry meat with Axone (fermented soya bean), rohu (fish pickle) etc. Though based out of Bangalore, this e-commerce website was founded by Meghanat Singh in 2014—Meghanat originally hails from Manipur. Selling a range of lifestyle and organic products, the website also has a section called 'Northeast Exclusive' that includes a wide variety of authentic food and other handicrafts from Nagaland and other northeastern states.
COOK BOOKS
XVI. Naga Appetite by Salang Yanger, Dr. Asangba Tzudir, Chenti Kath
A collection of unique, indigenous recipes from Nagaland, this cookbook takes you on a delightful cultural journey of Naga cuisine through each of the 37 dishes mentioned in the book. Authored by Salang Yanger, the winner of Hornbill Naga Chef competition 2015, this book breaks down each recipe and presents it in a very comprehensive manner, even for someone who has never delved into the world of Naga cooking. The book also lists down the various cooking methods used by the people of Nagaland. This book truly brings home the authenticity of Naga food that has long been hidden in a culinary darkness of sorts.
XVII. Authentic Naga Cookbook by Moakala Longchar
Self-taught chef and food blogger, Moakala Longchar had done her fair share of introducing the Naga cuisine to the city of Mumbai. However, her pursuit felt incomplete. So she decided to release a special cookbook with 10-15 Naga dishes, carefully listed and elaborated in terms of ingredients and cooking styles used. Just another step in not only educating people but also empowering them to experiment with their taste buds, this cookbook is Moakala's attempt to bring the neglected northeast to the forefront of India's diverse culinary heritage.
HOME CHEFS
XVIII. Chiminasi, Delhi
Brainchild of Trishna Wahengbam & Mervyn Mathew, Chiminasi is a small delivery-only kitchen operated by a three-member core team. Apart from delivering Naga food to your doorstep seven days a week, Chiminasi also has a few Assamese dishes on their menu. They have a wide range of thalis like Pork with fermented soyabean thali and spicy pork ribs thali which can be ordered on specific days, according to their menu. Moreover, you can also customise your daily meals. If you're looking to discover more northeastern food in general, follow their facebook page as they occasionally come up with experimental thalis and dishes that are available only for a limited duration, but worth everything in the world. However, Chiminasi only delivers in and around North Delhi.
XIX. Aal's Kitchen And Grill
Known for its relatively cleaner beaches, abundant mangroves, and the thriving fishing business, Mumbai's Madh island has a hidden workshop of Naga delights that resides under the banner of Aal's Kitchen. Headed by Alistair Lethorn, along with Atika Chohan and Ankit Mehrotra, Aal's kitchen is for Mumbai's food enthusiasts who want a taste of authentic Naga cuisine. If you scroll through his Instagram page, you'll see that Alistair's talents lie in not just cooking traditional recipes, but also experimenting with ingredients that make up the soul of Naga cuisine. From beef momos to Sweet water fish Rohu, Aal's kitchen does not use any standardised spices in its food—except for Bhut jolokia, green chilli, ginger and garlic; focusing mostly on ingredients sourced from local northeastern markets. Aal's Kitchen also accepts orders. To follow Alistair and his food pop-ups, check out his Instagram.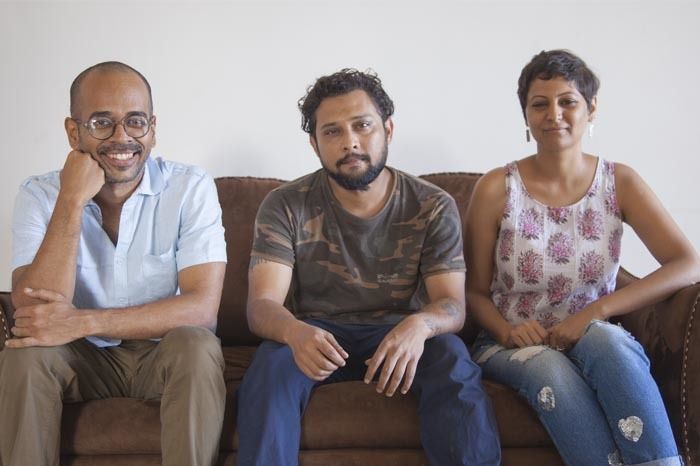 XX. El's Kitchen, Kolkata
In the sleepy town of Kolkata, El's Kitchen, a home chef venture run by Elika Awomi, is recreating Naga cuisine for the city's residents. This is the only other place, apart from Nagaland House, which serves authentic Naga food in the city. From pork with saw tooth coriander to pork pickle, there's nothing El's Kitchen doesn't serve. Even though you can pick from a range of northeastern dishes, El's specialty lies in Naga cuisine since the chef hails from Nagaland itself. They even organise regular food pop-ups in the city from time to time. Follow their Facebook page to keep track of El's experiments with food.
BLOGGERS
XXI. Moakala Longchar
It was in 2014, when Moakala Longchar first noticed the cultural gap when it came to the supposedly rich and diverse culinary traditions of India. There was little to no record of the rich food eating traditions of the northeast. Hailing from Mokokchung in Nagaland, Moakala decided to start her own food blog which she would use to create awareness about authentic Northeastern fare – with special focus on Naga cuisine since that is her area of expertise. She has also authored a cookbook of Naga recipes. Currently she blogs on Instagram by the name of RegaleMode.
FESTIVALS
XXII. North East Festival, Mumbai
Every year, the state governments of Northeast India join hands to bring northeast-themed three-day extravaganza to the country's capital. From live folk music performances to ethnic dances and authentic food, the North East Festival is the ideal crash course, a fun way to explore the culinary diversity that exists in the states of Nagaland, Manipur, Assam etc. You can also drop by, sway to the music, and indulge in a variety of readymade organic products sourced straight from the native communities of the Northeast. This year's festival will be on from 26-28th October, 2018.
Feature Image Courtesy: Zomato
If you enjoyed reading this article, we suggest you read:
The Very Best North Eastern Food In Mumbai – A Homegrown Guide
An Ode To The Railway Food From UP To Nagaland (And What You Shouldn't Miss)