There seems to be a growing frustration with conventions and traditions in India's fashion industry. Whether railing against wastefulness or strict gender roles, fashion labels are boldly carving out individualistic spaces in a traditionally exclusive industry by incorporating sustainable and gender-neutral thinking in their work. BISKIT, co-founded by siblings Harsha and Shruti Biswajit, is one such fashion label.
On what it's like working with a sibling, Harsha says, "It's a different relationship than working with a colleague. There's no small talk necessary, it's a quicker process." He tells me that the positive work culture between him and Shruti fosters similar creative wavelengths that allow both of them to express their styles and aesthetics and experiment with each other fruitfully. So it's no surprise that these two siblings created a label, BSKT, which hosts a unique fashion line, SPACED OUT. "Our philosophy is comfort, functionality, and durability. We want to give choice back to consumers. Let them decide what they want to wear," says Shruti confidently. This opinion informed the creation of one of their collections, BSKT, a unisex line that caters to any and all genders.
While attending the Fashion Institute of Technology in New York City for 4 years and studying abroad in Milan, Shruti explored the genre of sports and streetwear. She tells me about her desire to redefine expectations of what men and women should be wearing by creating a line that can be worn by both. And so, BSKT, Harsha and Shruti's first artistic concept, a unisex clothing line, was born. Shruti says that the two Is in BISKIT represent male and female energies, so their gender-neutral line gets rid of the letter altogether to give us BSKT. "We also really believe in sustainability. We're consciously producing less... Everything doesn't have to be individually owned. That idea is a part of a cycle of mass production that's outdated," says Harsha, an artist based out of Brooklyn.
Harsha and Shruti have gone beyond BSKT to create a uniquely contemporary line inspired by India's latest accomplishments in space technology. SPACED OUT, a collection created by the beautiful blending of Harsha's art with Shruti's design sense, focuses on motifs representing ISRO and Rakesh Sharma, the first and only Indian to enter space. "A lot of our influences come from New York and our Indian heritage. Although I live in New York, I cannot be disconnected from my Indian identity," says Harsha. Working with mixed media, layering photographs with drawings, Harsha created the art that adorns Shruti's designs in SPACED OUT.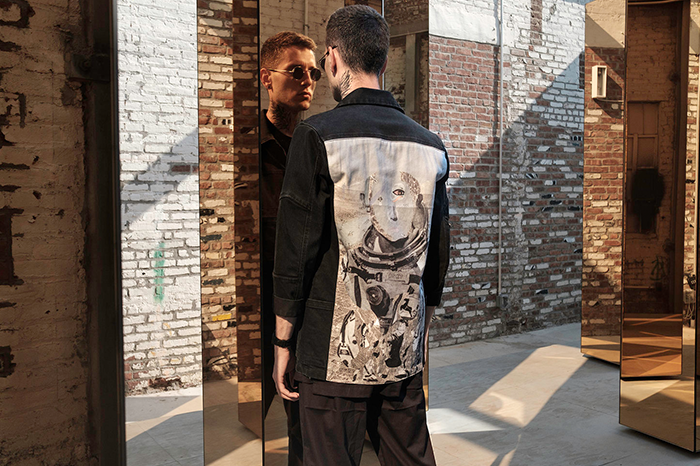 BSKT has sizes that fall in the small/medium and medium/large ranges. The Biswajit siblings say that their clothing is already oversized as they mostly work with a dropped crotch for pants and dropped shoulders for the shirt. Harsha says that based on their research, they're confident that a majority of people would be able to sport their designs.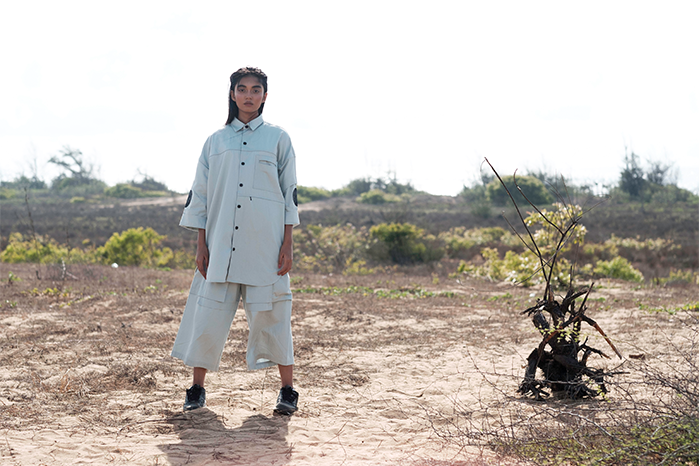 Harsha and Shruti don't want to limit BISKIT to fashion. They envision their company as a multidisciplinary art and design concept. "We want to go beyond fashion and collaborate with artists, musicians, and pretty much anyone in the creative field," they tell me. From architects to filmmakers, all creatives are welcome to collaborate with the founders of BISKIT, who are more than eager.
The best way to contact them is via email on their website and you can shop their collections here.
Feature image courtesy of BISKIT.

If you enjoyed reading this, we suggest you read:
Kosha's Sustainable Winter Wear Is The Travel-Friendly Brand You Need
Replace Your Everyday Basics With This Indian Label's Bamboo Fabric Apparel
5 North Eastern Brands Radically Transforming India's Streetwear Scene