Bamboo is one of the most versatile materials available. Bamboo plants have large root systems that prevent soil erosion and help elevate the water table and thay can also be cultivated very easily in different kinds of soil and climatic conditions without the need for the use of pesticides or too much water. In simple words, the plant is a boon for humans, especially taking into account the present-day environmental situation..
While a great number of people nowadays are motivated enough to make better life choices with increasing levels of global warming every year, it is the lack of sustainable options that usually causes them to break their resolutions of adopting a more eco-friendly approach in their daily lives. Here is a list of some bamboo alternatives that you could use to lessen some of the burden on planet Earth.
I. Bamboo Straws
It's funny how something as mundane as straws can be a one of the greatest threats to our oceans today. People are said to use up to 500 million of them each day in America alone, a country whose population is much smaller than ours. While banning these seems unfair to those living with disabilities, the plastic straws can surely be replaced. There are several companies in our country today like Bamboo India, that are producing bamboo straws that are not just biodegradable in nature but are also reusable. The product is 100% natural and isn't treated with any chemicals. Now you can take enjoy your drink without costing a sea creature its life.
Price: INR 99 for a pack of 4.
You can get them here.
II. Bamboo Clothing
Bamboo Tribe is a clothing brand founded by former IIM graduates Aiyappa Somayanda and Madhavi Das. They to produce clothes made a highly durable material that could lessen the damage done by fast fashion brands with their use of synthetic fabrics. All their products are made out of bamboo fabric which is naturally moisture-wicking, anti-odour and hypo-allergenic basically making this initiative a win-win for both the planet and their consumers. Their collection consists of comfortable t-shirts, tank tops, joggers and shorts in dark and pastel shades that are suitable for daily wear. All products are designed in-house, paying special attention to the fit, the fabric and its chafe-free feel. There clothing range is perfect for those wishing to take up the sustainable lifestyle.
You can take a look at their products here
III. Bamboo Speaker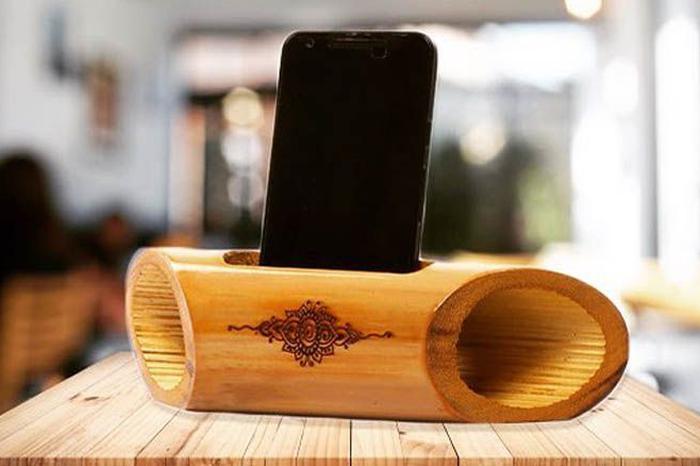 Does your love for music come in the way of your sustainability goals? We have just the product for you to replace the lump of plastic that sits on your desk as you jam to you favourite tracks. This one-of-a-kind speaker dock made up of a single piece of bamboo by Bamboo India is just what you are looking for. It is an attempt by the brand to help consumers make plastic-free and biodegradable choices. The bamboo speaker is a 100% green product that uses no electricity. It is exquisite owing to its unique cuts and marking and proves to be an extremely durable too. Its passive amplifier is hand-made, rich in tonal variations and doubles as a stylish docking station. They are an ideal product to use around the house and prove to be a useful companions during trips. Do take a look when looking for an eco-friendly gift for loved ones or even some retail therapy
Price: INR 399
You can check the speaker out here, along with their range of other bamboo products.
IV. Bamboo Bike
Those who are trying to adopt the sustainable lifestyle will probably know of the constant effort that goes behind making mundane everyday efforts to suit their friendly ideology. The bamboo bike is one such product, ideal for one to reduce their carbon footprint without bringing home a lump of metal, rubber and plastic. Its maker, Vijay Sharma was the first one to come with such an invention in the year 2009. The bicycle is more commonly known as the Bambike and is a complete natural version of the original vehicle. Its framework is made up of bamboo and the structure is held together by hemp fibre. The wheels are bamboo too and act as natural shock absorbers. Despite peoples apprehensions regarding the use of a seemingly flimsy material, the product is said to have passed the Japanese industrial tests for bicycles with relative ease.
Cost: INR 15,000-25,000 (depending upon customisation).
V. Bamboo Toothbrush
There are several companies in the country like Bamboo India and Almitra Sustainables that are now ensuring that your day starts with you doing your bit for the planet with their range of toothbrushes made out of bamboo. These eco-friendly alternatives are biodegradable and will soon make you bid goodbye to your usual plastic ones with their great finish and service. The brushes are carbonised making them water resistance and preventing any growth of bacteria or molds during normal use. The product can be used by both adults children alike.
The price of the same varies according to manufacturer.
You can check it out here and here
VI. Bamboo Socks
Heelium, a footwear company that focuses on sustainable sports products brings to its customers socks made out of bamboo.The Bamboo Athletic socks are both eco-friendly, as they're made from bamboo fibre, and also very safe. They not only protect the feet from bacteria and odour growth but also safeguard the heel and forefoot by absorbing impact during physical activities. As a fibre that's more breathable, durable, and thermo-regulatory than cotton, these socks are an ideal first for those fitness enthusiasts who hope to turn their backs on fast fashion industry in little instalments.
You can get yourself a pair on sites like Amazon.
If you liked reading this article, we suggest you read:
Shop At These 5 Indian Furniture Stores To Bring Sustainability Home
Kosha's Sustainable Winter Wear Is The Travel-Friendly Brand You Need
Head To This Eco-Friendly Getaway For An Authentic Himachali Homestay Experience