India's first multi-disciplinary arts event, The Serendipity Arts Festival 2018, kicked off in Goa on December 15. From their array of incredible exhibitions and events taking place, one that we are perhaps most excited about is Issanama, a collaborative project by Sarmaya and traditional miniaturist artist Manish Soni. Part of the Festival's The Sacred Everyday exhibition which explores elements of divinity leaked into the rituals of our daily life, Issanama or The Christ Commission includes a series of paintings inspired by 16th-century Hamzanama folios, illustrating Biblical episodes and the life of Jesus Christ in an Asian context.
Mr Paul Abraham, Founder of Sarmaya, explains to Homegrown that the series is an attempt to humanise Jesus Christ. "I belong to a community called Knanaya. We are a community of Syrian Christians based in Kerala. We are said to have migrated here from Southern Turkey way back in the 4th Century. So in Kerala, this whole concept of Christianity is very ancient and is assumed to have a 2000-year-old existence," explains Mr Abraham when we asked him about the beginnings of this project. More than an artistic collaboration, it is a cultural project, so to speak, or visualising Christ in the Eastern context. "The whole Christian narrative moved westward after the Roman Emperor converted to Christianity. Then every story about Christ was viewed from a western eye, whether it was paintings or other visualisations," he says, "I started thinking that initially Christianity spread East-wards, had it grown in the East, what would the narrative have been like?"
Mr Abraham began to explore what the visuals of such a narrative would be if you had to depict the life and times of Christ. And that's when he turned to the style of the Hamzanama, a visual reimagination of the life of Hamza, uncle of Prophet Muhammad made by the order of Emperor Akbar – essentially fantasy stories with visual imagery for the amusement of the king who wasn't very literate. Mr Abraham explains that the people who created the Hamzanama were brought to the court from all over the world – from Persia, Turkey and across India.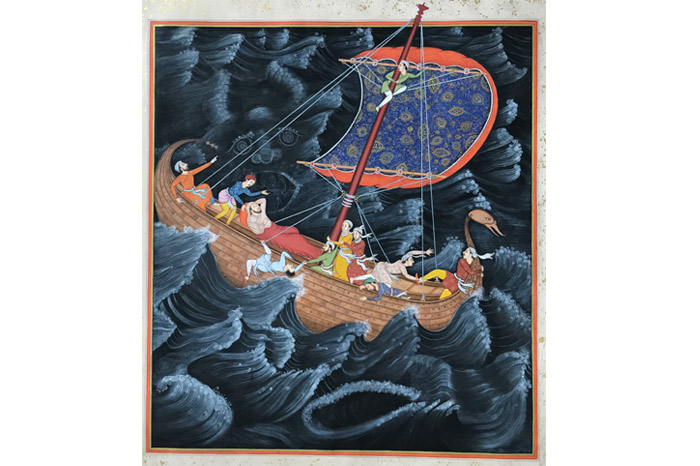 "They belonged to very different schools, and hence, the output was very Indo-Persian, a hybrid of kinds. I thought that it would be the best kind of comparator for the project where I was trying to imagine Christ and the entire journey from say, present-day Palestine-Israel through to Turkey, to Iraq, Iran and into Kerala. It would have similar visual depictions," he says.
After doing some research he came to know of a family in Bhilwara, Rajasthan who very extremely well versed and skilled when it came to miniature paintings, and that is how he met Manish Soni. The two dove into historical and theological research, with Mr Abraham bringing his incredible knowledge of histories and research to the table and Mr Soni his artistic talent and visualisation techniques. "Everything from the canvas corporation to the actual colours and paint, whether it was stone or pigment or gold or soot, they would be used as the original Hamzanama canvases were made. So we reverted in terms of technique to the Hamzanama and I gave him [Mr Soni] that artistic liberty to visualise the series, but we long conversations about each painting before he set off on the stuff," says Mr Abraham. He has even put together his deep research into a documentary film (you can view it here). Right from the musical instruments to the flora and fauna and dressing, everything was visualised with research backing up the biblical storytelling.
The result has been a beautiful series of 12 paintings that will be showcased for the first time at the Serendipity Arts Festival. For Mr Abraham, Issanama is a journey of discovery and enquiry. "Jesus as a personality was first human and a reformer, and subsequently got raised to divine status. And I feel that depiction of Christ as a human, who propagated reforms and the Jewish system, as well as, love and compassion," he says, explaining the personal resonance of the project for him.
Issanama is being showcased at the Museum of Christian Art (MOCA) in Goa. You can find more information on the Festival website here.