This year brought us many wonderful things from the art world, especially with respect to the growing representation of gender, sex and sexuality. More and more artists have begun to explore these identities through creative visuals. They're deemed 'provocative' for the nature of the subjects they indulge in, yet we believe that many of these are conversations we should be having and aspects of life that we need to normalise. Today, we look at the work of artists who have continued to create a larger impression of what we, as a society, are often silent about. Theirs is the ilk that is unafraid to introspect and express the curiosities and desires we may all have but don't vocalise because of shame and stigma.
Homegrown celebrates eight artists who are challenging conventions with their thought-provoking work, one stroke at a time.
Kacker's colourful illustrations push boundaries in a playful manner. In her own unique way, she questions the ridiculous stigma when it comes to embracing your sexuality and celebrating it. Her subjects are not size-zero supermodels, but the people we see everyday. She tells Indian Women Blog, "I was simply perplexed by the restrained knowledge we, as a society, have regarding people who enjoy being sexual. In our country, being seductive is a crime and living a sexually active life is considered dirty. To question this ridiculous mindset, I drew in the most layman manner." This normalisation is much-appreciated, and her art makes people of all body types and backgrounds feel sexy and confident.
Explore her work through her Instagram.
Explore her work through her Instagram.
II. Aditya Verma
Where sexuality is often portrayed as aggressive or overbearing, Verma's intimate style of body painting finds itself in the milder and kinder expressions of innate eroticism. "Having someone to look at you naked without anything in mind creates a safe space where people can explore their sexuality without being sexual," he says. Most of his subjects tell him that the entire experience is therapeutic, which is perhaps why they contact him in the first place. Not many appreciate his intimate, gentle and positive approach to nudity and sexuality in general, and he has been fighting censorship of his work on social media platforms.
Explore his work through his Instagram.
III. Pratiksha Tandon
Pratiksha Tandon has always been one for the celebration of female sexuality and exploration. In collaboration with the Indian Women Blog for their campaign #unblushing, which seeks to remove that stigma regarding the same, Tandon created a witty piece on self-love. Her work is real and raw, and doesn't attempt to stick to conventional aesthetics or pedal-off body and sexual positivity in a superficial manner. Her illustrations of women with body hair and saggy breasts, in all their beauty and glory, is definitely something we should have more of on our social media feed.
Explore her work through her Instagram.
IV. Danish Shaik
Bangalore-based Graphic designer and illustrator Danish Shaikh is known for eyebrow-raising pieces like "snack" and "BDSM". Though he calls his work shameless and scandalous, they don't stem from a place of sensationalism, but one of honesty and transparency. He tells dyscoapp, "I believe in doing honest and ballsy work. It does not matter if I'm creating a brand identity for a big company or illustrating someone naked." Shaikh aspires to draw the things people are too insecure or afraid to say out loud.
Explore his work through his Instagram.
V. Veer Misra
Popularly known for series like 'Body', where through illustrations and people's stories he sheds light on the lesser-known aspect of men's lives; their struggle with body image. Misra surpassed himself with "Queerious" this October, with lucid, dreamy portraits of people in intimate moments. He tells curator magazine that his aesthetic often revolves around making his art look like old-school photographs or a moment captured in time. His thought-provoking ideas of gender and breaking arbitrary labels show through, and he says that he's been trying to make his subjects as gender fluid as possible. Misra's work is a quiet introspection into the politicisation of gendered bodies, and showing them in a beautiful light that surpasses those stringent, narrow ideas. Also, gender non-binary mermaid for the win!
Explore his work through his Instagram.
Nagaland-born Limatola Long Kumer is a self-taught artist, her style usually involving Zentangle and doodling methods. The 'provocativeness' of her art is subtly shrouded through geometric layers, linear art and space-like colours and patterns, but doesn't fail to convey the powerful imagery she intends to show through. Not just restricted to one medium, her mixed-media art spans across forms like gifs and videos with music, enhancing the alluring and almost, for lack of a better word, 'trippy' affect her work can have on you. She was featured in Polka Cafe's list of prominent female illustrators in 2015, and we couldn't agree more.
Explore her work through her Instagram.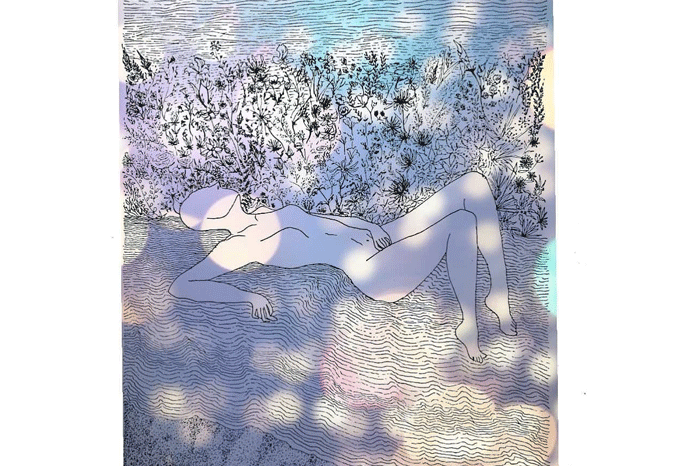 VII. Alia
Known through her Instagram handle minor_grace, the artist's work has been featured on Agents Of Ishq, a popular digital media forum that discusses issues like sexuality and sexual health. Her bright and bold illustrations depict aspects like love and self-love, separation, consent, as well as weird and wonderful subjects like this rabbit slow-roasting a human and this unicorn who just wants to take a dump. For fantasy lovers with whimsical tastes, having her art on your Instagram feed is nothing short of magical.
Explore her work through her Instagram.
VIII. Mad Paule
This Delhi-based photographer and illustrator's nature and travel inspired work has been featured on forums like Nakid and Nature In Focus. His recent works have a lot of Asian influences, specifically that of Japan with elements such as the language script and concepts like 'wabi sabi'—the acceptance of transience and imperfection, integrated into his art. Paule's illustrations as well as his photographs are subtly erotic, often influenced by books like Sputnik Sweetheart by Haruki Murakami.
Explore his work through his Instagram.
Feature image courtesy of (L) Priyadarshini Kacker & (R) Mad Paule.

If you like this article, we suggest you read:
The Works Of 12 Indian Artists That Truly Made A Mark This Year
All The Best Things To Do In Mumbai If You're An Art Lover
5 Provocative Indian Artists On Navigating Censorship On Social Media