The fashion and modelling industries don't have reputations for being welcoming towards anyone who doesn't adhere to the Eurocentric idea of beauty– tall, thin, and light-skinned. This exclusive nature of fashion and modelling is a cyclical phenomenon: the more society is shown a certain standard of beauty, the more it is conditioned to believe that only those appearances should exist and be aspired to.
In India, the problem is compounded by intersectionality; dark-skinned, curvy (we're still aeons away from reclaiming the word "fat"), curly-haired people or those who have 'north-eastern' and 'south-Indian' features (not that they can be so easily typified) are hardly represented in mainstream fashion shows, modelling campaigns, commercials or any other kind of visual media.
The freedom to express our individuality has often been hindered by the confines of society. Thankfully there have been waves of unapologetic young Indians carving space for themselves, breaking out of the cages they were once boxed into. With the constantly-expanding definition of what is considered 'socially acceptable,' many people have refused to follow traditional, singular paths and chosen instead to jump headfirst into exciting and unconventional ways of being. Here are 5 Indian models who forged their own way and challeneged beauty standards in 2018:
I. Toshada Uma
"People deem the way I carry myself non conforming, for me that is conforming to who I am. If the word unconventional comes with me being myself, I embrace it and I love it."
Being diagnosed with alopecia when you're 10 years old isn't the most heartening situation for anyone but Toshada Uma made it work. In an Instagram post, she talks about her alopecia and also states how her decision to go bald wasn't to make a statement or gain attention — she just needed to accept herself, truly and completely. "Ever since I was a kid, I was passionate about fashion and loved being in front of the camera. Modelling would've been an obvious career choice if I were any height above 5'7'' but I am not; I'm 4'8'' and as a young girl who had only ever seen tall models, I never thought I'd be one. A few years into my teens, photographers started noticing my pictures online and approaching me for test shoots. I took a while to think about it, I realised this was truly what I wanted to do all along and I thought I'd give it a try. There's still a long way to go but I'm glad to be moving in the direction I always wanted to. I really hope agencies open up to petite models soon, so more talent is encouraged to find a platform," she says. While petite modelling is still a very new concept in India, Toshada is indeed carving herself a niche in this space.
Now, this 20-year-old petite model has gone on to become a famed blogger and social media expert in the area of fashion and beauty even as she makes waves in the modelling industry. While she continues to experiment with her clothing style, her hair is no stranger to this experimentation too. "You can spot me sporting new hair every few weeks, I'm simply not the one for hairdo monogamy," she says.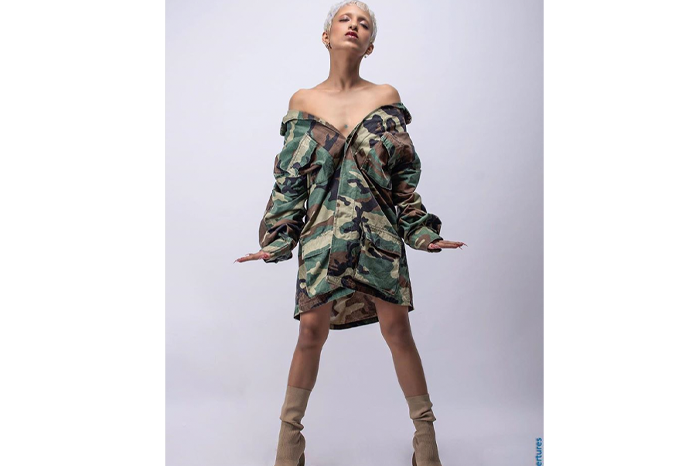 II. Himanshu Singh
A student of photography and film, Himanshu knows exactly how to work the camera. Although he finds time to pursue his love for acting, his primary fascination is with fashion. He believes that the fashion world can reveal a lot about an individual or a society and he enjoys observing trends on a day-to-day basis.
Drop everything and check out his page because we have found the ultimate treasure. Milind Soman Part 2. We solemnly swear that Himanshu is basically a younger – maybe not hotter but definitely just as hot – version of our favourite silver fox, Milind Soman. Add this to the witty charming attitude that he sports constantly and we think he's damn near perfect.
III. Shantanu Gosavi
Holding delicate pastel flowers against his dual-shaded skin that's adorned in corresponding hand-painted leaves and flowers, tousled locks of hair flowing free – Shantanu Gosavi catches your eye and is hard to forget in portraits shot by one of our favourite photographers Arka Patra in 'Portraits of Men'. Gosavi has Vitiligo (Leucoderma) that is, to put it simply, a skin condition that causes the loss of skin colour, causing a patched complexion. In the beginning, Gosavi says that it was something that he was self-conscious about as it took time to accept this new change to his appearance, but his friends and family never made him feel that it was something different. "Rather, it was easier to accept it because of them," he tells us.
A graduate in Textile Design from NIFT Gandhinagar, Gujarat, Gosavi is currently training in Kathak in Ahmedabad and also work as a freelance textile designer, photographer and model. He enjoys the spotlight, he muses, "Life with a skin like mine is fun if you embrace all the attention. I guess that's the only difference it makes. I like how people turn to look at me, sometimes they stare for a long time so I wink at them."
IV. Durga Gawde
This year, Lakmé Fashion Week organised a #GenderBender showcase that displayed not only gender neutral clothing but also models who identify all over the gender spectrum. Durga Gawde, a non-binary, gender-fluid individual, was one such model. They modeled for Ayushman Mitra's label, BOBO Calcutta, who used androgynous faces as designs on his garments.
Having grown up in an artistic environment with an artist for a father and art manager for a mother, Durga Gawde took to art themselves soon after their school days. They honed their skills first at Srishti Institute of Art, Design and Technology, in Bengaluru – where they are currently based – followed by Rhode Island School of Design, USA. Gawde ran their own studio in Mumbai until very recently and used to be visiting faculty at ISDI Parsons, Mumbai.
An architecture student turned theatre actor and full-time drag queen, everything about Suruj Pankaj Rajkhowa is deeply inspiring. His effortless smile is contagious and it's apparent that he speaks from the heart as he takes us through the ups and downs of his diverse journey through life. As a model and actor, he was frequently typecasted for being both, queer and Northeastern. The Indian entertainment industry, particularly in Mumbai, is known for its exclusivity and favouritism – even nepotism – making it especially difficult to break into.
"In order to get jobs you have to lick a lot of people's asses," he exclaims, "even to get a gig as a drag queen. When I do get acting gigs, it's always for the same queer character. I think I could play any character, but I never get the opportunity. I've been rejected from almost all modeling agencies – I was never tall enough, or they didn't like my dreadlocks, or I didn't butter someone up enough. I can't afford to maintain this social status of going out for 'networking drinks' or buying expensive clothes," he says with visible frustration. Suruj is optimistic, however, that things will change. With more and more people forging their own paths and challenging the status quo, he discusses all the exciting projects he's been a part of and all the genuinely wonderful people outside of the mainstream industry that he's gotten to work with.
Feature image credit: Toshada Uma
If you enjoyed reading this, we suggest you read:
The Unconventional Life Of A Young Assamese Creative, Suruj Rajkhowa
5 Indian Photographers Who Explored Male Sexuality & Tenderness This Year
Stories Of Stretch Marks – We Photographed 7 Young Indians' Journey Towards Self-Love