There has often been a sheer sense of curio and antiquity that has always seemed appealing to mythology; Gods, goddess' and monsters have remained modern day relics. Together we've all waded through the different chronicles of the Mahabharata, each having a distinctive meaning of it's own. Kochi's very own Rahul Mathew has gifted us and spawned these objects of virtu back into our actuality. The framework of this project revolves around adroitly sewing the oleographs of the Hindu God's and legends; bringing back Ravi Varma's artistic portraits and creations to life. This aesthetic pictorial depicts Ravi Varma's characters existing in a parallel universe within the Queen of the Suburbs (drum roll), Bombay. Each character painted vividly and incorporated into our informal blue sky. I'd rather you'd witness the enchantment yourself.
Give us insight as to how this divine photo series came into being?
Around Ravi Varma's time, lithographic printing was gaining popularity in many European countries and in the United States. Based on its worldwide acceptance, the then Dewan of Travancore, T. Madhava Rao suggested Varma and his brother to come up with a press of their own. Intrigued by this new idea, Ravi Varma first started a press in Bombay and later shifted it to a place near Lonavala. The press came up with tons of oleographs, depicting Hindu gods and goddesses. Back then, the press was the largest and most advanced in the whole of India. This series is looking at how it would be if the characters from Ravi Varma's lived in Bombay and their interaction with the city.
Shed some light into what inspires you
I always find inspiration in nature, possibilities, people, last but not least I find my inspiration in myself.
HG Loves, the quintessence of capturing the vintage antiquity and morphing it into the modern context of Bombay.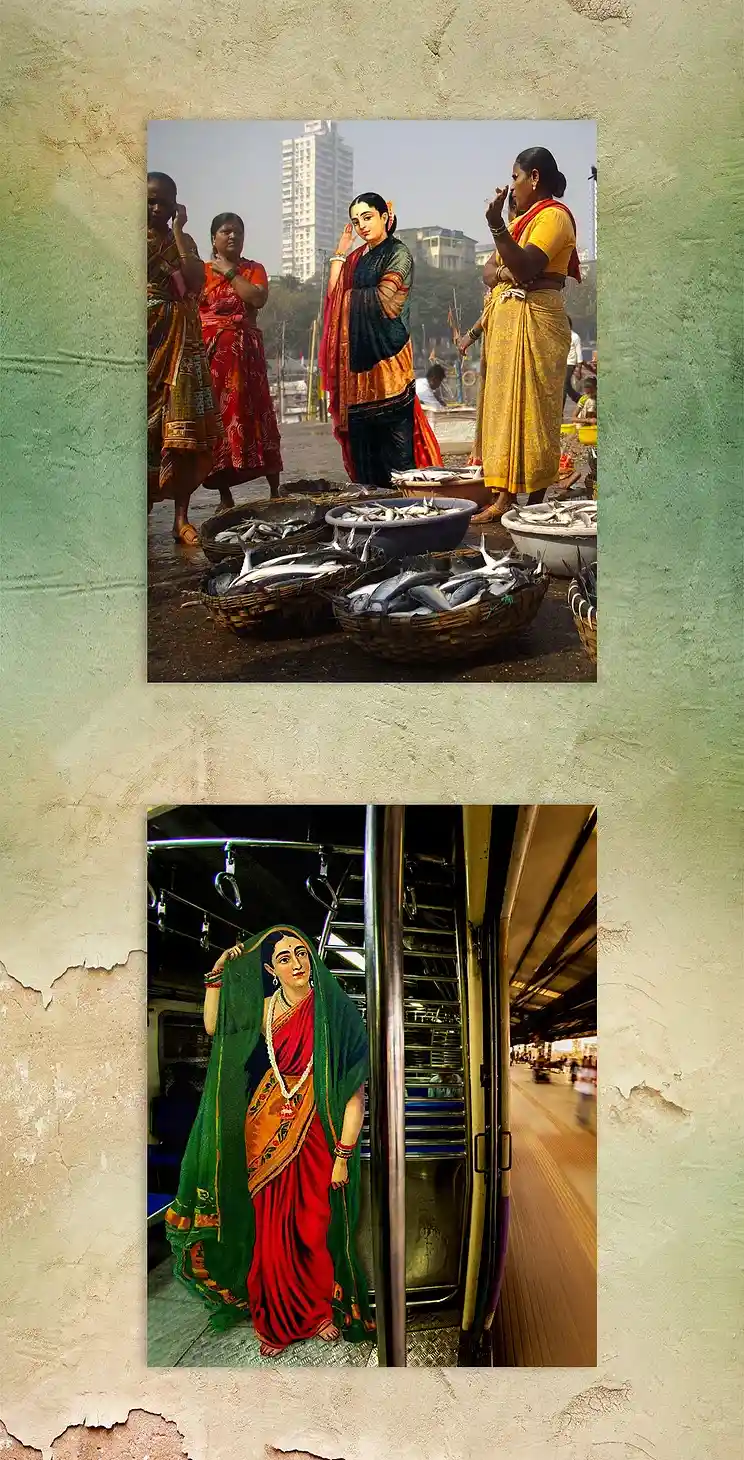 Describe your creative process and the purpose with which you create
I enjoy the process of evolving design, and believe that is where the learning starts.
I am a person who gets inspired by the visual treats that I experience.
Are there any Indian contemporaries of yours whose work you admire?
Mean Curry @meancurry
What is the first piece of art that impacted you deeply?
Ceren Bulbun - @cerenbulbun
If you had a chance to contribute and lead a project with the Indian Government, what would it be?
To redesign public space like bus stops, railway stations etc. More interactive and engaging to create a sense of belonging.
Which is your favourite piece of work of your own & why?
Day dreaming in Kerala. A series of collage art that I did few months back.
One track you're currently listening to?
Seed (intro) - Tash Sultan
A project you wish you were a part of?
Frooti rebranding project
Your favourite midnight munchies?
Lay's Hot 'n' Sweet Chill
Your greatest vice?
⋋✿ ⁰ o ⁰ ✿⋌
If you liked this article we suggest you read:
Who Are India's Queer Icons, Anyway?
The Prose & Pain Of Hoshang Merchant, India's First Openly Queer Poet