The usage and even the building of toilets have been a hush-hush affair in rural areas. In fact, toilets are rooms that don't even exist in many villages. This taboo needs to be addressed immediately, since it poses a massive risk factor, especially for women. However, even in urban areas, where public toilets can be found at almost every corner, the thought of using one sends shivers down our spines. Because not using a toilet is safer than using an unhygienic one.
Rohan Chavan is an architect, working to create safe, sanitary and economical toilets at Agasti. He has already established The Lightbox Restroom and The Toilet in a Courtyard. And yes, these toilets are just as fascinating as they sound.
The Lightbox Restroom was Chavan's first project in the toilet series. It is exactly what the name suggests, a room to rest. Made specifically for women, it isn't just a space where you can freshen up, but a whole area where women can freely socialise with other women. There is a section for handicapped people , and changing stations for children. Lightbox Restroom is built around a tree which gives it a nice, warm ambience. The polycarbonate roof isn't just a nice medium to let natural light through, it also keeps the toilets disinfected. The water is recycled and sanitized, keeping the toilet a budget-friendly addition in Thane.
The second project that Rohan Chavan took up was more inclusive. The Toilet in a Courtyard is an idea that stems from the necessity of both a toilet and a courtyard in Indian homes. Chavan fuses the two together to come up with this brilliant composition. Apart from the advantage of having natural sunlight, the courtyard toilet also contains the floating population. The courtyard is divided into men and women's urinals. As strange as it sounds, the ambience of the toilets pushes the commuters into socialising, and exchanging ideas, as Chavan had initially wanted.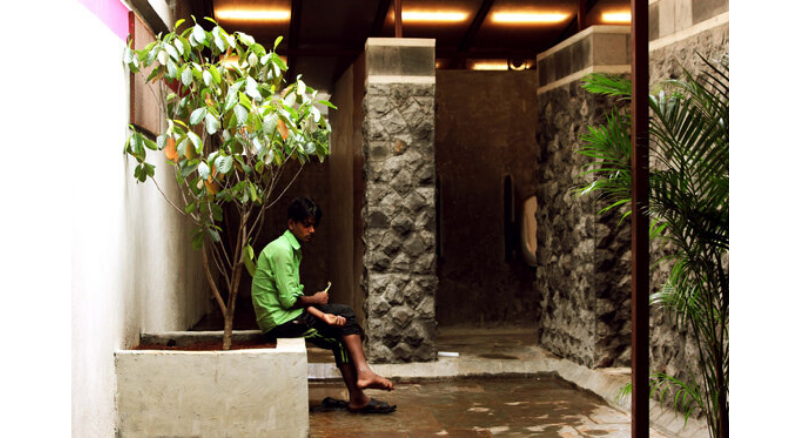 The third addition to this series has been PAUSE. A restroom built on the Mumbai-Goa Highway, designed specifically for truck drivers but open to all. Like the rest of his works, Chavan has made this red building a sanitary and economic space for men and women alike. The showering and shaving facilities in PAUSE give the truck drivers a welcoming, comfortable and almost home-like feeling. And what's better than using your house's toilets to do your business?
Rohan Chavan has begun to break down the taboo of public restrooms, and our country needs more of these hygienic, economical and contemporary substitutes to our regular public restrooms.
If you enjoyed this we suggest you read
Stunning Environmentally-Friendly Homes Designed By Indians
At Pulp Factory, Buy Furniture Made Completely Out of Papier Mache
'The Farm' In Pune Is A Refurbished Forested Patch That Promotes Zero Wastage And Sustainable Living