Set in an environment that reflects generations of harmony and passion almost unaffected by the trivial elements of life and populated by some of the most amiable, adventurous, and philosophical people one will ever meet, Meghalaya is a place that fashions any travel experience into a state of wonder and euphoria.
The current generation of Meghalaya (irrespective of their roots, Khasi Jaintia or Garo) carries forward a concept of exploring and enhancing matters that alter their state of life, a byproduct of the novel setting of this state in north-east India. Geographical aspects that can even baffle veteran travellers, traditions that have the potential to grip the attention of agnostics and atheists, and culinary exemplars that can make Michelin star chefs feel unseasoned are a few things to expect from a trip to Meghalaya.
To ease the process of planning your trip and getting used to the wide range of Meghalayan names that take days to get used to, here is a basic geographical division of the state: Khasi Hills Division - East Khasi Hills (Shillong),
West Khasi Hills (Nongstoin), South West Khasi Hills (Mawkyrwat) and Ri-Bhoi (Nongpoh); Garo Hills Division - North Garo Hills (Resubelpara), East Garo Hills (Williamnagar), West Garo Hills (Baghmara), South Garo Hills (Tura) and South West Garo Hills (Ampati); Jaintia Hills Division - West Jaintia Hills (Jowai) and East Jaintia Hills (Khliehriat).
Below is a list of things to assist you in having an unfiltered, organic and immersive experience to provide an insight into the above-mentioned qualities of Meghalaya. Depending on your style and purpose of travel; slow, rural, responsible, adventurous, cultural, heritage or environmental, you can flexibly add these blocks to your journey.
Waterfalls, River & Lakes Of Meghalaya
Meghalaya is often dubbed as the 'abode of clouds'. It can be considered a misnomer in how it belittles Meghalaya's mesmerizing aquatic world. Brought to life by the land's notable physiography, the formation and arrangement of its water bodies offer a wide spectrum of elements in a vast stretch of valleys and highland plateaus. Exploring the sand-based or the plunge waterfalls or those that inhabit rainbows, crystal clear rivers that reveal entire riverbeds, or lakes that make you want to stand and stare, is barely scratching the surface when it comes to one's to-do list in Meghalaya. The intensity of these water bodies is naturally in accord with the seasons and amount of waterfall received in Meghalaya, June to October being the highest.
Khasi Hills
I. Umiam Lake (Barapani)
Arguably one of the best lakes in India, Umiam is located just before Shillong, the capital of Meghalaya. The connectivity makes it an efficient option for accommodation with an exceptional variety of cultural and culinary joints. The best way to explore this lake, also known to resemble the Lochs of Scotland, is by boat, as you get to see the different parts up-close.
II. Wards Lake
A great place to kick back and relax, Wards lake in the heart of Shillong attracts people of all ages. The lake is popular for hosting its annual Cherry Blossom Festival, a gathering of music, art and culture under a stunning sheet of white and pink cherry blossoms. The cherry blossom in Shillong is believed to be the only autumn cherry blossom in the world. This is unlike the ones in Japan and the USA that bloom either in April or in January.
III. Nohkalikai Falls
The tallest plunge waterfall in India at a height of 1,115 feet, Nohkalikai has long stood as a distinguishing symbol for Meghalaya. Known from the days of scarce tourists in north-east India, the waterfall has an interesting story to its name. Evolving from the word 'Noh' ('to jump' in Khasi), the story behind the name revolves around a woman called Ka Likai who is believed to have jumped from the cliff following a spat with her second husband, the reason for this fight being that the husband didn't sit well with the attention Ka Likai gave her child with the first husband.
IV. Nohsngithiang Falls (Seven Sister Falls)
The Seven Sister falls is a symbol of the wettest place on Earth, Cherrapunji, locally known as Sohra. People travelling in monsoons get to witness the sheer intensity of the waterfall. Others that visit this short-lived waterfall in other seasons have the option of trekking to the plunge point itself.
V. Ka Bri Synrang (Garden of Caves)
A natural habitat brought to life by seasonal waterfalls surrounded by bushes and hedges, the Garden of Caves is home to seven major places of interest. Once used by Khasi tribes to hide from the British colonial officers, the garden is visited by off-beat travellers who come here to witness a view that feels like it's right out of the Lion King movie. Ka Synrang Syiem, Sum Syiem Falls, Ki Stieh Maw, U Mawdohnud, U Mawkhyllung, Arsdad Falls and Riat Umlwai Falls are the major attractions at the garden. Due to the lack of hotels and eateries, it is advisable to carry your own food. Please make sure to clean up and responsibly dispose the waste if you do.
VI. Umtrew River
Less than an hour's drive from Shillong, Umtrew is a premier extreme kayaking river. With rapids ranging from class 2-4, Umtrew is host to the 'Megha Kayak Fest' that is organised annually. Ian Vincent, an Australian professional world-class kayaker, leads the team at White Water Village, an eco-lodging facility with cabins that rent out kayaks and teach the basics of rolling and paddling to beginners. The river also has still water pools for practice.
Jaintia Hills
VII. Dawki River (Wah Umngot)
The river that makes the boats appear as if floating in thin air. The images of crystal clear water that let you see the complete riverbed have flooded the internet from the little town of Dawki, a trade hub edged on the India Bangladesh border. Camping by the river is one of the top attractions here, apart from the unique boat rides. Jaflong Zero Point, just over a kilometre's drive from Dawki Market, is the India-Bangladesh border where the river enters Bangladesh. The limestone and coal mines here are worth a visit too.
VIII. Thadlaskein Lake
Situated on the Shillong-Jowai Highway, Thadlaskein Lake is located just opposite to the hosting grounds of the famous NH7 Weekenders in Meghalaya. Traditionally used for outings, picnics and boating, the lake is home to rare orchids and has an interesting origin story. The followers of a Jaintia chieftain are believed to have dug the lake before fleeing their motherland to avoid an inevitable war due to conflicting opinions of their leader and the King of Jaintiapur.
IX. Moopun Falls
Moopun is a rarity in the world of waterfalls as it is sand-based. You immediately feel the sand base as you enter the water, and as a sensory experience, it's difficult to put in words. The stone bridge at the first plunge (20 feet) is a rare characteristic too and it makes for a fabulous display. The second plunge is higher (110 feet) but attracts more visitors. It is a short, five-minute trek from where you can park your vehicle. You can also buy snacks from here and support the rural communities.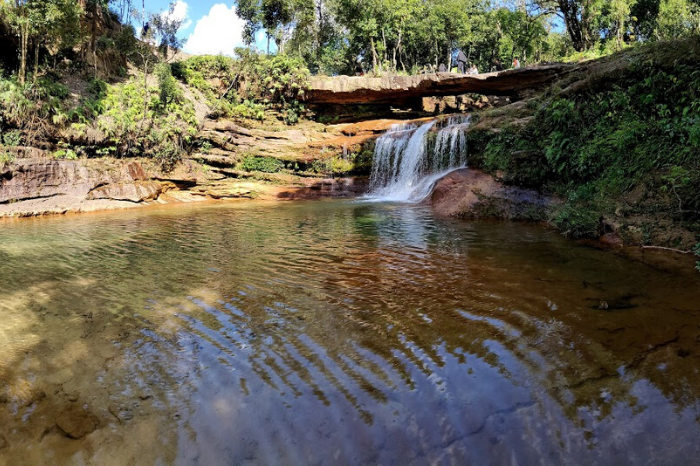 Garo Hills
X. Napak Lake
The Garo hills are less explored, unlike the Khasi and Jaintia hills. The Napak lake was formed after a massive earthquake hit Meghalaya back in 1897. The livelihood development programme is creating an infrastructure to boost tourism in the Songsak region and has already provided eco-lodges, approach roads and boats among other things. The location is ideal for camping, outdoor cooking and water activities.
XI. Domre Falls
Nestled in Williamnagar, Domre Falls leaves its visitors (as few as they may be) spellbound. Few people know about the place and even fewer end up visiting. You might end up wondering 'why' after you get there. You could imagine a waterfall plunging from the Yosemite, to paint a reference picture. It isn't too far off the road but can be tricky to reach due to its surrounding thick jungle and a steep hillside.
XII. Simsang River
Primarily known for its annual local fishing festival known as Nathok Wari, the Simsang river flows eastward through the East Garo Hills to the South Garo Hills. After it enters Bangladesh from here, it is known as the Someshwari river. For the ones travelling in the month of December, the Simsang Festival is a great attraction inviting the best artists in the state. The festival organises a range of competitions like singing, fashion and food, alongside a carnival and even a beauty pageant. The region is unexplored and ideal to scout for off-the-grid attractions. (Don't forget to download an offline map of the region before you head out to explore it, since there's no information available on the internet.)
To witness the intensity of the water bodies in a state that receives the highest volume of rainfall known to mankind, visit Meghalaya during the monsoons. The flow is quite moderate for the rest of the year which does not affect the river bed allowing the water to be crystal clear.
Ancient Traditions Of Meghalaya
I. Matrilineal Society
The Meghalayan societies have been some of the oldest followers of the matrilineal system. On a trip to Meghalaya, you immediately notice the stark difference between the societal dynamics of the state compared to the rest of India. The matrilineal system passes down the ancestral property to the youngest daughter of the family, known as Ka Khadduh. In the absence of a daughter in the family, a daughter is adopted to pass on the rights to their property.
II. Mawphlang Sacred Grove
Mawphlang Sacred Grove in the East Khasi Hills near Mawphlang village is one of the most sacred places in Meghalaya. Guarded by the rule of not taking anything out of the forest, it is believed to be home to a local deity called Labasa that gets upset if you take any part of the forest out of its limits. Not even a leaf or a dead log of wood goes out of here. The locals take this very seriously and believe that failing to comply could cause severe illness that may even lead to death. The Sacred Grove Forest has an inter-connected network of trees and plants, some of which may be over a thousand years old. Monoliths inside the forest are considered to be a place for sacrifices that locals make in order for their wishes to come true.
III. Mawlynnong Village
The Mawlynnong village made its mark on the maps subsequent to being declared as the cleanest village in Asia by a travel magazine. The early practice of using reusable, recyclable materials around their daily chores has gone a long way in maintaining the sanctity of the region. The village is three hours from Shillong near the Bangladesh border. It is one of the few places that has managed to achieve hundred per cent literacy rate. The hospitality of the people in Mawlynnong has made its way to numerous articles by travel bloggers visiting north-east India⁠—a trend that has lately sprung to fame.
Another sight you get to see here that is quite rare to spot otherwise, the locals coming out to clean not just their houses but also the neighbourhood. Sky View in Mawlynnong is an 85-feet tower, a vantage point that gives you a view of the village. This tower is also made entirely from bamboo material.
IV. Living Root Bridges
The Khasi tribe would take hours to get to places due to lack of means to cross the strong-flowing rivers in their village. The inventive members of the tribe came up with the ingenious idea to group the roots of rubber-fig trees together at the edge of the rivers to form a bridge and cross it. The aerial roots that form the platform to walk over, take around 15 years to be suitably strong to bear the weight of the people crossing it. These man-made 'natural' wonders are believed to remain functional for over 500 years. These bridges have been documented to date as far back as 1844 in the Journal of the Asiatic Society of Bengal.
Traditionally, the living root bridges had only one level to them until the tribes in Nongriat, Tyrna came together and built a second level to it. The double-decker living root bridges gave a big boost to rural tourism in the region and currently the possibility of a third level is being discussed. The route to the double-decker bridge involves a bit of physical strain to it, a 3,000 step downhill course as village kids greet you along the way. You cross a few villages on the way down which gives great insight to their lives. If you feel tired on the course, think about the little kids that take this route every day to reach school and back home. You may find a lot of extremely healthy people here.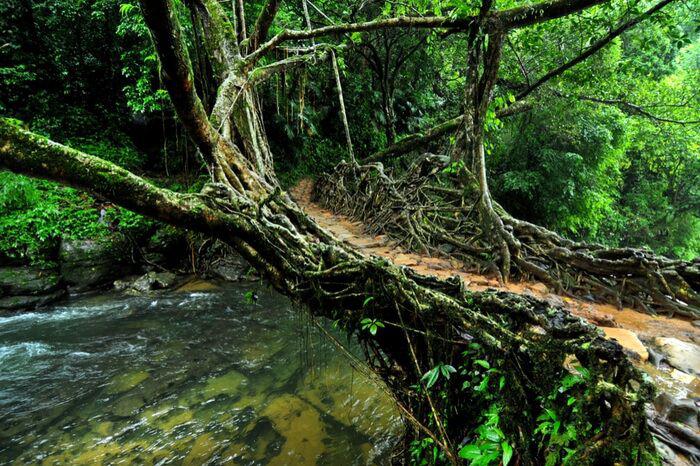 V. Mawryngkhang Trek (Bamboo Trek)
The Mawryngkhang trek is considered to be one of the toughest treks in Meghalaya, perhaps even north-east India. The trek is in a village called Wahkhen which is situated close to the Wahrew river in East Jaintia Hills. The trek has an interesting story where Mawryngkhang (King of stones), the protagonist, falls in love with a lady stone, Kthiang, from a neighbouring kingdom that has another stone, Mawpator, that loves her. Mawryngkhang emerged victorious in a combat between the two. Some say that the head of Mawpator can still be seen in the deep gorge below.
The trek starts from the Wahkhen village, the members of which work year-round to maintain the bamboo bridges that make the trek possible. It takes around 3 hours to reach the top, crossing the Wahrew river, natural blue water pools and the numerous bridges in places that seem impossible to climb even with the help of a climbing kit. Another notable thing about Wahkhen is its two individuals ⁠—Bah Roget and Komik Khongijrem⁠—who work tirelessly every Sunday to preserve the musical traditions of their Khasi tribe. After winning a music competition with prize money of INR 50,000 back in the 90s, Komik Khongijrem went on to collect more in order to build a music school for his village. His aim was to teach traditional Khasi percussions and folk songs to the Wahkhen's children for free. Every Sunday since 2003, Komik has been teaching the village children along with his friend Bah and its a sight you may not get to see anywhere. The children absolutely love their teachers and the traditional music being passed down to them, including the process.
Cuisine
The world of culinary desires in north-east India is appealing to some, questionable to few, and interesting for all. Culinary practices are passed down for generations, making the food of north-east India, Meghalaya in particular, stand apart in many ways. The use of whole spices, fruits and vegetables not usually used in parts of India, parts of meat that are otherwise discarded and insects that may give vegetarians goosebumps seem unlikely at first sight. However, as you acquaint yourself with the culture, you find yourself understanding the virtue behind their 'unusual' practices. Most of the places you visit will only accept payments in cash so make sure you have it handy.
I. Jadoh
Probably the most famous dish in Meghalaya, and one of the only few that outsiders can pronounce correctly at the first go, Jadoh is red rice cooked with generous amounts of pork meat. Traditionally cooked in pork blood, there are many variants to this dish and is even available in chicken and fish.
Where to find: Trattoria in Shillong serves some of the most scrumptious and beautifully plated dishes. The owner of Trattoria is a particularly sweet lady and is more than willing to answer any curiosity you may have related to the cuisine and its history. If there's anything better than Trattoria, it has to be a traditionally homecooked Jadoh in a Khasi kitchen.
II. Doh Khlieh
A dish that can finally fit the tag of the perfect salad, Doh Khlieh is made from chillies, onions and minced pork. It manages to qualify as a dish that some meat-eaters back off from. Another version of the Doh Khlieh is made using pig brains with added ingredients like beans, carrots, and tomatoes.
Where to find: The small shacks on any highway in Meghalaya are the best place to try Doh Khlieh. The prices are extremely affordable and the hygiene levels are maintained thoroughly. If you find their vessels new and shiny, it's because of the black soap that the locals make in their homes.
III. Nakham Bitchi
Nakham Bitchi is a Garo dish made either by sun-drying or heating up the Nakham fish. Fried and boiled after this, it is eventually served as a thick soup and used as a palate cleanser. Generous amounts of chillies and pepper are added to it before serving. It is the perfect dish to kick start a traditional Garo meal in Meghalaya's weather.
Where to find: RJ Restaurant in Kusimkolgre, Williamnagar is a great place to try Garo food.
IV. Doh Snam (Blood Sausage)
It's much like the British version of a blood sausage but more intense in its flavour. The Meghalayan blood sausages attract people from all over and are highly sought after by people from the culinary world. If you're a meat-lover, this is a must-try dish in Meghalaya.
Where to find: R Khar Nu Tea Stall in Shillong has a name for serving some of the best dishes. Although the place is unavailable on Google Maps, you can contact them at +91 90894-31374.
V. Silkworms
A favourite winter snack in Shillong and other parts of Meghalaya, silkworms are available in many varieties. The Eri worms, coloured yellow and green, are the edible ones. Usually consumed with a bamboo shoot gravy, you can ask them to fry it in the same mixture. The fried version tastes like cottage cheese chips with a mild crispy texture.
Where to find: Ja Dhi Thai Bam in Nongpoh is a fancy yet affordable restaurant that serves extremely simple and good food. The silkworms they make are served in the gravy as mentioned above. They serve the fried version on request. Once you have filled yourself with content, you can rest on their massage chairs displayed in an adjacent room. (The thalis served here are a great option for the main course).
VI. Tungrymbai
Tungrymbai is an everyday dish in the local communities of Meghalaya. It's made from fermented soya beans, boiled and chopped pork, local spices, ginger, onion, and black sesame. The mixture is then fried and sauteed to bind the flavours and left to simmer which deepens the flavour.
Where to find: Almost all restaurants have a similar approach to its preparation so it's safe to try it pretty much anywhere.
VII. Pudoh
Pudoh, a dish made from boiled, powdered rice is similar to Pumaloi. You find this dish being prepared on special occasions like carnivals, gatherings etc. The rice and pork flavours are infused by steaming them together and a rich gravy is served along with it.
Where to find: You can find this dish in local shacks on highways and small restaurants in villages. Asking a local for directions to the best food joints in the region is always a great hack.
VIII. Minil Songa
Minil Songa is a sticky rice preparation from the Garo tribe of Meghalaya. The rice has a nutty flavour and delicate texture. It is boiled in fresh bamboo which adds to its unique flavour and is generally eaten as a snack. The dish is sticky to due to its high starch content and hence great to pair with chicken, fish or pork. Boiled and mashed potatoes with local ingredients and chillies are also an alternate side to Minil Songa.
IX. Sakin Gata
A sweet delicacy from the Meghalayan cuisine, Sakin Gata is a steamed sticky white rice cake. It is cooked in a special pot by arranging alternate layers of the rice mixture and roasted sesame seeds in banana leaves. The rice is first soaked in water till soft, then dried and ground into a fine powder using a big pestle and cauldron. Locals also use this rice as a thickening agent in soups and gravies.
X. Kyat (Fermented Rice Beer)
Available both in local shops and homes of the state, Kyat is boiled with water and garnished with local ingredients that give its unique flavour. Shillong would be a great place to try Kyat because of its cultural significance and the availability of options, should you choose to hop through them. You notice the significance of this drink in the Meghalayan culture and know that it is an integral part of all occasions, big or small.
Go slow on the number of glasses even if you don't feel anything immediately because it grows on you. It really does!
Thousands of words and multiple subjects later, this is only the top layer of the many reasons to visit Meghalaya in 2020. It is a great alternative for people wanting to experience cultures, music, traditions and geography that are otherwise absent from the Indian mainland. It is a bigger culture shock than most international travels and has been climbing the list in the tourism industry as an alternative to the same. The best part of a trip to Meghalaya is the involuntary need to integrate the values you come across and the tangible version of an utterly clean India that grips the concept of well-being like never before.
If you enjoyed this, we suggest you read:
21 Fascinating Things To Do While Travelling India's Beautiful North East

15 Incredibly Unique Cultural Experiences Worth Travelling For In India

7 Days Exploring Maharashtra's Konkan Coast–A Backpacker's Guide