For too long, Bombay's streets have been choked with litter, corporate advertising, and the din and clatter of political propaganda. The city's heart down south (Bombay), has turned into a concrete cesspool furthering capitalist agenda in the form of billboards and print ads, while its otherwise peaceful suburban neighbourhoods have become an elaborate chessboard for feudal parties to play their game of identity politics.
Despite how concerning all this sounds, there's little that most of us have been able to do so far. The commotion and commitments of our fast-paced lives have made us indifferent to the filth and denigration of the city around us. Moreover, middle-class intellectuals, who comprise the city's majority, work government jobs or are employed by corporate umbrellas — ultimately making us all slaves to one form of power hierarchy or another. Amongst the few who do care about preserving the city's sanctity and the secular fabric is an infamous graffiti artist who goes by the pseudonym, Tyler Street Art, inspired by Edward Norton's menacing Alter ego, 'Tyler Durden', played by Brad Pitt in David Fincher's cult classic, Fight Club.
Akin to his fictional counterpart, Tyler from Mumbai is a believer in revolution too. Unlike social media's influencers, celebrities and false-news preaching journalists, this 21st-century suburban vigilante isn't afraid to clap back at the corrupt system that pulls the strings on them all. Unapologetic when it comes to hitting where it hurts, the mask-clad crusader wields his spray-paint cans and stencils to paint his revolutionary art boldly across public crossings and traffic-laden junction, where it remains constantly under the public eye.
Unlike contemporary artists who specialise in murals, Tyler's work identifies as modern graffiti. Contrary to murals that are officially sponsored and commissioned as beautification projects, graffiti is a genre of art created without permission in public spaces and focuses on socio-political commentary. Being a weapon of dissent against the system, a graffiti artist bears legal liability and if caught, may face serious consequences. Despite the risk, Tyler knows he faces, his unflinching desire to voice the change people need keeps him going.
Artistic Direction & Consequent Comparison To Banksy
Mathiole's timeless quote "Art speaks where words are unable to explain" is particularly relevant to Tyler's evolution as an artist. Having kicked off his career back in 2012 by painting graphics that mocked capitalism and questioned religious propaganda, Tyler has often created defiant art that casts light upon critical issues that the media and government censor.
Considering the legal repercussions of his profession which the law regards as 'vandalism', Tyler has kept his identity anonymous since his foray into the art-form. His peculiar anonymity and initial style of art-driven commentary on the evils of extreme capitalism and the widening class divide is what earned him a comparison to the British graffiti artist, Banksy. Tyler, who isn't offended by the comparison takes pride in knowing that his art has been pivotal in making a difference. He also states the impact that Banksy's book Wall and Piece had on his evolution as an artist. Influenced by Banksy's art on the unjust economy that is rigged to favour the rich and powerful, Tyler's work has often held a mirror out for society to understand why the elite keep getting wealthier, while the poor keep getting poorer.
Notable Work
While his initial themes were based on unmasking financial disparity and showcasing the people's plight, his art-style has evolved into a gutsy, intricate and meaningful commentary about communal politics, religious fanaticism and corrupt governance, following the 2019 elections. One of his notable pieces is the 'Gandhi Holding A Spray Paint' mural next to the quote 'Hypocrisy ki bhi seema hoti hai' (There's a limit to hypocrisy) at Carter Road.
Another piece that won him critical acclaim as well as a feature in multiple international publications including Bloomberg and Gulf Today is his infamous 'Tug of War' graffiti that features a figure of Rahul Gandhi playing Tug of war with Narendra Modi over an Indian map, signifying the political scuffle the two parties have been wrapped up in over the last decade. His other works include the 'God Is An Artist' mural featuring a mural of Hindu God, Shiva Mahadev next to a bucket of paint. Last but not the least his 'Four Bodyguards And A Little Girl' graffiti in Lokhandwala and 'Fake News Seller' at Chapel road, Bandra make for an honourable mention.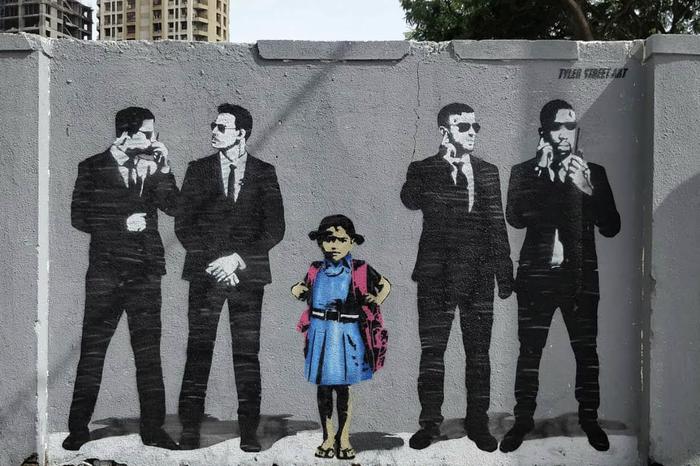 The Walk Of Shame
Major socio-political developments over the past few months following COVID-19 lockdowns like the government's handling of the pandemic, policies for health-care and refusal to make the PM Cares fund transparent, have sparked a wave of dissent towards their agenda and shaken people's faith in their governance. The government-backed commencement of Ram mandir's creation in Ayodhya has also been met with mixed sentiment. Regardless of one's socio-religious alignment, one thing all level-headed individuals agree on is the risk involved in a large scale construction project amidst a lethal pandemic.
In lieu of the discontentment expressed by people around the country, Tyler, who has always championed the muffled cries of suffering souls has chosen to strike back at corrupt politicians, biased news anchors, pseudo-intellectual celebrities and hypocrites who have contributed to furthering the government's communal politics. He has decided to replicate the Hollywood Walk of Fame, except with a divergent motive where instead of devoting stars of honour, 'turds' will be dedicated (painted) to public figures. His new project which began this Independence Day at a suburban back-road is called 'The Walk Of Shame'. It has been promised that it will feature individuals who abuse their following and position of power. The featured individuals are selected by online voting.
Yes, you heard it right.
Tyler's Instagram comment section allows you to cast a vote and nominate individuals who you believe damage communities, either by means of their prejudice or taking a complacent stand on social issues. Names are put up on Tyler's Instagram story as a poll, and the winner's name is etched onto the walk of shame the following week. One of the first individuals to be featured was Republic TV host Arnab Goswami. Upon his selection, Tyler painted his name this Independence Day. The candidate nominated for a turd on the Walk of Shame next week was news anchor Sudhir Chaudhary.
While some may consider Tyler's work vandalism, certainly no one can discredit the skill, dedication. and thought he puts into translating national sentiments into art. Most lack the bravado, conviction and skill required to do what Tyler does on an everyday basis. An advocate for secular governance, just economic systems and unbiased journalism, it's safe to say that Tyler is the kind of revolutionary our devolving society doesn't deserve, yet desperately needs.
If you enjoyed this piece we recommend you check out
5 Graffiti Artists Making Mumbai Walls Their Canvas of Colours
Stunning Murals By International Graffiti Artists Across India
Burhanpur's Jama Masjid Is The Only Mosque In India With Arabic & Sanskrit Inscriptions