The conventional idea of 'a collection' might spring to mind images of worn-out stamps and rusty, old coins, but times they are a-changin' and with that change comes a whole new series of collectibles. Artistry and creative expression find themselves weaved into the most routine objects, things we take for granted so often we hardly notice them as a canvas for imagination...things like shoes. Or for the sake of particularity in this case, sneakers. With various big brands and smaller companies infusing sneakers with their own artistic vision, new comfort technology, and even celebrity collaborations and endorsements, sneakers make for very interesting collectibles, and have spurred an entire movement of die-hard fans.

Known as 'Sneaker Heads', these shoe-obsessed followers of sneaker trends and brand-releases feed off comfort, colour, design, sparkle, innovation, and more. Searching the sea of regular footwear for the precious few to add to their collection, this crew represents a new age of users. These 21st century consumers demand quality, novelty, unique style and classic reinventions. And when they find what they're looking for, nothing can stop them. Nike-lovers, Adidas-followers, Converse-obsessors and more come together to form this extremely sure-footed band of Sneaker Heads, and this compilation salutes the niche interest and appreciation for fine footwear of a few young Indians we happened to uncover. Scroll on to meet our personal collection of 14 footloose and fancy-free shoe-lovers, and try not to drool over their amazing collections.
I. Adil Lokhandwala | 18 pairs
25-year-old Adil Lokhandwala is a graphic designer and a graffiti artist. "Eight years ago, I painted a shoe for myself for a theme party. A lot of people loved it and wanted me to do a pair for them. Before I knew it, the concept became popular and I started earning out of it. I named the collection Ju-Te."
"The right pair of sneakers can be very uncomfortable on the left foot!"
On when the 'addiction' began
"Since 2005. That makes it over 10 years."
First Love

"Nike Air Force 1."
Earliest memory with a pair of trainers

"I remember when I was in the 8th Grade, my dad bought me a pair of Puma runners when he returned from his trip to Dubai. It was one size small for me, so I had to remove the insole and wear it. It was very uncomfortable, but no one else knew!"
The Chosen One
"My Adidas Original Jeremy Scott Pixel Wings. It was a gift from a friend of mine, Sushant Chhabria, who introduced me to the sneaker designing scene."
The ones he would kill for
"I would love to get my hands on the Giuseppe Zanotti COBY. I'd work for them for a year, for free."
The Checklist
"Comfort, swag, tone," he lists.
II. Akshay Bhalla | 18 pairs
27-year-old Akshay Bhalla is the editor of Euphoric Magazine and Pulse Radio India. He also moonlights as a DJ.
"The right pair of sneakers can bring your swag level to over 9000."
On when the 'addiction' began
"I have been collecting sneakers for about 11 years. It all began when I started basketball for my school. Having a foot size of 13, I could never find shoes for my size here in India. I used to make my purchases from Europe or US. To make the most of it, I decided to make sure that I bought the best looking ones and that is how I bought my first Air Jordans. I still can't find my size in most stores."
First Love
"It has to be the Air Jordan 1's. I owned the black-and-white variant, which got destroyed while playing basketball. They were the re-release of the OG ones from 1985, and I happened to be in the States at the time. I remember buying that pair from Footlocker, and didn't wear them for the longest time. I was too afraid to damage them."
Earliest memory with a pair of trainers
"My earliest memory has to be when I got my first Air Force Ones and I managed to find the only pair in India for my size. I remember when I wore those shoes; my friends couldn't believe it because they only got to see it in music videos back then. I still have them safely in a box somewhere."
The Chosen One
"My favourite pair has to be these high tops by Puma that I picked up when I was in Berlin. They aren't anything special or rare but they are extremely comfortable and sexy to look at."
The ones he would kill for
"If I can find the Air Jordan OG 1's 'Black/Gold' for my size, I will literally buy a plane ticket, haul ass to the States just to pick them up myself. That pair was released back in 1985 and is probably the Holy Grail of every sneaker collector."
The Checklist
"For me, the first criterion is that the pair has to be a hi-top. I don't collect anything but hi-top sneakers unless it's a Stan Smith pair for Adidas Originals. Secondly, it has to be something that I can take care of easily. If you love your shoes, use nothing but the Jason Markk shoe cleaner kit. That kit works like a charm on every kind of Sneaker there is. Most of my shoes are black. Therefore, I would normally pick the black variant of any model."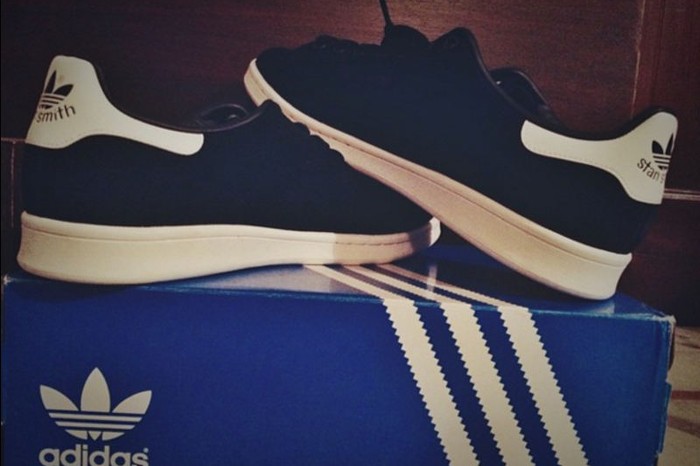 Follow Akshay on Instagram, Twitter and Facebook.
III. Al Claudius | 15 pairs and counting
Al Claudius is the founder, creative director and story teller of his blog, Bowtiesandbones. He is also the head of Fashion Visuals and the Influencer Program at Wooplr, a Social Commerce and Fashion Discovery app.
"The right pair of sneakers can make the crappiest outfit look good and give you that spring in your step like it is the morning after walk of shame (in my case, delight)!"

On when the 'addiction' began
"I have always owned sneakers, but I began collecting them only earlier this year in July. Ever since I quit my corporate job, I have been wearing sneakers every day. I use this as an excuse to add to my collection."

First Love
"It was Action Shoes and Liberty Force 10 that sparked my love for sneakers. Most people wouldn't know what am talking about. But these basic kicks were all my folks could afford when I was a kid and it was more than I could ask of them. I got a pair a year, until my brother bought me a pair of Adidas runners when I got into university. That's when it really took off."
Earliest memory with a pair of trainers

"My earliest memory was of me 'customising' them. I used water colours. It was a terrible idea, but I didn't know any better then. I only wanted to make my sneakers look different from what the other boys in school owned. I made them look quite funky, or so I thought, with a bunch of colours across a white canvas. It looked good until I got some water on them!"
The Chosen One
"I cannot pick a favourite, but I can pick two important ones. My Air Force 1 Mids, because the unboxing video got me over 12k views on YouTube and my Adidas Superstar 80s Clean, because they were never released in India!"
The ones he would kill for
"Again, there are two pairs! One is the Darth Vader Superstars that Adidas Originals put out. I had them in my mind, but never picked them up. By the time I had saved up enough, they were sold out. Then there is the Tom Sachs Nike Craft Lunar Underboot. The very fact that they did away with branding and sketched his name on the kicks is so rad! I'd take a flight to whatever country and perhaps camp in the rain with just an umbrella if that would get me the pair."
The Checklist
"They should have a historic relevance. They can be a re-issue or a Limited or Special Edition. They have to be game-changers and well, they must make people look at them and go,"What are thoooooooose?!""
You can follow Al and his work on his Facebook, Instagram, and Twitter accounts. Do check out his blog while you are at it.
IV. Anand Ahuja | Too many pairs to count
30-year-old Anand Ahuja has been working towards establishing and growing a culture-focused brand called Bhane. His sneaker collection is split between his Delhi home and the US, so he has never managed to see all of them at once. "I keep thinking that I have the space to buy more, but I really don't!"
"The right pair of sneakers can get dirty real quick in India, BUT you should still wear them!"
On when the 'addiction' began
"I not really in the 'collection game'. I am just a nerd for innovative styles. Sneakers just happens to have a number of brands that is experimenting with fabrics and materials."
First Love
"During my childhood, for several years, when I would travel to the US for my holidays, I would look forward to buying that ONE pair of perfect basketball sneakers. The ones I remember the most vividly are the Nike Penny Hardaway's "Foamposite's" in the original Orlando Blue. I wore the hell out of those shoes!"
Earliest memory with a pair of trainers
"I wore those Foamposite's day in and day out. I played ball in them, I wore them every day to school, and I even wore them when I had to suit up!"
The Chosen One
"Right now, it would probably be the Spacejam Air Jordans. I have so many fond memories of that movie; I simply had to get those shoes."
The ones he would kill for
"Kobe 5 (second only to the Kobe 8) was one of my favourite shoes to play basketball in. I had this awesome colourway of the Kobe 5 called 'The Grinch'—it was a Christmas special. I still have them. Later that year, they released a yellow and black 'Bruce Lee' colourway with three blood scratches on them. I have been dying to buy them ever since!" he shares, "I don't usually buy second hand shoes, but I probably would for these. A lightly used second hand pair, though."
The Checklist
"Innovation, wearability and well, they have to be my size!"
You can follow Anand Ahuja on his Instagram and Twitter pages.
V. Arjun Dutta | 65 pairs
21-year-old Arjun Dutta owns the shoe label The Shoe Factory that he started independently in 2013, which explains his passionate love for shoes and the 65-pair strong sneaker collection. Arjun even plays tennis professionally.
"The right pair of sneakers can make you or break you."
On when the 'addiction' began
"It has been a year since I actually started collecting."
First Love
"The New Balance M998 and the Nike Pegasus 93!"
Earliest memory with a pair of trainers
"Bashing my Nikes and Adidas whilst I used to play tennis when I was a teen."
The Chosen One
"The Nike Air Max Moire at the moment. I don't have a favourite pair, as I keep changing my sneakers every day."
The ones he would kill for
"The Nike air Odyssey Ltr, probably. I'm too lazy to order them online, so I haven't gotten them. I like to try my sneakers on before I buy them, so probably will pick them up once I'm in France this December."
The Checklist
"Minimal, clean and solid tones."
VI. Devika Arora | Just hit a century
26-year-old Devika Arora is a versatile entrepreneur. She runs two companies— 420 rooftop (charsobees), which hosts indie flea markets and live jams, and Fit Trip which is a fitness guide and motivation tool that makes exercising easy for lazy bums everywhere.
"The right pair of sneakers can get your life feeling sole-ful!"
On when the 'addiction' began
"I started when I was 13 with a good ol' pair of Chuck Taylor's."
First Love
"I'd have to say my Ecko reds, because of the detailing and workmanship. It feels like I am wearing a work of art— the stitches and crystals are exquisitely placed."
Earliest memory with a pair of trainers
"My best friend bought me a pair of Rollie's, which were sneakers that had inbuilt wheels in the heels. I lived in those things! It was mad fun to roll around in them. That is, once you got the balance right!"
The Chosen One
"My holographic Adidas kicks. Because, well, Holograms. I could live in a world of holographs, crystals and glitter, honestly."
The ones she would kill for
"I love the new Adidas XENO line. The iridescent light reflective style is just plain gorgeous. I'm ordering them soon!"
The Checklist
"I love a nice thick sole, mad amounts of comfort and lots of colour."
VII. Dhara Jain | 40-50 pairs 'n growing!
29-year-old Dhara Jain is a production designer, space stylist, design blogger, and product designer, all rolled into one. At present, she is working towards establishing her own brand through a design blog concept called ManyManyThings. She loves her sneakers so much, that her biggest regret is overusing some of them and having to discard them after a point.
"The right pair of sneakers can cover up for the simplest of attires."
On when the 'addiction' began
"Eight years now! It started when I started earning on my own."
First Love
"My first-ever Nike! They were these yellow fire-merging-into-blue, totally attention-grabbing pair. I craved them! This was when I was still in school," she recollects, "My dad is in the Army and he was absolutely against foreign brands. I had to cry, throw tantrums and even threaten my parents before they finally agreed to buy those beauties for me."
Earliest memory with a pair of trainers
"PT shoes! I used to wash them religiously because I was particular about them staying white and shiny. I wish, back then, we had brands that sold shoes that were plain black or white then so I could wear them to school. It is only now that these are easily available."
The Chosen One
"My pink sole, muted grey and black patent leather Diesel ones. It was a gift from my husband, when we were still dating."
The ones she would kill for
"There is an Instagram page, my_swear that I happened to stumble upon quite recently. This brand makes customisable, luxury fashion sneakers in collaboration with a fashion brand called farfetch. Ever since I saw it, I have been dying to get my hands on one of them. I have been trying to save enough so that I can finally design and buy a pair."
The Checklist
"Easy slip, because I want to be able to get my feet into them easily. Velcro is my current lust. Then, of course, it should have looks to kill. For me, it is all about love at first sight. The last one is something I take very seriously—comfort! I mean, if it didn't matter so much, I would be collecting stilettos, instead."
Follow Dhara Jain and her work on Behance, Facebook and Instagram.
VIII. Sanket Arjunwade | 60-70 pairs
Most people might know 29-year-old Saket better as DJ SA. Apart from playing Hip-Hop and RnB music, his passions extend to him collecting sneakers.
"The right pair of sneakers can change your whole mind set and your whole look, building confidence in you."
On when the 'addiction' began
"About 14 years now."
First Love
"My first pair of Adidas superstars. I bought them about ten years ago."
Earliest memory with a pair of trainers
"When Fila was the cool brand! Back then, Nike and Adidas weren't available in India. You had to either import them or if someone you knew were going down, then you could ask them to pick up some for you."
The Chosen One
"As of now, my most special pair are the Limited Edition Nike Jordan retro 7s and retro 5s."
The Ones he would kill for
"The new Yeezy. I cannot explain what I would do to get them."
The Checklist
"Always have a crisp white pair. It's a classic and goes with any outfit. An Adidas superstar, that itself answers for everything and, a Nike Jordan pair. No sneaker head has a collection without a Jordan pair!"
IX. Joel Paes | 21 pairs
29-year-old Joel Paes is a Delhi-based DJ with a thirst for sneakers that is still being quenched.
"The right pair of sneakers can make you never want to wear them."
On when the 'addiction' began
"It has been 6 years now."
First Love
"My first 2 pairs of BAPE (Bathing Ape) shoes—gold-with-silver and red-with-black, what's not to love?"
Earliest memory with a pair of trainers
"Playing basketball back in school with my brand new Adidas KB 8's on. It really hurt the first time I scuffed those beauties."
The Chosen One
"My Nike Air Yeezy 2, Red Octobers because I was fortunate enough to be able to get two pairs, and I gave the spare ones to my cousin."
The ones he would kill for
"I'd be willing to sell a midget on eBay for the Adidas Yeezy Boost Solar Red or Vacapri concept sneakers."
The Checklist
"Exclusive high tops with straps."
You can follow Joel on Facebook, Twitter and Instagram.
X. Kerry Harwin | 35 pairs
32-year-old Kerry likes to introduce himself as an "American hobo in Delhi". He is a writer and often, he likes to unleash his "funky bass gun on the dancehalls of the subcontinent to induce uncontrollable ass-shaking."
"The right pair of sneakers can be the perfect punction to the sentence of your style."

On when the 'addiction' began
"I guess it all kicked off about a decade ago."
First Love
"The Air Force 1. My first pair was baby blue, and I kept going on from there. It's a solid sneaker that comes in a sick colour palette...low top but not too low around the ankle, extremely comfortable and durable, and, despite the wack Nelly tune of the same name, just forever fresh to death," he recollects.
Earliest memory with a pair of trainers
"Not trainers, but my mom always likes to talk about how I wanted a pair of bright pink patent leather shoes when I was a kid. She was convinced I was gay, but in fact I was just way beyond those basic babies. Years later, I finally got my chance with a pair of bright pink platforms."
The Chosen One
"The funny thing about collecting is that physical objects become artifacts of the time and place when you acquired them. Much like how I can look over my bookshelves and be transported back to the time when I read them, I can look at my sneaker shelves and think about where and when they came from. So my most special pair, bright red Columbia Sports trekking sneakers, has nothing to do with the shoes themselves and everything to do with the very special day I bought them, when I was very optimistic and in love."
The ones he would kill for
"For me, it's not like that. Rareness or exclusivity is irrelevant to the dopeness of my kicks. I'd like to stock up on all the Air Force 1s and Stan Smiths I can find. I don't have to do anything wild to get them, just get paid every now and then."
The Checklist
"Freshness, as defined by colour palette, comfort, and the extent to which the kick is different from others in my collection."
X. Nandith Jaisimha | 40 pairs
28-year-old Nandith Jaisimha is a photographer, cinematographer, baller and most importantly, a sneaker head. He runs his own company called studio080 in Bangalore.
"The right pair of sneakers can make a man stand out!"
On when the 'addiction' began
"I have been in this game for about 12 years."
First Love
"It was the retro Nike Air Pippen. Those white 'n black kicks were to die for, especially with the big, bold 'air' written all over the shoe."
Earliest memory with a pair of trainers
"My mum gifted me a pair of Adidas basketball shoes for making it into the under 13 state basketball team, and I think it all started there!"
The Chosen One
"Jordan 1's. They are the first Jordan's ever made by Nike. Every game Jordan wore them on court he was fined 5000$ and Nike was okay with that. I just love the whole old-school, retro feel it possesses."
The ones he would kill for
"Jordan 12's, especially the bred (black and red) flu game ones. I won't mind trading my all-time-favourite, top 3 super star NBA jerseys for this one."
The Checklist
"Same colour soles, retro and super comfy," he lists.
XI. Mickey | 16 pairs that fit right, at the moment
22-year-old Mickey will be launching his debut rap album soon.
"The right pair of sneakers can be found on my shoe rack."
On when the 'addiction' began
"More than a 'collection game', it's been a part of my attire since I was in school. I was sent a fresh pair of whites by my brother for my 14th birthday, when I was in boarding school. I was loving the look of envy on everyone's faces. They kept me floating like a boss and since then, I was hooked on to buying a pair every season. My mom thought I was spending obnoxiously, but she had never seen me taking care of anything else, like I did my pair of Nikes."
First Love
"I remember going through a young phase of trying out various covers for my feet when I was around 10. I loved the feeling of a pair of sneakers under a pair of jeans. I had also grown up watching hip-hop and rap videos with artists wearing the cleanest pairs of Adidas or Nike whites, drawing my attention towards the same."
Earliest memory with a pair of trainers
"In boarding school, I was very particular about keeping the shine of my shoes. So every time, after wearing them, I'd sit on my bed with a fresh cloth, a brush, Dettol and some liquid soap, to get all the stains off. Then, I'd put them back in the box and lock it up until the next time I put them on. The interesting part is, I still scrub my kicks myself (without the dettol, it screws them up). Can't let anyone else do it."
The Chosen One
"Undoubtedly the Nike Air Force 1 Customized pair with my name 'MICKEY' engraved on them. They feel like class on my feet, imported from Nike US, with a shining white base and golden luxury to compliment that. Sleek, classy and eye-catching, with my name on it."
The ones he would kill for
"I want more personalized pairs that are specially custom-made for me from Nike. My limitation to get such pairs is being tested, as I prepare to launch my music," he confides.
The Checklist
"Sleekness and class. They should be white and well, the Swoosh!"
XII. Roxanne Dsouza | Too many pairs
26-year-old Roxanne is a fashion blogger at Head 2 Heels. She also works as a freelance stylist. "I also blogs full time and waste most of my time on Pinterest, planning my future vacations," she shares, "I'm a shoe hoarder. I still have my old ones from seven or eight years ago, and I cannot dream of parting with any, even though a few of them might not be wearable anymore. There are a few pairs that really get me in the mood the minute I put them on. I feel like I can do cartwheels (I can't)."
She often shares her shoes with her sister and her friends. "My sister has six or seven pairs with her at the moment in Dubai. Sometimes my friends don't return the ones they borrow. But there's definitely 45 plus pairs (of sneakers alone) at home at the moment, more or less. I won't get into talking about my heels, because that's another story."
"The right pair of sneakers can make you feel like you can do things you usually don't!"
On when the 'addiction' began
"Ever since I could remember! I started with Sketchers when I was younger, since I was an athlete in school. I played hockey as well as track and field sports so I had everything from studs to spikes so I could train and play. I also used to have a ton of sneakers in different colours and styles. I got into collecting sneakers after school. At the time, my eyes were set on All Stars and Vans slip-ons, thanks to all the musical influence surrounding them. And thus began my collection. It's been ten years now."
First Love
"My first pair of All Stars came from the US, because I specifically asked my dad for them. While I pictured the regular black Chuck Taylors, my dad had other things in mind and got me an electric blue pair that were not only high tops, but also had a funky polka dot lining and could be folded at the ankle. That's when I realized there were so many colours and I just had to have them all! So the original plan was to collect Chuck Taylors, but soon there was Vans and everything else that went into my collection."
Earliest memory with a pair of trainers
"Possibly the first 100 metre dash I ran in primary school. I lost that one, and a few others that followed, before I got really good. At that time I liked to have my clothes matched, so I usually paid a lot of attention to whether my shoes matched my tee and my scrunchie. I remember being in a bad mood because I was in the green house and so I had to wear a green tee, but I didn't have green shoes to match. My dad had to convince me that I lost because I was obsessing a little too much over the smallest things possible."
The Chosen One
"This is the hardest question to answer. There are so many and they all have their own story!" she shares, "There's a pair of Aztec wedge sneakers that I managed to get from Forever 21 in Thane of all places, because I landed up there for a meeting. As luck would have had it, they were on sale! There's another pair of wedge sneakers that I adore. They're one-of-a-kind from Alberto Torresi and were made specially for a fashion show I styled. They gave them to me after. The coolest part is that they have studs and spikes on them. They feel like weapons on my feet! There is one more pair that I got my hands on while we were shooting in Ahmedabad. During a break, I visited a local mall with a few other crew members. The Converse store there was getting rid of their old, last-pieces. The shoes were 300 each! It was hard to believe. It was a Cinderella moment, when three of the nicest pairs fit only me and I walked out with all! Later a few others tried to trade, but I wouldn't have it. All three of them were printed pairs."
The ones she would kill for
"The Alexander McQueen Leap wedge sneakers which made in collaboration with Puma. They look pretty bad-ass and very minimal. I also managed to spot a picture of the Nike Dunk sky hi in a black and white snakeskin that I'm totally lusting after."
The Checklist
"Comfort, obviously! Sometimes, I'm on my feet for almost 12 hours straight when I shoot and so I need a pair that will not break me mid-way. Quirky, because while I do like normal sneakers, I actually prefer the ones that would raise eyebrows and start conversations. I also prefer those that look like they're one of a kind. So anything with either glitter, studs, rivets, crazy prints, zippers, and so on would totally get my vote. Anything customized is awesome."
XIII. Sahil Marwah | 26 or 27 pairs
27-year-old Sahil Marwah co-runs Beam & Words, a communication consultancy which specialises in new age public relations, digital media and design, with two of his friends. He heads the PR vertical of the agency and even overlooks social media marketing for some of the coolest fashion and F&B brands in the city. Onitsuka, Nike, New Balance, Adida, Rebook and, D&G shoes feature in his wide collection.
"The right pair of sneakers can make you look dope 24/7 x 365."
On when the 'addiction' began
"I started with Onitsuka Tigers six years ago, went all out with Nike about three years ago, and I'm still going strong."
First Love
"Nike Pegasus 30. I still swear by them and they're still as good as new. One is black, pink and yellow and the other is blue, green and red."
Earliest memory with a pair of trainers
"It goes all the way back to school and to basketball kicks."
The Chosen One
"A pair of Serrano in grey, black and yellow by Onitsuka, only because I can't find the same pair anywhere. So I have to keep this one safe."
The ones he would kill for
"Right now, it's not just a pair. I have my eyes on the entire Nike's Flyknit Racer collection, with maybe just one pair signed by Kobe Bryant. If you get Kobe to sign it, I'll be ready to trade my whole collection in return."
The Checklist
"Comfort, because sneakers are a part of everyday wear. They should be highly durable— I hate it when a sneaker starts ageing even though I take immense care of my shoes. Product design, of course. Nike suits my style the most. And, lastly, colour. Everyone needs colour in their lives, so why not wear it?"
You can follow Sahil on his Facebook and Instagram pages.
XIV. Simran Shetty | 14 to 15 pairs
22-year-old Simran works with KRUNK as a social media executive and artist manager. "Currently in a relationship with my Stan Smith's," she says, "I have said goodbye to way too many. It's like being in a relationship, but with your shoes. Sometimes, it works out and sometimes, it doesn't. Quite often, you grow out of them but most of the time, you just cannot let go."
"The right pair of sneakers can make you feel like Cinderella. Waiting for the day I lose one and have prince charming knocking at my door."
On when the 'addiction' began
"Far too long! Maybe, about 11 years."
First Love
"Chuck Taylors. It was love at first sight. I think I first saw them while watching the Basket Ball Diaries. Fell in love with so many things that time—the Chucks, Leonardo Di Caprio, Mark Wahlberg!"
Earliest memory with a pair of trainers
"The earliest memory would be me strutting around in my light up sneakers as a kid. I think they were Skechers. Every step I took, every move I made, everyone would be watching me. I loved showing those off. Made me feel all fancy. Although now, I can only picture myself jumping up and down, trying to make them light up, looking like a complete moron."
The Chosen One
"The most special pair in my collection are my black Chuck Taylors. I've had them since my early teen years. What's surprising is that they still fit. I've seen a lot with them, from basketball lessons to sneaking out with friends at night (don't tell my mum), I even had them on when I had my first kiss!"
The ones she would kill for
"Jon Buscemi 100 mm clip. Words cannot describe how beautiful they are. The lengths I'd go to get them? I'd probably have to kill you if I told you."
The Checklist
"Comfort is key. Two, the right amount of funk, and it must be something you can dance around in when you're drunk."
[If you, or someone you know, has a sneaker collection you think should be featured in this compilation, send us an email with the subject "Sneaker Head" to [email protected] so we can feature you in Round 2.]
Compiled By: Raj Rege and Sanyukta Shetty