Amrita Sher-Gil continues to fascinate and engage people's curiosity decades after her untimely death in 1941. An artist of repute, she's remembered for her rebelliousness, bohemian lifestyle and numerous sexual escapades, with men and women, not least of all because she happened to belong to a society as traditional as India's in the early '40s. Dismissed by some and revered by others as a pioneering artist and icon, she has left behind a multi-faceted and colourful legacy that's constantly re-imagined but few offer a perspective vastly different from the other. It's only when we peered at her life through her own father's eyes (or for the purpose of this story, lens) that it felt like there was an opportunity to learn something new about Sher-gil.
Daughter of Sikh aristocrat, Umrao Singh Sher-Gil Majithia and Hungarian opera singer Marie Antoinette Gottesmann-Baktay, Amrita was far from ordinary, growing up in the throws of European bourgeois in her mother's homeland, Budapest, where they were forced to stay because of WWI till 1921. Along with her parents and sister Indira, Amrita was only able to move back to the family estate in Shimla when she was eight. Through her life she travelled between Hungary, France, Italy and India, journeys that shaped her identity as a person, as well as an artist, a lot of which was ultimately documented and immortalised by the photography of her father. An amatuer photographer of sorts, Umrao Singh is considered to be one of the pioneers of photography in India.
Lenses for the elite became more lessons for Umrao
Umrao Singh began taking photographs in the early 1890s, a time when cameras became available to the upper class as a leisurely toy. Born in 1870 into the landed Sikh aristocracy, Umrao Singh chose a different path in life than that of the rest of his family, what his class rank had destined him for. In contrast to his brother who was knighted by the British, he was a nationalist and is said to have been a close friend of poet Mohammed Iqbal. Closely linked to the Gadar Party, a revolutionary group dedicated to freedom from colonial rule, Umrao Singh took on an academic and intellectual life; a great admirer of Tolstoy, he even emulated Tolstoy in the creation of his self-image and adoption of his humanist doctrines. A scholar of Sanskrit and Persian, he spent many hours contemplating the philosophical basis of religion. Lover of carpentry, practitioner of yoga and quite fascinated by astronomy, he indulged the opportunity and rites accorded by his societal rank, yet he preferred and cherished moments of solitude in his study. Umrao Singh had a world of his own and he recorded it all through his photographic lens, his primary subjects being his two daughters and his wife.
'His Misery and His Manuscript'
"The bricoleur in him coexisted with the orientalist savant and the enthusiast of modern gadgetry. He kept abreast of the latest photographic techniques, such as autochromes and stereoscopy, and, in India, was a pioneer in experimenting with them. His wonder in the ingenuity of the photographic apparatus went hand in hand with a delight in setting up a mise-en-scène for capturing his presence and that of his family: the photograph as a succession of tableaux intimes. In all this posing there was an element of self-mockery, too, as when he annotated some of the images with self-deprecatory remarks. The camera was an instrument of self-fashioning, although the residual sadness in his gaze came increasingly to the fore, especially after Amrita's death and the suicide, a few years later, of his wife Marie Antoinette. The photographs make up a family album that is tinged with a sense of pathos. "All happy families are alike; each unhappy family is unhappy in its own way". Tolstoyan that he was, Umrao Singh Sher-Gil would have acknowledged the truth of this wisdom:" writes Deepak Ananth in his book titled Umrao Singh Sher-Gil, His Misery and His Manuscript.
A life filled with cultural clashes from the start
It's said that it was after his second marriage to Marie Antoinette--his first wife passed away in 1907--that he truly began his visual documentations and the family album slowly began to grow. One of the earliest pictures of Amrita was in 1913; we see Marie Antoinette sitting in bed with a large bow on her head cradling an infant Amrita as a proud and dapper Umrao Singh sits beside his wife. Her father dressed in a western suit contrasted by his turban stands as a foreshadow of the cultural clashes that Amrita was to face in her life to come. As such, her transitions through life, her experimentation, exploration of identity and artistic developmental stages are best remembered in these rare photographs by her own father.
With hundreds of pictures of his wife and daughters through the years, a family album evolved into an archive of life in the first half of the early twentieth century for an Indo-European family. In one image we see Amrita and Indira in white frilly frocks; nannies, piano practice and Christmas trees, we see an image of an assimilated 'western' family, but this wasn't a complete picture. In other images we see them wrapped in rich fabrics, brocade and jewels, a perfect picture of an Indian princess. We see an idyllic and privileged life, a balancing act of East and West, a very different world from the parts of India that Amrita would end up exploring in her artistic endeavours.
Like father, like daughter?
The Sher-Gil family was artistic and untraditional in many ways, and Amrita taking to painting wasn't unexpected. At the age of sixteen, Amrita attended the Ecole des Beaux-Arts to study art and it was during this time in Paris that her sexuality blossomed and she started her several liaisons as she fully embraced the bohemian Parisian lifestyle. Her father photographed her on many of his visits, and in these images we see her self-fashioning experiments, at times in western wear and in others adorning a saree. She had an intimate relationship with her mother, caring for her when she attempted suicide, but she took after her father, with whom it is said she had a more philosophical relationship, when it came to her emotionality, including her sense of nationalism.
In several photographs, behind the dresses, hairdo and external facade there is a sense of unease in her expression, seen more so in the ones taken in the late 1930s. She continued looking for a place to call her home, even after she had left for Hungary in 1938 and declared her desire to marry Victor Egan, a doctor, as well as her first cousin, a decision that consequently ruined her relationship with her family. She believed that returning to India would calm this feeling of discomfort and be the place where her artist's eye would finally achieve what would lead to the success of her future career. In one of her several letters, published in two volumes by her artist nephew Vivan Sundaram, she openly states, "Europe belongs to Picasso, Matisse and Braque and many others. India belongs only to me." She travelled around rural South India for three months, away from the British society life she had grown up seeing. And in these travels, she finally found what she had been searching for, the style and subjects that would come to define her work as an artist.
Shrouded with mystery, Amrita's inopportune death came about when she was in Lahore, at the early age of 28. Her return to India was an exploration of herself and the discovery of classical and medieval Indian art which proved to be fruitful. Her paintings that followed in the late 1930s are among her most famous In India and Europe, and a bright artistic future was foretold for her, but sadly, it did not come to pass. Immensely talented, opinionated, precocious, beautiful and poised with a dynamic and rebellious personality, Amrita was destined to become a truly great artist. Hailed as the 'Indian Frida Kahlo,' her paintings of ordinary rural women and her female nudes are considered classics. One of Umrao Singh's central photography subjects; her changing art and adventurous life are captured at different stages, showing a combination of varying cultures, which at times was distressing. Amrita Sher-Gil taking centre stage in her father's photography has her immortalized posthumously, and unusually--as a reflection of the eccentricities amidst which she was raised, and not just a lone rebel in the wind.
Scroll down to see a selection of Umrao Singh Sher-Gil's photographs of his infamous daughter through the years.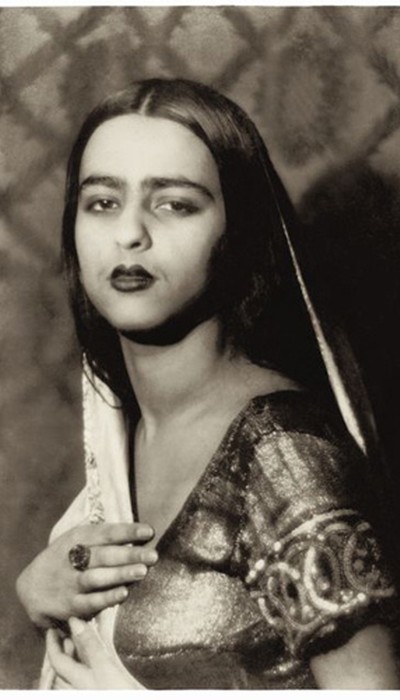 Feature image taken from Vivan Sundarman's Re-take of Amrita , a series of black and white digital photomontages created using archival photographs taken by his grandfather, Umrao SIngh Sher-Gil.