Linnaeus Tripe was an officer in the East India Company army. He joined the iconic trading company back in 1838, became a lieutenant in 1840 and served in South India before returning to England in 1850 due to ill health. He ended up spending four years in his homeland and began dabbling in photography, an interest that would later grant him a special place in history for his vast collection of images of India and Burma, taken in the 1850s.
Tripe then returned to Bangalore in 1854 as a captain in the army and religiously began documenting his travels. He exhibited the first few of his images (68 in total) depicting unseen temples from the Indian heartland at the Madras Exhibition of Raw Products, Arts, and Manufactures of Southern India and was felicitated by the jury. A year later, he embarked upon an official photography trip to neighbouring Burma to document its architecture as well. The voyage yielded the publication of his much talked about Burma Views.
In 1857, Tripe became the official photographer for the Government of Madras, allowing him far more leeway, further allowing him to combine his passion and his work. However, after the Indian Rebellion of 1857, also known as the Sepoy Mutiny and the Revolt of 1857, Tripe was ordered to stop taking photographs. He continued his career in the army and was promoted several times, until he left India in 1875. While many of the photographs depict open landscapes and inspire a sense of calm, it's worth noting that many of the sites Tripe photographed were in fact at one point or another under seige by British forces.
His photographs are on display at the Fine Arts Museum of San Francisco, and have also been exhibited at the National Gallery of Art, the British Museum, the Metropolitan Museum of Art and the British Library, amongst others.
Below are some of his most memorable photos of India and Burma.
I. Deck of the HMS Impregnable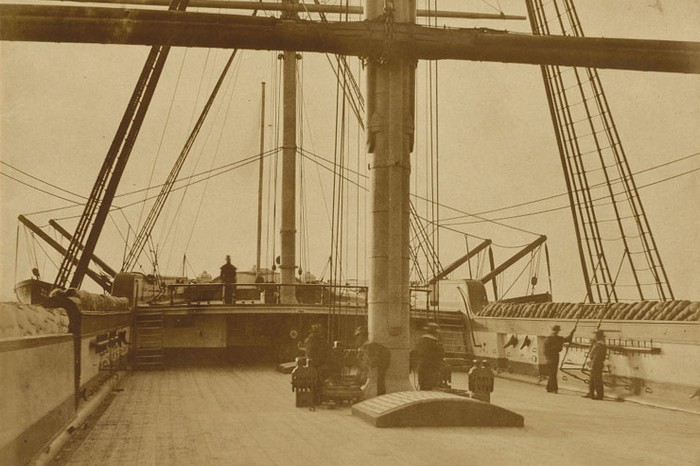 II. Pugahm Myo- Carved Doorway in courtyard of Shwe Zeegong Pagoda, August 20-24 or October 23, 1855
III. Amerapoora- South Ditch of the City Wall, September 1-October 21, 1855
IV. Amerapoora: Ouk Kyoung, September 1-October 21, 1855
V. Rangoon: View near the Lake, November 1855
VI. Amerapoora: Shwe-doung-dyk Pagoda, September 1-October 21, 1855
VII. Seeringham: Great Pagoda, Munduppum inside Gateway, January 1858