When I first moved to Mumbai a few months ago, I was dreading three things, the rains, the chaotic commute through the locals and a ghastly combination of both. I was warned that getting up and down the local trains would require extreme speed, precision, strength and tolerance to all kinds of disgusting smells. My work and the horrendous traffic of the city required me to take the locals everyday , but eventually I got used to the rush and the madness. It was only much later, sometime during my fourth week in the city that the unimaginable happened — I actually started enjoying the commute.
That day, on my way back home from a long day of work, an elderly man got in the train from Mahim station. He looked around for a few seconds and suddenly started to sing an old Hindi classic. " Ruk Jaana Nahi, Tu Kahi Haar Ke….." His voice was soft yet deep, his face animated and expressive. He seemed to sing with all his heart and soul. I looked around at the other commuters. Most seemed mesmerised just like me, others were indifferent. I heard him sing two more times on consecutive days and that old man and his melodic voice became one of the reasons I began looking forward to taking the train home. Still, I never saw him after that and regretted not speaking to him when I had the chance. Instead, I kept my eyes and ears open to spot more such invisible, talented artists that entertained commuters on stations and trains and found quite a handful.
In a study undertaken by Swaradhar (an NGO working towards providing dignity to people singing in trains through their project called Dabbajam) it was found out that most beggars who sing in trains and at stations have undergone a classical musical training. The group of four researchers interviewed 22 persons who perform on the central, western and eastern railway lines to earn a living and found out that 16 have finished various levels of classical musical training. Eleven of these singers are visually-challenged having trained during their school day' the Indian Express reported, quoting Swaradhar members.
Be it inborn talent or an acquired skill, these musicians are hardly respected. While many of us ignore them or toss a coin their way, we tend to forget that these people are skilled musicians with years of hard work and training behind them who deserve to be treated with dignity. These differently-abled musicians tend to tell many stories through their music and more often than not we fail to listen beyond the surface. We fail to understand their musical journey. I went to talk and listen to a few of these invisible musicians of Mumbai Locals and they opened up to me with more than just music.

I. Salim Sheikh, 28
Flutist
Where: Dadar Station
If you take the large railway over bridge at the Dadar Station, chances are you have stopped in your tracks at the sound of some beautiful hindi flute melodies falling upon your ears. Salim Ansar Sheikh is a 28-year-old visually impaired flutist who has been playing for the commuters at Dadar Station since 2007. A resident of Kalyan, he learned to play the flute back in his school days and hasn't stopped since. He comes to Dadar station at around 12 pm every single day and plays for around 8 hours. In fact he even met his wife here on the station who heard him play and asked for his hand in marriage. "Playing the flute has always made me happy. These melodies are my source of optimism." he smiles and tells me. It took 1.5 years for Salim to learn the art of fluting and he still feels that he has a long way to go. He, however is saddened by all the people who have absolutely no training or the voice to sing, but still do so for money on the stations or in the trains. "Talent and skill is important for achievement. I have honed mine with years of hard work." He has a rather modest smile, but Salim admits that he is slightly more popular than he might appear to be. "I have given many performances individually and with groups for various NGO'S, CSR activities etc. Stories about me have appeared in newspapers too. I don't want you to think that people don't know me. They do. And it's all because of my talent, hard work and fate," he says. As I bid him adieu, he plays the famous Kal Ho Na Ho tune for me. The melodies from his flute revebrate in the environment, over powering the chaos on the station, momentarily making it a pleasant place to be.
II. Ram, (age unknown)
Where: Andheri Station
I spotted this man sitting in the middle of an over-bridge at Andheri Station. He seemed helpless as he sat with a one stringed instrument on his lap which has just one string and a dirty white handkerchief sprawled in front of him dotted with a few silver coins. "Ram" he mumbled as I asked him his name. He had trouble speaking but somehow he slurred and told me that he was a farmer from Pune and had come to Mumbai to play the veena a few years ago. Over the years his instrument was ripped of its strings and now he sits on the station, homeless, hoping to collect enough funds to be able to repair it and start playing again. I ask him what music means to him and he grins a toothless smile and looks up and raises his palm upwards, signifying that music was synonymous to god to him. As I talk to him, a crowd assembles around us and suddenly the authorities ask Ram to move away. He gets up like it's a daily occurrence and moves to one side. He is hopeful that within a few months he will collect enough money and his instrument will be new as ever. "I just cannot wait to play again," he mutters as he gets up and takes his previous spot as soon as the authorities leave.
III. Shaukat Ali Khan, (mid 30-s)
Dholak Player
Where: Western and Central Line
Shaukat Ali Khan, a man in his mid thirties migrated to Mumbai from Allahabad 8 years ago in order to make it big. He clutches to his Dholak tightly with his hand that is adorned with a Ghungru belt. "This is an amazing accompaniment with the beats of the dholak," he says. Shaukat is a visually impaired musician from Kalyan who plays in the trains running on the central line everyday from 9am to 5.30 pm. He is perched casually on the almost empty Sandhurst station, waiting to catch the train where he can unravel his talent. He starts playing a really catchy, familiar beat, but stops mid way suddenly to tell me just how much he loves to play the Dholak. "I was a young boy back in Allahbad when I learned to play the Dholak. It is a lot of fun. There wasn't much opportunity back home, so I came to Mumbai. It was a good decision. I got married here also," he says and smiles shyly. He tells me he feels closer to god when he plays the Dholak. He dreams of performing on the stage one day, someday. But as of now he continues to perform and entertain the commuters with the same passion, vigour and energy.
IV. Raja Shrivastava, Mid 30-s
Dholak Player
Where: Western and Central Line
Also hailing from Allahabad, Raju Shrivastava, a visually impaired Dholak Artist came to Mumbai 5 years ago. Like Shaukat, he too loves playing the Dholak but is a little shy. " I am working on that" he says softly. His seems like a brand new Dholak, but turns out he just takes really good care of it. He is angsty, waiting for the train; nervous and excited for his next performance in the locals. He too plays a little something for me. A very catchy beat that momentarily transports me to a Punjabi wedding. " I sometimes sing too, when I am in the mood, but not today," he says. "Maybe when you invite me to perform on a stage" he says loudly over the chugging sound of the upcoming train, getting up and bracing himself and his Dholak for another performance.
V. Kishan, Late 20's
Sarangi Player
Where : Western Line
He migrated from Rajasthan as a child with a head full of dreams and hands holding the Saarangi that he meticulously makes himself. "It takes a few days to make this," says the musician who started training when he was a child. Kishan's getup is vibrant—matching up to that of his home state. He sports a colourful traditional scarf that matches with his bright striped Saarangi. Soon he breaks into sharp, melodic tunes of contemporary Bollywood songs that overpower the chugging sound of the train. A string pops out but Kishan's fingers work fast to fix it. While the entire ladies compartment seems mesmerized, his biggest fan seems to be his young daughter— seated on the floor watching him in awe. When asked if music is his passion, he looks away and laughs sarcastically. "This is how I fill my stomach. This is all it will ever be," he says walking away to collect money.
VI. Shree Ashthavinayak Railway Paravasi Bhajan Mandal
Bhajan Group
Where: CST-Kasara Local
The Kalyan-based Shree Ashthavinayak Railway Paravasi Bhajan Mandal is a unique troop that was formed when a bunch of daily travellers en route CST Kasara 8.52 local united in their love for devotional songs. Rajesh Dhumal, a member recalls that more than two decades ago, he and his gang of then young and raucous train friends were one day handed a Rs 10 note by a complete stranger. "We used to joke about and swear at each other, and be pretty loud. So he gave us the money and told us to buy a pair of cymbals and sing bhajans," reports Indian Express quoting Dhumal. Most men board the train at CST while a few other members join in from Dadar and Kurla. The group begins to sing songs of Lord Ganesha and Sant Tukaram after one member garlands a picture of Ganesha hung on the luggage rack. Though there have been many restrictions against Bhajan Mandals imposed by the railway authorities, this does not dampen the spirits of the members who go back home to their families feeling de-stressed and light.
VII. Lallan Seth, 50
Singer
Where: Central Line
While on a slow train from Dadar to CST, Lallan Seth got in at Chinchpokli with a walking stick in his hand. He waited for the train to resume to start singing and as soon as it did, he broke into a bhajan. His voice was clear and powerful and his notes were right on point. He did not stop to hear the jingles of the coin in his bowl and continued singing two bhajans one after the other making his way through the coach. He got down at Byculla and I followed. The 50-year-old visually impaired singer has been singing in trains since 5 years now and has has proper training from a Guru in Gujarat back in his adolescence. He is not associated with any group and prefers singing solo. Lallan seems evidently perturbed when I ask him if singing makes him happy. "It used to," he says honestly. "I mean, it still does, that is why I sing. But now it has become more of a restraint, a way to fill the stomach" he says. With absolutely no resources or contacts in the music industry, Lallan feels singing in trains is something he is destined to do. He earns a meagre amount of Rs. 300 - Rs. 400 everyday but nevertheless continues to sing for he feels that is the only skill he has that keeps a flicker of hope and happiness alive inside him.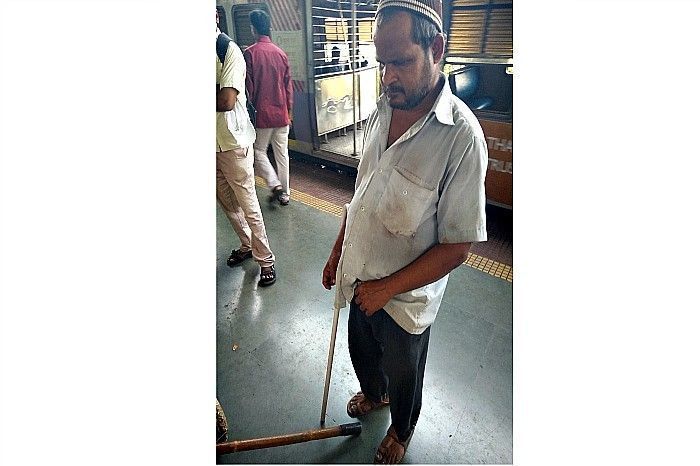 If you enjoyed reading this article, we suggest you read:

The Secret World Of Ladies Compartments On Mumbai's Local Trains
Watch: Stunning Night Timelapse Video On Mumbai's Local Trains