Mainstream media in India chooses to focus on, or exclusively ignore, certain issues so that it can continue to appeal to the largest section of society. Take, for instance, the saas-bahu serials that perpetuated 'socially acceptable' ideas on prime time television every night at 8pm and had our grandmothers, mothers (and even some of us} hooked. Even as unconventional characters are finding place in movies and television shows today, inclusive plot lines are few and far in between. Yet, there is an art form that has been pushing the boundaries both in terms of themes and style for a lot, lot longer. Relegated to second-class citizen in the glitzy world of media, theatre is driven entirely by a passion for storytelling and that's where the magic happens.
Today, we're exploring the work of 10 Indian theatre artists who are challenging the idea of set, defined gender roles (male, female and those that aren't defined by such rigid boundaries) and what love means in relation to sex and sexuality with their work,
I. Varun Narain
Gay activist and puppeteer, Varun fell in love with his craft because it seamlessly blends music, theatre and education in an engaging manner. Using interactive puppetry in a non threatening manner , he simplifies the undertones of sexuality and gender roles for a larger audience. In his striking performance of 'Photosynthesis By Moonlight', plants star as his carefully written out euphemisms that portray evolution, plunging into myriad, complicated and often misunderstood thoughts that the human mind has.
To watch Varun's work, click here.
II. Shilpa Mudbi Kothakota
Born in the city of Bangalore, Shilpa is a filmmaker, theatre artist and singer. Some of the themes that her work focus on include women empowerment, rural development and agriculture. Her most popular play, 'Yellamanata Mela', revolves around the transgender disciples of the fertility goddess Yellamma who is the deity at the Yellamma temple in the district of Saundatti, Karnataka. Marrying classical music and drama with modern thinking, the actors in the play exchange gender roles, with women playing the parts of men, and vice-versa.
To ask Shilpa questions, click here.
III. Himani Pant
This Delhi-based theatre actor and director bravely shares her battles with depression and anxiety, while also giving voice to other women who have struggled with mental health issues. Her play 'Hysterical Hysteria', is set in the grey area of dealing with mental illnesses with sensitivity. Put together after numerous interviews and questionnaires with women across ages and nationalities, the play examines how 'hysteria' took on the role of a gender-specific disease.
To read more about Himani, click here.
IV. Neha Singh
Having written children's books, like the widely popular Karadi Tales, Neha Singh turns the spotlight on the hotly contested and always controversial issue of minority rights. While running a women's campaign blog called 'Why Loitering' which aims to reclaim public spaces, she also dabbles in the art of theatre. Producing and appearing in Vijaydan Detha's infamous play 'Dohri Zindagi', she tries to break the stigma associated with same-sex relationships. Sticking to the original script, the two-women-play is visually creative, as the actors discover their own bodies, and each other's, with a certain fearlessness.
To know more about Neha's work, click here.
V. Aruna Ram Ganesh
Aruna is the founder of Visual Representation, an immersive theatre group that seeks to break the barriers between the actor and the audience to create a unique interaction between the two. Her theatre experience 'Colored And Choosing', a one-woman-show, requires members of audience to be blindfolded as they rely solely on touch, sound and other primal instincts to understand gender and the challenges that come with stereotyping.
Check out some of her work here.
VI. Avril Stormy Unger

A performance artist, choreographer and the founder of the Storm Factory, Avril focuses on movements that overcome any obstacles between the audience and herself. In her performance 'Private Parts', she vividly presents the fears and scars that women carry with them all through their lives. Recreating corporeal reality, she depicts gender stereotypes and society's role in reinforcing them.
To check out some of her work, click here.
VII. Vikrant Dhote
An alumnus of London International School of Performing Arts, this artist gauges the audience's perceptions and notions by interacting with its members. Basing his pieces on the foundation of simplicity, Vikram then mirrors their opinions through humor. His most notable performance 'Dekho Magar Pyar Se' uses extracts from the 2009 Naz Foundation judgement on Section 377 to piece together four stories - all of them pivoting around the criminalisation of same-sex love.
To read more about Vikram, click here.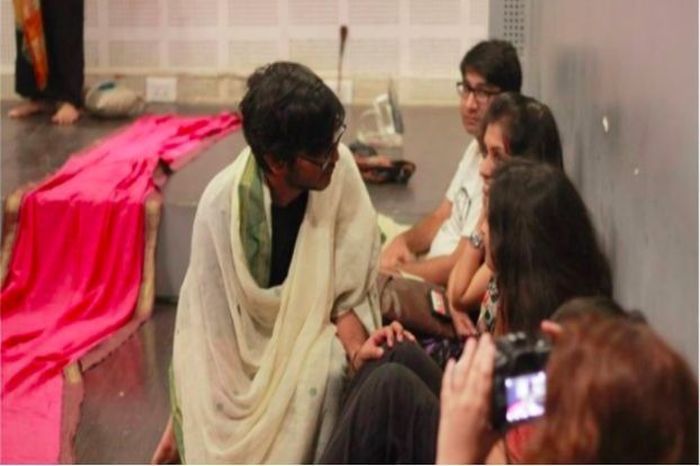 VIII. Diya Naidu
Diya Naidu is an independent dancer and choreographer from Bangalore. Her work is inspired by varied themes such as exploration of gender, old age, existential angst in urban chaos, and Bardo in Tibetan Buddhist philosophy.. Her composition 'Rorschach Touch' is based on the infamous ink blot test and by inviting members of audience to observe intimate movements between the actors, it acts as an opportunity for them to reflect on their own reactions to the play in real time.
To read more about Diya, click here.
IX. Nikhil Chopra
Nikhil is a live artist which means that all of his creations come to life right before the eyes of the audience. He draws from personal experiences and cultural history to depict ideas of identity, civics of self-portraiture and posing. His modus operandi emphasises both on duration and the use of charcoal. 'The Drum Soloist', a piece that he worked on for 5 days continuously, illustrated his learning of the drums as a representative from the rock and roll era of the late 1970s, to signify learning of the unknown and to, thus, unite characters that are dissimilar to each other.
To follow Nikhil's work, click here.
X. Mandeep Raikhy
A dance practitioner who is inquisitive about discovering and exploring the convergent point of dance, research, performance and pedagogy, Mandeep Raikhy startles the stage with his pieces every time. 'Queen Size', for instance, invites the audience into the bedroom of two male dancers to get a firsthand, raw look at their intimacy. Allowing onlookers to enter and exit as they please, or move around to look at the act from different perspectives, the voyeuristic piece questions censorship.
Find out more about the artist here.
If you enjoyed this article, we suggest you read:
Indian Artists Who Are Exploring Sex & Sexuality In Important Ways
[NSFW] 10 Pieces Of Indian Art That Explore Sex, Nudity And More
The Indian Origin Nude Art Model Who's Challenging How We View The Female Body