"Men look at women. Women watch themselves being looked at... Thus (the woman) turns herself into an object – and most particularly an object of vision: a sight." - John Berger, Ways Of Seeing
The irony is as transparent as the see-through clothing we put our supermodels in to sell everything from flight tickets to breath mints. It's been over four decades since Berger's words have influenced, and continue to influence, feminist discourse at the exact point blatant female objectification in the advertising and fashion industries meet it, and no one's entirely clear on just how much has stayed the same and just how much has changed. In this first quarter of 2018, it would be myopic to say gender and other stereotypes aren't witnessing a tectonic shift within the fashion industry. An era of vibrant regional representation, leaps towards sustainability, an internet takedown of one of the biggest designers for suggesting an entire country's female population by shamed for not wearing the sari more often, progressive campaigns that question the status quo–and that's just in India.
Even as we sit by the sidelines celebrating every stretch mark that isn't photoshopped out, every dark-skinned model that makes it to the ramp, every body-positive editorial spread, the reality that these 'shifts' are still outliers is difficult to ignore. If a lack of diversity plagued the Indian fashion industry in the 90s, tokenism is the latest epidemic. Women are front and centre of this show-and-tell but the playmakers, the 'engineers' are still mostly male photographers. The work of American fashion photographer Louise Dahl-Wolfe was important in many ways, but portraying her subjects as women who "worked, traveled, danced, drank champagne, and lived with such vitality that she'd leap off the page" was her biggest contribution, and changed the face of the industry in immeasurable, nuanced and powerful ways. Her ideas and images inspired a generation of fashion photographers, including the likes of Richard Avedon, primarily because they subverted the traditionally lusty male gaze and were a dramatic wave goodbye to the point and shoot mentality.
Now, it's India's turn, where the ratio has been heavily skewed in favour of male photographers for many years. How many iconic Indian fashion photographers can you name? How many of them were/are women? Even a Google search will tell you that the time is ripe for inclusivity. For stories about women, as narrated by women, rather than a man's version of it. Since Dahl-Wolfe shook things up in the 1930s America, could 2018 be the year of the Indian female fashion photographer?
We profiled five Indian women who are reimagining editorials and glossy magazine spreads, shaping what it means to be a modern, liberated woman (and man) in 21st century India through their progressive work. On breaking into the boys' club, their greatest influences and the female gaze through the lens of fashion imagery–these photographers are leaving an indelible mark on the future of Indian fashion photography.
I. Rema Chaudhary
"In the right light, everything is extraordinary." It's unlikely Mumbai-based photographer Rema Chaudhary realised how perfectly this Aaron Rose quote she chose for her Instagram profile encapsulated her style. Lines, shapes, symmetry, textures, movement, chiaroscuro and stillness are key components of her compositions that are evocative of a mood, a moment, a frozen frame that almost always seems to belong to a larger narrative. One that she's been cultivating for the last six years, each shoot an opportunity to stay true to her artistic identity and the dream-like quality that her photographs take on.
However, her early years as a fashion photographer were hard. Breaking into the industry was a long, slow process because as a freelancer its a hard to find a constant stream of projects. On finding her footing and the hurdles of being a female photographer in India, Rema says, "Once I was told that they're going with a male photographer because the job is more 'technical' and a man will do it better." "There's also that subtle harassment where they won't take me seriously because they think I'm too young, or talk continuously (in meetings and even on shoots) about a male photographer they have worked with and how they do things."
Since then, however, Rema has gone on to work with some of the country's most progressive indie fashion labels, fashion icons-in-the-making and thought leaders like Kayaan Contractor and Karuna Ezara Parikh, and actress Kalki Koechlin on the project 'A Day In The Life'. A collaboration with stylist Vrinda Narang, photographer Rema Chaudhary, makeup artist Tashi Dolma and hairstylist Justine Rae Mellocastro, inspired by the character Carol Aird portrayed by Cate Blanchett in the movie Carol, this is an important example of the kind of work India's feminist female fashion photographers are coming to represent. Kalki Koechlin stepped into the shoes of a modern Indian woman who is not afraid of loneliness, vulnerability and, most significantly, her own immense strength.
On The Female Gaze
"I think women photographing women are more empathetic and would photograph them how they would like to be photographed so it goes beyond the sex appeal of it and makes you look deeper. For me, it's really interesting how sometimes when I look at these images, it kind of makes me question my own misconceptions and delusions about who I am as a person and as a photographer and if looking at an image can make me learn a bit more about myself, I think that's powerful."
On The Future Of Fashion Photography
Rema is gunning for bolder, more experimental content in India. "The point is to push boundaries and keep changing for the sake of change if nothing else. So there is a lot to be explored still. Most of the really bold stuff out comes from personal projects but (is) not something that you will see when flipping through a magazine," she laments.
II. Anai Bharucha
Fashion imagery, stripped away of superfluous props or design elements, with lots of light (and, to some eyes, hope) Anai Bharucha's brand of photography is refreshing to say the least. Magazine covers, provocative collaborations with creative agencies like Design Fabric (the 'My Body, My Home' campaign is already on our list of favourites this year) and product shoots with a difference–the young photographer from Mumbai isn't wasting time or effort on being noticed and it shows. The spotlight is all on a body of work in progress. Anai's journey as a fashion photographer really began when she moved back to Mumbai, after three years of working and studying in London. "Initially, after coming back I kept testing with new faces here and producing personal projects. I started to recognise other creatives who were just starting off in the city and decided to grow together with them. After a few months, I was signed by Anima Creative Management and the bigger jobs- both editorial and commercial started coming in." However, respect as the photographer on set and slights on the job are the hurdles that Anai still has to overcome now and then. "When I was starting off here, some clients were surprised to find out I was a girl when they arrived on set," she tells me. Her passion and the exciting prospect of "shooting people, the interaction and taking everyday as a new experience" kept her going and the result is a continuously evolving body of work with a whole lot of heart.
On The Female Gaze
"All photographers have their own unique style. I do not want to base my answer on the sex of a person. Everyone shoots and looks through a lens differently. What they see is different. Thus, the final result is able to capture an essence of their individual approach."
On The Future Of Fashion Photography
Hopefully, more room for the photographer to lead the shoot. "Every mood board here will have references from an international publication. Some clients will put out a reference and say they want just that! It really surprises me and changing their minds then becomes the new task of the day. Also places like London encourage young, fresh, diverse talent, while the industry here still chooses experience over a new idea/vision. However, I do see this slowly changing."
III. Soumya Iyer
"There is no shame in nudity," Soumya Iyer's breathtaking project 'Gender of Beauty' drops a leading hook into the photographer's bold and brave style of work. The 24-year-old who dropped out of college twice is represented by Anima, and is addicted to coffee and anime. Her career choice was the result of a passion for painting and fashion, and she believes that studying fine art really helped her with "colour theory, compositions, and aesthetics". She's also excited, and driven by the idea of collaborating with other creative professionals–-particularly by working with talented make-up artists, stylists and writers. Across her wide body of work, which includes editorials, campaign shoots and lookbooks for a large variety of brands, her stripped-down style of portraiture and the way that colour sets the mood for the shot, stands out. Inspired by photographers like Paolo Roversi, Richard Avedon, Joanna Piotrowska and Venetia Scott, Soumya's Instagram feed is a stunning curation of portraits–each more powerful than the first.
On The Female Gaze
"Honestly, I don't see any difference. Everyone has their own style and emotion while making a photograph. It is a very misguided thought that female photographers can only make emotional and soft-looking images. But, I strongly believe that being a woman gives you a very different kind of access to your subject's energy. There is a lot of comfort between me and the model because I am a female photographer."
On The Future Of Fashion Photography
The young photographer who has taken the industry by storm is hoping the new year will see more inclusivity. "Male photographers are still pretty much a major industry standard in India at the moment. When you speak of a photographer here in India, people presume that it's going to be a man. Many times, I have been mistaken to be an assistant on the shoot and not the photographer, mostly because of my age and how petite I am. It's hilarious but it also makes me very sad to see this kind of a stereotype. I have been told so many times that photography is man's job because it is so technical. But it makes me so happy to see so many groundbreaking women in photography, especially in India. We are stepping up slowly, and I am so proud to be a part of this process of change."
IV. Nayantara Parikh
With a degree in Cinematography from New York University, eight years' experience in New York and a collection of stills amassed over more than three years under her belt, Nayantara is one to watch. She says that her work "attempts to redefine how fashion views the feminine, and focuses on women of colour" and if you, like us, have spent more than an appropriate amount of time scrolling through her Instagram feed know that her pursuit is true. She was drawn to the field because of the "dearth of images of strong women" and had a strong desire to do something about it. "How I make someone feel when I am shooting them is just as important as the result. I see a lot of fashion images where the woman feels like a prop - I think we need a parallel narrative where the story the picture tells is about that woman - she is not facilitating the garment, the make up, the man."
Inspired by the work of Duane Michals, cinematographers like Reed Morano and Rachel Morrison, and the "secret lives of women", she started taking photographs of her sister, Karuna Ezara Parikh and it was then that she realised what they were able to create together. In addition to working with Nicobar and several fashion magazines, her personal projects include work with her sister, like their tribute to Frida Kahlo and their Instagram account Blue Skin Blue Print, that showcases the work of Indian women (a "women by women" story).
In an industry that still sees women photographers as an anomaly, her work is even more meaningful. More than just the daily trials of the job, she believes that changing the perception "that a technical position is by default" held by a man is the biggest hurdle.
On The Female Gaze
"You cannot understand the female experience unless you identify as female. It is the difference between telling a story you've experienced versus projecting your idea of the experience on to someone. My subjects are not "the idea of women", they appear as they are. Neither is better or worse, just different."
On The Future Of Fashion Photography
Make fashion inclusive again. "I want to see a face I can relate to on a billboard in Times Square. I am tired of trying to convince people that using a white model won't make a campaign look "international" or "expensive". Thinking that using white models will bring a higher revenue or add value to your brand is an extremely outdated concept. We look to the west to set the tone, but with incidents like the Sikh turban controversy at Gucci's Milan Fashion Week show tell us, the west has a long, long way to go before they even begin to understand our culture. In 2018, we need to map our own visual language - India has a very raw energy, who understands this better than us
She also believes in the power of a strong role model and that "women need to see more women behind the camera."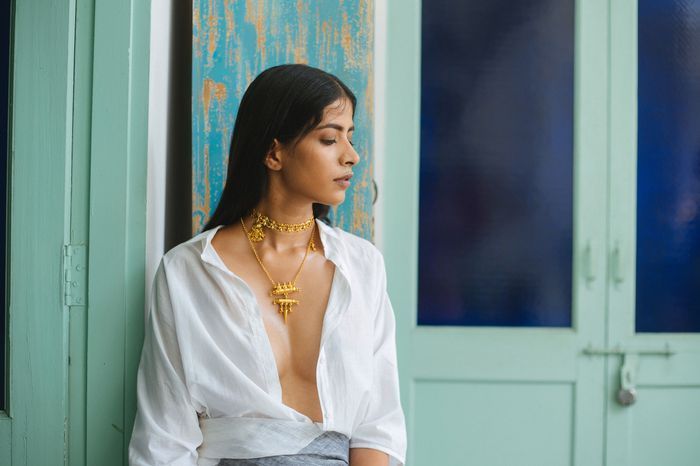 V. Prerna Nainwal
The possibility of pursuing photography as a full-time career was alien to 25-year-old Prerna Nainwal till three-and-a-half-years ago. Encouraged by her boyfriend, the response to a shoot with Priyanka Bose and Mumbai's thriving creative networks, Prerna paints the picture of poise–whether behind the camera or over the phone. Inspired by Korean and Japanese aesthetics, she's not limited by the confines of style; she simply believes that her work is still evolving and she "doesn't want to limit herself." She was drawn to the industry because she was fascinated by the world of fashion and she really likes "being in the space and working with stylists, make-up artists and models." Her greatest inspiration, however, are the photographs her father took of her mother, and translate into a body of work that's characterised by a unique intimacy.
On The Female Gaze
"If you see a male photographer clicking a male model, they'll never point and shoot below the waist. But the same is not true for women models. The pictures women click are more real, accepting of female sexuality and so, while the male narrative is extremely important, the one that we're writing is about women accepting their bodies. If I click a woman's body, there's a certain normalcy and acceptance of the flaws in the photographs. I think the male gaze does not accept these imperfections or flaws."
On The Future Of Fashion Photography
More originality and a proper education in photography, please! However, her biggest bone to pick with the industry is that photography isn't perceived as "an art form" in India, the same way as things like painting or writing are.
If you enjoyed this article, we suggest you read:
The People Forging A Brave New Future For India's Alternative Music Landscape
Diverse Sizing & Female Masturbation - Huemn Shook Up The Indian Fashion Industry This Year
A Gritty Indian Fashion Series Challenges Our Rigid Ideas Of Gender