22-year-old Purvi Agarwal did not expect to find the subject of her final year project in a lesser known city, 600 kilometres away from her college. Fortunately for a curious traveller like her, that's exactly what happened. In the Sufi town of Gulbarga in Karnataka, she began exploring the local culture, particularly its literature, which is when she stumbled across the works of Sulaiman Khateeb, a Dakhini Urdu poet known best for his satirical works that celebrate and criticize everyday life. In his poetry, she discovered stories she could relate to and conversations she wanted to complete. Little did she know that soon this knowledge would converge with her love for documenting and creating, and result in something quite spectacular.
A graduate of Shrishti Institute of Art, Design and Technology, Purvi'Äôs final year project is an 'Äėartist book'Äô titled 'ÄėMera Chora Ko Chori Hona'Äô'Äď'Äď which translates to 'ÄúMy son is looking for an eligible girl to marry.'ÄĚ A commentary interwoven with pictures, designs and newspaper cuttings, it touches upon deep-rooted gender bias that still exists in our society today.
What stands out in the project is Purvi'Äôs decision to pick Sulaiman Khateeb, a male Muslim poet who, like anyone else, is a product of patriarchy but has managed to go beyond everyday misogyny and talk about issues that most people would rather avoid. He speaks of dowry, objectification, body image, and the established role of women in the domestic setup 'Äď'Äď issues which still exist today, albeit under the garb of hypocrisy. 'ÄúThe existence of these issues is very subjective. Maybe not in the metropolitan cities, but it is quite prevalent in rural areas. I deciphered a couple of his works and found myself connecting with one poem in particular called 'ÄėChora Chori,'ÄĚ Purvi tells us.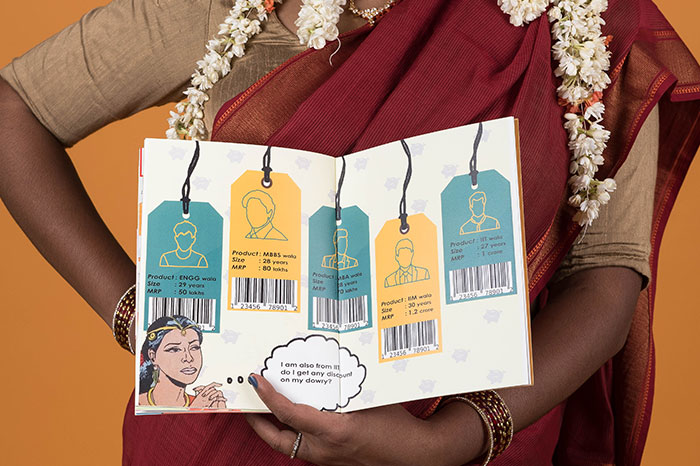 In sync with the theme of the book, Chora Chori reflects on the mindset of two adults, as they discuss the possibility of a marriage alliance between their respective children. Through their conversation, Khateeb is able to shed light on the unrelenting pressure that the society puts on a woman who is about to get married. Purvi was attracted not just to its relevance and simplicity but also the underlying satire in the poem, and the effortless way in which Sulaiman seems to ridicule human nature without ever dismissing it. She has managed to create a similar satirical tone through her visuals.
By juxtaposing poetry with her own personal commentary (in the form of prose and visuals, both) about the dark realities we willfully ignore, Purvi directs her words at the poet himself'Äď'Äďalmost as if she'Äôs having a conversation with him. She explores simple facets of feminism through modern-day elements like social media and technology. It'Äôs colourful, it'Äôs bold, and it'Äôs definitely successful in what it tries to communicate visually. 'ÄúThe conversation next to the poem is my reaction to it in the present scenario. As this topic has many layers to it, I thought collages would be an interesting way to bring in the fun element without compromising on the message,'ÄĚ Purvi explains.
During her time in Gulbarga, Purvi was able to get in touch with Sulaiman Khateeb'Äôs daughter, Shameem Surriya, and this helped her understand the language better and gain insight into the poet'Äôs work. 'ÄúI also interacted with a few women from different age groups in order to get a better understanding of the issue,'ÄĚ she adds. Her project was a result of these real-life conversations she had and heard around her. It makes one wonder about the kind of modernity we are heading towards - if that can be called modernity at all.s
You can visit her profile on Instagram.
If you liked this article, we suggest you read:
The Very Best Indian Art To Come Out Of This Year's 36 Days Of Type Challenge
The Lesser-Known Mughal Miniatures Of Dutch Master Artist Rembrandt
These Design Students Are Reviving The Art Of Hand Made Playing Cards