"Renaissance man : a person with many talents or areas of knowledge"
The fact that term is affiliated with an era that birthed in the 14th century and is only limited to men, is a testament of how dated it is. Conceptually however, this term is inspiring and will evoke some form of resonance with the people dabbling in multiple pursuits.
People during the Renaissance weren't like : "Guys, they are gonna talk about us so make sure you do a bunch of stuff to impress them." Even though sometimes the world seems dystopian and bleak, my juvenile spirit does claim that we are living in the age of multi-hyphenated artists, the digital kind.
Let's take Donald Glover for instance. A personal hero, this guy has been slamming it over the past few years be it in acting, comedy, writing, directing, singing...takes breath...rapping, producing, DJing and more. From his musical career as Childish Gambino to his critically acclaimed T.V. show, 'Atlanta', Donald has successfully imprinted his Midas touch on several artistic expressions. Other great examples would be Elon Musk, Tom Ford, Jamie Foxx and more.
So where does India stand in all of this? It would be unfair to compare individuals directly to the heavy names dropped above, however, there are a bunch of creatives who are carving a unique path of multiplicity. It may have started out as an innocent exploration of several things, indecisive career moves or even battling the pitfalls of making a living out of your art. But slowly, several young musicians from India's independent scene have constructed a commendable body of work in multiple fields. Here are a few worth noting.
Shadaab Kadri does a lot of things, and it's not just the name of his personal website. A scene veteran of sorts, Shadaab has made quite the name for himself with his musical projects like Riatsu and Pangea, his artist and tour management endeavours with bands like Scribe and Meshuggah, his social media management for brands, and his overall online persona. But he doesn't necessarily want you to do the same. "I have a problem where I get bored doing the same things and it kills my motivation completely. I started doing multiple things to tackle this problem. For me the process is very organic. Some days I am a musician, some days I am a filmmaker, sometimes I like vlogging and blogging and sometimes I am a digital marketing manager, I just go with the flow." Having worked with brands like blueFROG, True School Of Music and Baro, Shadaab's social media strategy is pretty on point - create content around yourself, post consistently and create a personal connection with your followers. A firm believer of video content being the future, it's no surprise that you can find a lot of Shadaab's tour vlogs online, either with his band Pangea or with his ambient solo project, Riatsu, which he is looking forward to explore more with a bunch of releases.
II. Sahil Makhija
Sahil Makhija, aka The Demonstealer, is the Indian metal scene's prince. With his various projects such as Demonic Resurrection, Reptilian Death, Workshop and more, it's a known fact that Sahil's contribution to the metal scene has been wildly instrumental in its growth and sustenance. But few people know of his alter ego with Headbanger's Kitchen. Correction : a whopping 200k people know. What started as an experimental fun cooking show, has skyrocketed into a full-fledged YouTube channel in the span a year. Thrice a week, Sahil has his 215k odd subscribers drooling over his lip-smacking keto-content. It's safe to say that Headbanger's Kitchen has taken the front seat in Sahil's creative pursuits. "It's quite surreal that Headbanger's Kitchen has grown so quickly in such a short span of time. I don't think I've really grasped the magnitude of it. I'm extremely grateful and humbled by all the support. The journey has been unexpected. I've never wanted to be a YouTuber, I've just wanted to make music.", which is almost surprising as Sahil plans to hang his musical boots for a while with his recent solo album, 'The Last Reptilian Warrior'.
III. Tejas Menon
Singer/songwriter Tejas Menon does a bunch of things : he's a part of a nerdy film and comic-book podcast called Geek Fruit, he runs an indie record label named Kadak Apple Records and he's a part of a music-oriented production house called Mosambi Juice. Other than the fact that Tejas is clearly obsessed with fruit, he's also a pretty great example of a multi-hyphenated artist. Tejas' diverse personas mesh well together as you can see a lot of sci-fi references and visual cues bleeding into his musical explorations. Tejas dreams of getting Mark Hamil on the podcast someday, along with doing a Disney cover gig, but more importantly, he hopes for better things for the podcasting culture in India. "I am so thrilled to be part of IVM Podcasts, which is like the first legit podcasting network in India, and it just gives me a kick that I'm part of something so nerdy that is just finding its feet in India. The beauty of podcasting though is that its so cost effective, and god knows the subculture community in India could use something like that," he says. Music-wise, Tejas also has a deluxe version of his debut album, 'Make It Happen', along with a filming of a special coming up later this year.
IV. Imaad Shah
Having grown up in a family of artists along with being involved in a theatre company since childhood, it's safe to say that performance art comes naturally to Imaad Shah. Predominantly known in the music space for being the Madboy of the electronica duo Madboy/Mink, Imaad has successfully explored several artistic ventures such as solo music projects, screen and theatre acting and even directing musicals just to name a few. Taking inspiration from his personal hero, Serbian filmmaker and musician, Emir Kusturica, Imaad doesn't mind blurring the lines between the several art forms. "The history of the two art forms goes back a long way, and it has to be said that film has always leaned on and relied heavily on music to give it a pulse and to bless it with extra meaning and soul. For me as a film geek, genres and styles from different eras are closely tied with the music that was in them." Besides the upcoming Madboy/Mink EP, Imaad has a bunch of projects lined up in 2018 including a film club and magazine called, 'Raw Stock Magazine', a short film with his direction and a solo music release.
V. Gaurav Vaz
The Raghu Dixit Project's bassist, Gaurav Vaz, left the band late last year. But his 12 years of contribution, comprising of more than 1000 shows across 30 different countries can't simply be ignored. Most people don't know that Gaurav was also the manager of the band throughout the years. "They were completely different hats, but they came with immense challenges. I had to really make sure that I got my planning and logistics going right so when the time came to be on stage, I could make that switch to being a musician and performer," he explains. His advice for today's entrepreneurs in the music industry is pretty straight and simple - be smart and be relentless. He's now the VP of Artist Management (Music) of Only Much Louder (OML) and has an experienced take on the much talked about music management culture in India. "Right now, artists need a strong management team more than ever, considering all the different opportunities that exist for monetizing their music and brand, it will be a shame if artists don't fully capitalize on what is possible. Artists need to understand that the music business is equal parts music and business, and it's nice to remain DIY and try to make all the magic happen yourself, but an experienced team behind you is going to be more and more important as you go along." Amidst all this, he also finds time once in a while to jam with local musicians in Toronto, where he currently resides.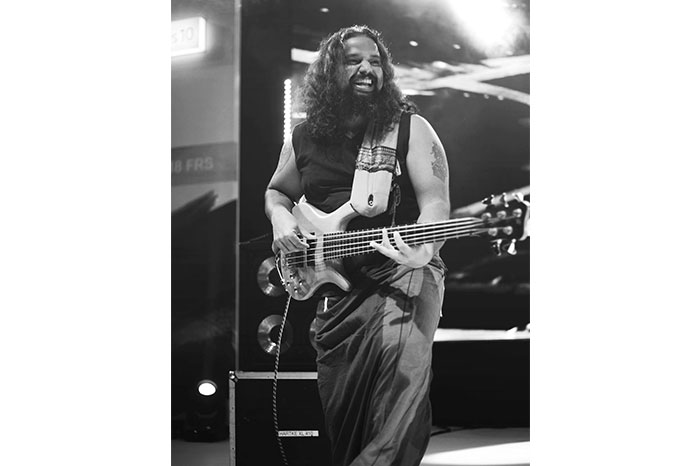 VI. Kavya Trehan
As someone who has had the privilege of watching Kavya Trehan live, I can say with absolute earnestness that she's a powerhouse of a performer. But what really took me by surprise is that her artistic expressions extend way beyond singing. Having shot to fame due to her various collaborations with the likes of Nucleya and Dualist Inquiry, Kavya is known for being the front-women of the Delhi based band, Mosko. Things changed, however, when she made her screen debut with 2015's 'Kaash'. What followed was an unquenched thirst for more mediums of expression, which smoothly evolved into modelling, screen and theatre performances and more. And at the crux of her creativity is her love for painting, while 2018 will also see the birth of her solo music project accompanied by a debut single and a music video. "My solo project, "KAVYA" has been in the making for the past decade. But in my defence, I needed a whole lot of growing before finally realising how liberating it is to produce, write and compose my own music," she says.
VII. Saba Azad
The Azad household had a different environment from 'normal' families. While other kids were frolicking outside, Saba and her brother had their fun on theatre stages or being buried in costumes and scripts at home. This artistic surrounding let to Saba Azad being one of the most spirited personalities in the space. Known for being the bubbly front-women and one half of the electronica duo Madboy/Mink, Saba's talents expand way beyond music, to both acting and dance. In 2016 she was a part of a one of kind female-centric web series called 'Ladies Room' and has an optimistic take on the inclusion of women in the film and music industry. "The narrative is changing, whether it's music or cinema I think it's years of conditioning for both sexes that needs undoing, whether it's men holding women down or just being in positions of power for so long that they actually begin to believe the hype and women somehow being trained to think they are lesser than their male counterparts, it's a long road to complete equality if at all but I think a lot of it is breaking the mental barrier within women itself, the thought that a certain profession isn't meant for women or not their domain or what the role of a woman in popular society is today has come about over hundreds of years of conditioning, it will take longer to undo, but we gotta keep at it," she fires off. Beyond the upcoming Madboy/Mink EP, she has a lot of plans for theatre and choreography and also has goals to quench her entrepreneurial thirst by starting a bar in Bangalore.
VIII. Sahej Bakshi
Sahej Bakshi has a knack for surprising you just when you think you knew everything there was to know about him. Revered for his inimitable brand of electronica, there's no denying that his moniker, Dualist Inquiry, has become a household name in the country's music scene. But it'll surprise you that he's been dabbling quite often in another medium of expression - visuals. To teach himself how to edit, he started to vlog himself either killing it on festival stages or driving Audis on race tracks - you know, the usual stuff. Soon enough, his visuals become richer and more professional with his involvement with Boxout.fm's 'Boxout Sessions', an experience he claims to be immensely gratifying. He reached a new peak in his creative endeavours when he directed the music video of his single featuring Sanchal Malhar, 'You & Me'. "It was a really gratifying experience, but was also immensely challenging - there were many points where I felt I'd bitten off way more than I can chew, and I got around that by learning things on the go", says Sahej, who plans to do more audio-visual projects in the future.
Feature Image Courtesy: Loudest.in (L) and Prabal Deep Photography(R)
If you enjoyed reading this article, we suggest you read:
Meet The Artists Giving Independent Musicians A Distinct Visual Identity
Stories of 7 Young Indians Who Are Leading Double Lives
Stories Of 8 Indians Who Quit Stable Jobs To Pursue Their Passions