As the festival of Diwali brings laughter, lights, good food and new clothes to our lives every year, there's another less-glamorous, and often dreaded side to it that surfaces. Along with the endless sweets and chatter, the festival also ushers in the pressure to pick just the right gifts for your loved ones, which often leads us to tear out hair out in frustration. However, fret not, we have just the thing for you.
The eco-friendly may say no to firecrackers this year but it is obvious from the several debates on social media that not everyone is conscious of the choices they are making and the consequences of those choices on the environment. Personally, I know so many people who wish to make eco-friendly choices but are unable to hold themselves back from lighting a firecracker or two every Diwali.
So bringing the best of gift-shopping and green living together, we've dug through the archives of the internet and curated a list of 11 trustworthy, eco-conscious gift items. At Homegrown, we are always big on sustainable living and this is our little way of helping these niche, lesser-known brands make themselves heard. Moreover, what's better than simply having a shopping list to choose from? Instead of having to wrack your brains at the very last minute always!
So scroll away and see what fits the bill. The following selection of gift ideas caters to all tastes and budgets.
I. Bamboo Bicycle
This Bamboo bicycle, more commonly known as the Bambike is an entirely natural take on the original vehicle. Its framework is constructed from bamboo and the structure is held together by hemp fibre. The wheels too are bamboo which means it is as eco- friendly as a product can get. Perfect for adventure enthusiasts and nature-loving people, bamboo bicycles are exactly what the world needs in the aftermath of Diwali pollution we create every year.
II. Organic Chutneys, Jams, Herbal Teas More
Vrindavan Farm, brand from Wada, Maharashtra, produces organic jams, chutneys, sun roasts and herbal teas ethically sourced from indigenous farmers. One pick from their unique collection of herbal teas which include flavours like frangipani, banana, mango and tulsi et al. A gift like this can make your foodie acquaintances satiate their hunger while you rest assured that their meals are ethically sourced and harm no one in the process.
Price: Starting from INR 259
You can take a look at their products here.
III. Black Baza Coffee
Black baza coffee is an organisation that works in collaboration with local farmers in order to secure their livelihoods and conserve biodiversity. It isn't just a company that trades in products but enables people in the process. Their products make a thoughtful gift for the Eco conscious, coffee lovers
Price: Starts from INR 100 for 100g
Check their collection of coffee beans here.
IV. Hand Made Goodies
Kavin Crafts is a Pondicherry-based label that makes eco-friendly handmade products. Its collection includes products like scented candles, incense sticks, paper products, gift boxes, photo frames, coconut shell products etc. and brings ethical consumption to its customers at affordable prices. The brand has a range of sustainable eco-fashion and home decor items also.
Price: Varies according to products.
Take a look at their goods here.
V. Bamboo speaker:
This handcrafted bamboo speaker by Bamboo India make a perfect gift for music lover looking to make conscious and sustainable consumer choices.This creation of theirs is not only beautiful because of its unique cuts and marking but is also an extremely durable product, rich in tonal variations. Its passive amplifier is hand-made and makes it double as a stylish docking station.
Price: INR 399
Check it out here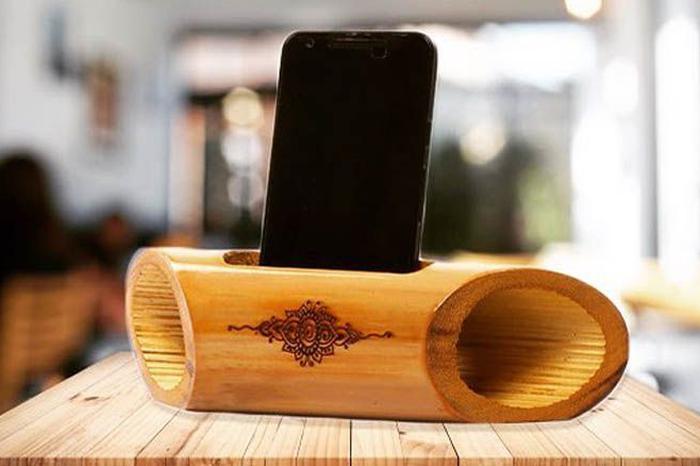 VI. Sustainable Cutlery
This Diwali, you can gift your friends and family an experience of sustainable lifestyle with eco friendly cutlery. Carrying these products to the endless Diwali parties can also be an effort made by you to reduce your generation of plastic this festive season. These bamboo straws by the the Botanical Survey of India can help you with that.
Bakeys is another organisation that are promoting the ethical consumption by making edible spoons, made of millet, rice and wheat. They give you the option of not just eating with your cutlery, but eating you cutlery too, even if you were to dispose it as waste, it will take less than a week to decompose. The cutlery also comes in different flavours so take your pick! The huge number of its customers gives you all the more validation to make the switch. The brand is also currently hosting a sale, so hurry!
Price: 400 onwards for a set.
Check out their products here.
VII. Customised Eco-Friendly Earthy Bags
The Burlap People works with third and fourth generation artisans to make high quality, eco-friendly and high quality bags. What makes these bags unique is their use of the vintage wash technique, giving their products an aged finish, complete with salvaged leather making for straps and corners folds. Their palette extends to over 23 colours, and you can even customise elements of the bag.
Price: INR 3200 onwards
For more information and to place your order call them at 9831040578 or place an order on their Instagram.
VIII. Soy Candles, Diffusers & More
Niana is a luxury brand specialising in home fragrances. It makes eco-friendly soy candles, reed diffusers, room sprays and sachets. The brand has been getting the nod from customers for their unique subtle and assorted collection of aromas. They have recently come out with their festive collection called Noor and some of their items are currently on sale too.
Price: From INR 870 onwards
You can take a look at their products here.
IX. Yoga Accessories
This festival you can gift the health conscious these eco- friendly Yoga mats from JURU and Kosha Yoga Co. to burn off that extra holiday fat and generally adopt healthier practices as the new year beckons. These mats are made out of natural fabrics and are sturdy enough to bid goodbye to your regular old PVC ones.
X.Bamboo Socks:
These Bamboo Athletic socks from Heelium ideal gifts for atheletes and sports enthusiast and are both eco-friendly and safe. They are made out of bamboo fiber and protect the feet from growth of bacteria and odour. They also safeguard the heel and forefoot by absorbing impact during physical activities. Thay are more breathable, durable, and thermo-regulatory than cotton.
Price: INR 999 onwards
Take a look at them here.
XI. Good Old Cosmetics And Stationery Products From Eco Tokri
Eco tokri is an eco-friendly online marketplace that deals with all kinds of products to help you a sustainable lifestyle. While its natural and organic bath and beauty products make good offerings for the those in love with cosmetics, its collection of electronics that run on green power can please the tech-savvy. The store also has an eccentric collection of toys, DIY beauty and accessory kits, eco- fashion, home wares, food products. You name it, they have it ! It is an ideal place to shop for all kinds of needs.
Price: Varies across different categories
Browse through the store here.
Feature Image Courtesy: The Burlap People and Eco Tokri.
If you liked reading this article, we suggest you read:
14 Unique (And Indian) Christmas Gift Ideas For Everyone In Your Life
17 Conscientious Indian Fashion Houses With Strong Identities We're Loving
An Iconic Mumbai Cinema Becomes The First Rooftop Solar-Powered Multiplex In India