The rarity of a good steak in the land of holy cows is the bane of an Indian carnivore's existence. The infamous beef ban might try and banish them from our plates, but they're not going to be able to banish them from our minds. The replacement of beef with buff hasn't deterred the steak lovers, but it still is a task to track down restaurants that serve this meaty treat.
We at Homegrown have curate a list of restaurants that serve good ol' steak and some that have reinvented this classic. Going from the cheapest in town to some that might seem a tad bit expensive but are totally worth it, scroll through this list to put to rest all your steak related woes.
Location: Colaba
Price: INR 60
HG Recommends: Steak, Onion And Chips
This humble joint is home to Colaba's most loved steak. Their steak is one of the best tasting and cheapest in all of Bombay. The portion is generous and is served with chunky home-style fries and caramalised onions, and a lone slice of tomato as garnish. The steak itself is minimally spiced, juicy, and full of flavour. The meaty goodness coupled with the slight sweetness of the onions is enough to transport you all the way to food heaven in a matter of seconds.
Other Dishes To Look Forward To: Goan Sausage Chilli Fry, Prawn Pulav, Vindaloo and Sorpotel.
II. Mocambo Cafe
Location: Fort

Price: INR 315 to INR 825
HG Recommends: The Bistecca Bismarck
With over 5 renditions of steak to choose from, this spacious cafe has served generations, and still sees loyal customers come in for a meal and with good reason. They have a separate section for the steaks on their menu cards, and all the steaks are grilled to order. The Bistecca Bismarck is essentially a grilled steak, topped with a fried egg, cheese and spiced Tomato sauce.
Other Dishes To Look Forward To: Roast chicken breast with Bacon dripping, served in its own pan sauce.
III. Imbiss
Location: Bandra and Santa Cruz

Price: INR 349
HG Recommends: The Imbiss Buffalo Steak
Imbiss is a well known name among meat lovers in the city. The restaurant serves meat cooked in German style in large portions for a very reasonable amount. This eatery might be a little difficult to locate and is shut on Mondays, but remains Bombay's go-to joint for all things meaty and is a quick fix for blues of all sorts. As for the steak, full points for their honesty in being the only ones to proudly wear their 'buffalo' tags out in the open for all meat lovers to see. The buffalo steak is tender, juicy, grilled to your choice and served with mashed potatoes and jus.
Other Dishes To Look Forward To: Their barbecue pork ribs are famous around town and for very good reason.
IV. Cafe Churchill
Location: Colaba

Price: INR 480
HG Recommends: King Solomon Steak
Yet another iconic eatery located on Colaba Causeway, Cafe Churchill offers varied kinds of steaks, all of which are equally mouthwatering. Cafe Churchill draws patrons from across town to eat on their simple yet delicious food.
Other Dishes To Look Forward To: Their Irish Baileys Walnut Cake is to die for.
V. Leopold Cafe
Location: Colaba

Price: INR 490
HG Recommends: Steak, Onion and Chips.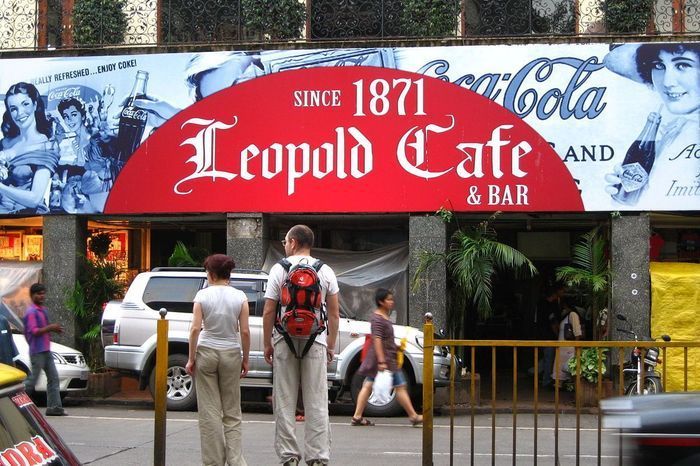 Serving the humble steak exactly how they should, that is in all its simple yet meaty glory, this iconic eatery will not disappoint. Contrary to other Iranian Cafés, Leopold not only has a wider cuisine, including continental and steak, but also has a diverse bar menu. Situated in centre of the popular shopping street, Colaba Causeway, Leopold is indeed an aspirational lunch spot for many, who rush to it to soak in the wonderful music and the ambience along with the tasty food.
Other Dishes To Look Forward To: One bite of any of their scrumptious desserts is enough to make you fall unconditionally in love.
VI. Cafe Mondegar
Location: Colaba

Price: Approximately INR 600
HG Recommends: Minute Steak
A name synonymous with Bombay, Cafe Mondegar never disappoints. With pitchers of beer and great ambience to go with your steak, a visit to this iconic restaurant is a must for all steak lovers.
Other Dishes To Look Forward To: From countless vegetarian options to a spread of all possible types of meats and sea-food, it is very difficult to pick one favourite.
VII. Smoke House Deli
Location: Bandra, Kurla and Lower Parel

Price: INR 610
HG Recommends: Peppercorn steak
An all-day café and delicatessen, Smoke House Deli has quickly become a city favourite and spread its wings to other metropolises as well. In keeping with Impresario's tradition, "the walls of the all-day restaurant are strewn with hand drawings full of detailed references to its surrounding areas, their inhabitants, sceneries, and history." Their steak is as classic as it gets, served with a side of grilled vegetables and potato wedges.
Other Dishes To Look Forward To: Try their peri peri rubbed grilled chicken and wild mushroom risotto.
VIII. Cafe Royal
Location: Colaba

Price: INR 650
HG Recommends: Steak Royal
Cafe Royal is another one of those age old colaba joints that will have you pining for those few odd days you might have been willing to splurge in college what with their being characterised by their consistent food quality and large portions. And of course, the restaurant serves all kinds of steaks. Steak Royal is served with mashed potatoes, caramelised onions and a merlot wine glaze.
Other Dishes To Look Forward To: The Indiana Jones is chargrilled chicken tikka infused with paprika sauce.
IX. Salt Water Cafe
Location: Bandra and Churchgate

Price: INR 660
HG Recommends: The House Spiced Tenderloin
Salt Water Café is the ideal culinary fall-back option for brunch, lunch, dinner and coffee, constantly switching it up with their seasonal menu. Their menu is consistently innovative, remaining one of the few menus to lay its emphasis on seasonal produce and indigenous twists. The house spiced tenderloin, a favourite for both loyal and new customers comes served with garlic whipped potatoes and a fiery whisky jus. Alcohol on your beef? Not sure it gets better than that.
Other Dishes To Look Forward To: Bacon Burger with Brie and Cranberry Chutney, potato ricotta and pea pesto gnocchi, and the pan-seared John Dory.
Location: Over five outlets across Mumbai.

Price: INR 875
HG Recommends: The Filet Mignon
One of the most famous restaurants in the city, Indigo Deli (as it is fondly referred to by locals) serves western comfort food at a quality par excellence. We've never eaten a bad dish here, no matter which outlet we've been to. The restaurant has six outlets sprawled all around the city, which means finding one of them isn't a difficult task either. At Indigo Deli, the fillet mignon is locally procured Buffalo Tenderloin. It is served with roasted onions, garlic, red wine jus and a choice of mashed potatoes or grilled vegetables. The restaurant recommends a medium-rare steak that is beautifully scorched on the outside and still slightly rare inside.
Other Dishes To Look Forward To: If you're not one for beef, try the Deli fried chicken with apple slaw or the Risotto of wild mushrooms and red wine, and end your meal with their famous cheesecake.
If you liked this article, we suggest you read:
A Guide To Mumbai's Lesser-Known East Indian Cuisine – Restaurants, Home Chefs & More
Deep Dive Into Naga Food In India – The Best Restaurants, Home Chefs & More
The Very Best South Indian Thalis Across Mumbai, Eat Your Heart Out