Located within Sun Mill compound in Lower Parel, Mumbai, BARO is a creative collaboration between Srila Chatterjee and Siddharth Sirohi, both of whom have a shared background in filmmaking. It is a space exploring innovative creative expressions embodied through brands that make eco-friendly, handmade products. BARO is home to handcrafted furniture, unique lights, screen-printed cotton fabrics, bespoke linen, captivating curios and indigenous art.
Explaining the genesis of BARO Market, co-founder Chatterjee says, "Over the past two years, we have used our space to introduce designers who are connected to grassroots craftsmen, and who come from places not often seen in Mumbai. What they universally told us was how much they enjoyed engaging with the people who came by and what a special experience it was. That is what led to the birth of BARO Market. The idea is to gather a collection of people we love, who work with the integrity and originality we believe in, and make products that are unique and special."
On the 7th and 8th of March 2020, Baro will host a show titled "The Good Life" - A Conscious Living Weekend which will have over 16 home-grown brands, each showcasing products that are not only eco-friendly, but handmade, thereby empowering communities of several tribes and rural areas. These products include upcycled fashion, revived furniture, handmade footwear by inmates, conscious jewellery and nutrient-rich foods from the hills, among others.
Here's a list of a few brands and their products which will be showcased in the upcoming exhibition.
I. Inmate
It is a men's footwear brand selling shoes created by inmates in Indian prisons. It plays a social role in working towards rehabilitating the lives of the inmates by giving them the courage to start over again, offering them a confirmed livelihood after they are let off from prison.
II. The Kishkinda Trust
They make banana fibre and water hyacinth, which are raw materials needed for beautiful basketry, linen and home accessories created by women in Hampi. The trust has helped transform the socio-economic life of the local communities.
III. Memeraki
Rooted in folk arts ranging from Kashmiri Papier Mache to Cheriyal Scroll, these are handpainted folk art artisanal luxury clutches and handbags, each telling a story of its own. These products also draw inspiration from Hong Kong's modern frenzy.
IV. Satori
An artisanal tea brand offering premium Indian teas that are sourced directly from family-run estates across the country, making the sourcing and origin 100% traceable.
V. Shillar House
This place makes local, traditional and seasonal foods like Pahari Ghee, Raw Honey, Red Rice etc., with raw materials gleaned from the Hills of Himachal. Enjoy the long-forgotten flavours of these quintessential organic foods.
VI. Suck In
Suck In makes eco-friendly, sustainable, reusable, flavour free, lead-free, dishwasher safe, easy-to-clean stainless steel and bamboo straws. Stop sucking, start SuckIN.
VII. LataSita
This organisation creates zero-waste, ethically produced, upcycled fashion, each piece distinguished by
stunning textiles, combinations and silhouettes.
VIII. Renu
Less a brand and more an emotion, Renu is a brand that makes handwoven, stunning sarees and stoles with the help of a group of artisans, predominantly women.
IX. Padukas
This is a brand making handcrafted bags, quilts and more that help in the upliftment of tribal women.
X. Greendigo
Greendigo takes a sustainable approach in making kids' clothing using organic raw material.
XI. Earthroute
Handcrafted clothing and accessories through design collaborations with artisan communities.
XII. Zola
Makes jewellery and wearable art made through collaboration with rural and folk artisans.
XIII. Madhumangal
An eternal Baro favourite, this shola pith artist will create a whole new range of shola flowers.
XIV. Hamsini
It is a zero-waste brand, making patchwork themed jewellery, blouse pieces, yokes and soft furnishings.
XV. Concept Cuisines
Inspired by world cuisines, this brand makes wholesome salad bowls, providing everyday lunch with a healthy twist.
XVI. Skilled Samaritan Foundation
Beautiful home décor pieces made by women from North Indian rural communities from waste and salvaged industrial textile.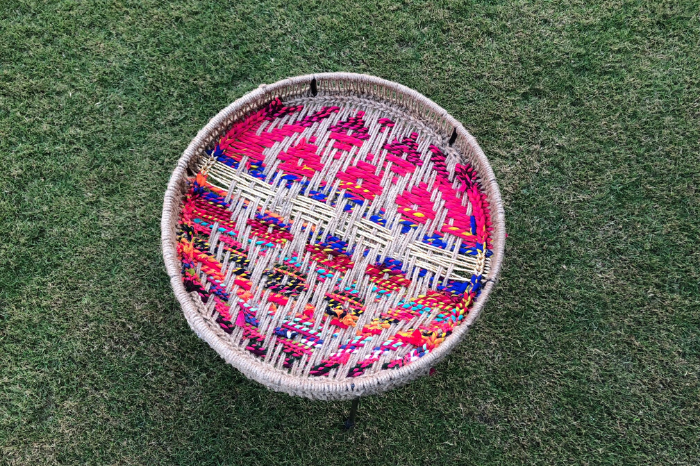 Dates: March 7-8
Time: 11 am-8 pm
Venue: BARO, 12, Sun Mill, Lower Parel, Mumbai - 400013
If you enjoyed reading this article, we suggest you also read:
6 Indian Creative Companies Making Waves With Unconventional Ideas
Five Creative Indian Companies That Are Redefining Work Culture And Spaces