The past few months in our country have been tumultuous, to say the least. We painfully welcomed the year with the anti-CAA and NRC protests that lasted for days on end and witnessed unabashed violence against those peacefully protesting — the students of JNU and Jamia Milia Islamia faced a different kind of brutality. With the onset of the Coronavirus pandemic, we witnessed a new wave of issues that on the surface seem to be of administrative shortcomings, but in fact, are deeply humanitarian and political in nature.
While mainstream news media grappled to expose which Bollywood celebrity once indulged in narcotics, our farmers fought to keep their practice alive and well. The lack of data on migrant workers, farmer suicides, and deaths of medical practitioners (also the ones that lost their lives in attempts to save others') was followed by deafening silence by the authorities, but the abundance of data for Umar Khalid's arrest was pushed down our throats. Our economy and the number of Coronavirus cases seem to sit at two ends of a see-saw — the latter clearly higher than the former.
As loud as our voices roar, it is not unusual for them to be silenced across the board. However, among us exist people that express imperative, pressing and desperate thoughts through art forms. Illustrations, designs, music, film — these media sometimes convey even what always just sat at the tip of our tongues.
As we remember some of the values that we had started with at the dawn of independence, we attempt to appreciate those who gave it their all to make our voices heard in ways more than one. We put together a few names, amongst many more that we tip our hats to. Their grit, courage and brevity remind us of the India that was once envisioned by our fore-fathers, and the one we would want to be thriving (not just living) in.
I. Armaan Yadav
On August 15, 2020, 24-year-old writer and rapper, Armaan Yadav released his track 'Articles Of Faith' which questioned the state of our nation through music. Precisely putting together all the questions the nation's would want to be answered, Armaan delivered not just a series of solid observations, but a catchy tune, too. The track is produced by Parimal Shais.
In 'Articles Of Faith', he rightly questions — "How do you be free to speak and not get shot or thrown in prison? Where every single contradiction is sedition."
You can find Armaan Yadav here.
II. Aditya Panikker
'Detention Centres In India' by Aditya Panikker uncovers the existence of institutions across the country where people are held unwillingly. He says, "Legality has never been the gold-standard of morality. There is no grey area in this, as many people would like to believe. If someone is being harmed intentionally, or being oppressed or insulted by law, it is wrong."
Having read about the issue, Aditya focused on this project as the lockdown began and rigorously tried to procure additional information.
Watch 'Detention Centres In India' here.
You can find Aditya Panikker here.
III. Ashish Bagchi
An illustrator and designer from Gurgaon, Ashish's work speaks leaps and bounds about the state of our country and the situations it faces. With subtle yet evident humour in some of them, the illustrations strongly criticise some of the Government's decisions and processes. The lack of data on migrant deaths during the pandemic, the arrest of Umar Khalid, and the irreverent news coverage are smartly represented through his designs. While his work can be described as bold and forthright, it can be said that it stems from a place of sincere concern for the country and its inhabitants.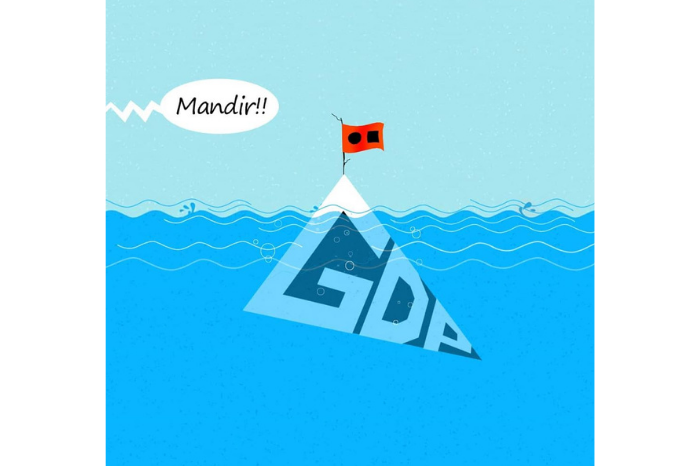 You can find Ashish Bagchi here.
IV. Bhawna
If there was ever a way to translate India's fundamental issues into vibrant and colourful artwork, Bhawna has found it. It aptly captures the importance of dissent at a time when it is needed most. Almost a form of social commentary, Bhawna's illustrations are unafraid and unabashed — two qualities one must have to speak up against the powerful.
Manipulation by the mainstream media, power of our collective voice, and the ever-so-dynamic definition of 'nationalism' are the topics of some of her most robust work.
You can find Bhawna here.
V. Madpaule Diaries
The art and illustrations of Madpaule Diaries sternly outline the differences between the actions of the authorities towards those who speak for them and those who speak up against them. The hypocrisy is duly noted and the violence inflicted upon the innocent is given much-deserved importance. Even though the work is intrepid in nature, the sympathy for those affected is apparent.
Police brutality, brainwashed media, and the incompetency of those in power are various underlying themes in the illustrations by Madpaule Diaries.
You can find Madpaule Diaries here.
VI. Mehak Sethi & Rajeev Roy
'Lest We Forget' by Mehak Sethi and Rajeev Roy is a short film that conveys the condition of the Indians that faced the brutal brunt of the pandemic. Rajeev says, "This was not just a pandemic. This was the human condition on full display. The Indian condition. Our apathy was for all to see, yet we turned a blind eye under glaring lights. Again."
As the virus viciously spread across the country, the chaos that ensued took lives, jobs, and much more. The short film attempts to highlight all that went wrong and all that could have been prevented if only we experienced no neglect from the establishment.
You can watch Lest We Forget here.
You can find Mehak Sethi here, and Rajeev Roy, here.
VII. Mir Suhail
Apart from the very-popular illustration of Rhea Chakraborty surrounded by media vultures, Mir Suhail has created and continues to create some utmost empowering and impactful pieces of art. The idea of a true democracy is put under the microscope as the UAPA, Indian journalism, Islamophobia, the plight of our farmers and the Indian justice system as a whole are criticised.
Fearless, sensible and urgent — Mir Suhail's art in a nutshell.
You can find Mir Suhail here.
VIII. Orijit Sen
Dissent remains an imperative part of an effective democracy, and the suppression of that very aspect has led to the situation that prevails. Orijit Sen voices the need for dissent and the consequential events in its absence through his easy-to-understand art and designs. Reminding us of our responsibilities as an Indian citizen, Orijit actively contests for bringing back the India that once was.
You can find Orijit Sen here.
IX. Poojan Sahil
A musician with a will to bring about a change, Poojan Sahil and his work represent all those whose voices have been silenced due to a heavily one-sided regime. 'Chand Roz Aur Faiz' by him is a beautifully sung track that resists political arrests and also shows support to those who have fallen victim to it. The song reiterates the strength, courage and the love for the nation one holds, even if it results in an arrest.
You can find Poojan Sahil here.
X. Siddhesh Gautam
The hope for a better in India is evident in Siddhesh's art. The prevailing problems and conditions may be comprehensively articulated in his work but the undying need and aspiration of the country to be better to its people, its land and its principles shine through. His artwork capturing the abrogation of Article 370 was received with much love as it succinctly and minimally conveyed what was to come for Kashmir — grave effects on democracy, freedom of speech, and unity.
You can find Siddhesh Gautam here.
XI. Smish Designs
There is no wrongful aspect of the current regime that escapes Smish designs. From cultural and social commentary to political and humanitarian issues, their artwork covers it all. With no fear of naming the problem and the culprits behind it, Smish manages to impactfully put the message across. Gay rights, Umar Khalid's arrest, negligence towards India's medical practitioners, Farmer Bills are just some of the issues covered.
You can find Smish Designs here.
XII. Sumit Roy
Along with Dub Sharma, Sumit created 'Chowkidaar'— a track to remind people of the injustices only certain people in our country have to face. The video is directed by Q, and he says, "We wanted to depict how we are constantly being played against ourselves by a system that is corrupt and bigoted. We, as citizens, may be harassed. But we are also the police, the bureaucracy and the cog in the machine."
The track symbolises the common Indian man, and also questions the reality of our country, from the decisions at the highest level to how the news depicts it.
You can find Sumit Roy here.
XIII. Susruta & Saswata Mukherjee
Twin brothers Susruta and Saswata create art that speaks, and speaks loudly. With illustrations that seem exaggerated in appearance but accurate in terms of ideology and behaviour of the characters, the duo does not hold back from saying it like it is. Some of them present what needs to be known with a tinge of wit, that is more pinching than it is humorous.
Their work rightly focuses on the need to raise our voices, the media's recent escapades and the recent Hathras rape case.
You can find Susruta here and Sasawata, here.
XIV. Vijay Pandey
In addition to apprehending the culture of India, photographer Vijay Pandey also captures the issues the country is grappling with. His works include a simple yet impactful picture of a farmer sitting with his head in his hands as a policeman stands guard for the Farmer Bill protests, a daunting still of Shaheen Bagh's Dadi, Bilkis, and a patient waiting outside a government dispensary as she waiting for her tuberculosis medicine during the initial lockdown.
Instead of steering away from the country's real problems, Vijay's work makes concerted efforts to bring to fore what needs to be seen.
You can find Vijay Pandey here.
If you enjoyed reading this article, we suggest you also read:
The Revolution Will Not Be Televised- A List Of All The Protests Across India For Harthas Rape Case
Walls Of Democracy: Tyler Street Art Uses Graffiti To Voice Dissent
10 Activist Musicians From India Giving Voice To Important Social Issues