If pork isn't part of your diet plan, we feel for you, we do. But maybe you'd be better off checking out Bombay's Best burgers for different budgets. Seafood won't hurt either. Steaks? Ok, we'll stop.
Put your hands together for fat kid Fridays. Wait, is it Friday? Sorry, relentless pork hunting over the weekend has left us a bit disoriented though that bit might be because our very full bellies are using up a majority of the brain power we require to keep functioning.
Either way, our recent piggy back ride through the country, introducing people to all the glorious, indigenous ways pork is prepared in different Indian cuisines left us hungry for more. And hungry for something a little closer to home, too. So here's what we have planned for this next-in-a-long-run-of-food-explorations; a nose-to-tail guide of Mumbai's best pork dishes that you really shouldn't miss out on if the word 'oink' makes you drool. No partiality towards any cuisine or any price range in here, either. If it's made out of pig, and it tastes good enough to have made us return more often than we care to admit, it's in this article. Go out on a limb and trust us on this one.
Of course, we're already well aware that no matter how many hole-in-the-walls or hidden favourites we include in this list, we'd still have missed some out. So if you know about any of those missing links, don't hold out on us. Let us know in the comments section below so we can check them out when we've awoken from our current food coma.
I. Bacon & Brie Burger With Cranberry Jam @ Salt Water Cafe
This isn't the first time this gloriously structured, piggish burger has been bestowed the honour of a Homegrown feature. In fact, we squealed like little girls about its deliciousness in our Bombay burger round up too but when something's this nice, it's worth naming twice, as far as we're concerned.
We consider ourselves to be borderline bacon connoisseur and we'd be the first to admit that the quality of the strips we get here are rarely good enough however, Salt Water Cafe's bacon puts all the rest to shame. Not too fatty, crispy enough to hear when you crunch into it, never burned and always dabbed dry to avail over oiliness. Now imagine 3-4 layers of that, topped with a melty, spiced brie, further iced with just the right proportions of a delectably balanced cranberry jam. Aside from the downside of its slightly negligible size (we usually order 2) this bacon burger is one of the most balanced, fulfilling ones we've ever gnawed into oblivion.
Where: 87 Chapel Road, Rose Minar Annexe, Next to Mount Carmel Church, Reclamation, Bandra West, Mumbai
II. Quiche Lorraine @ Indigo Deli
Meals at Indigo Deli are the closest we've come to a culinary religious experience, usually leaving us to atone for our greed so the fact that we've chosen what's essentially better off in a bakery as our pork dish of choice is something that should make you sit up and take notice.
Quiches are basically a bunch of delicious stuff mixed with a tonne of cheese that's then chucked into a pie crust. Nothing too overcomplicated or special but man does Indigo Deli get this one right. Lots of bacon, a mildish gooey-yet-crumbly cheese (we're guessing Swiss but that wonderful baked flavour sort of makes it hard to guess) very finely chopped greens that really only make their presence known through the flavour... and then there's that crust. That perfect, fresh golden brown biscuit-y casing of goodness that literally has us digging through its fillings so we can just focus on its deliciousness all by itself. We could do this for a while so we'll just stop here. Go and eat it.
Where: 5, Ground Floor, Pheroze Building, Chhatrapati Shivaji Maharashi Marg, Apollo Bunder, Colaba, Mumbai

III. Deli Carbonara Pizza @ Indigo Deli
If you, like us, believe that things that go crunch and are topped with a bacon, creamy, eggy goodness deserve to be a daily diet staple, the Deli's Carbonara pizza is the best. pizza. ever. Purists might blanch at that claim given the more authentic, Italian pizza joints popping up all over the city but we're going by personal preferences here.
The crust of the deli's pizzas are as thin, light and crisp as a papad, while the carbonara sauce has been thinned just a little bit, in all its creamy, bacon-smoked glory, so that it does't soak the crust and make it soggy right away (though this is an issue if you don't eat it fast enough). The real winner though isn't the little bits of bacon as much as it's the obvious use of the bacon oil to create the carbonara sauce. Moreover, those bits of crispy sage sprinkled all over the pizza are of the best combinations we've ever tasted.
Pro tip - In case you want to save a bit of your money and eat something as bacon-friendly on a pizza, you could also opt for the outstanding prosciutto, goat's cheese and cranberry-topped thin crust pie from Ray's pizzeria in Bandra. The best part? It tastes just as good even when it's not eaten straight out of the oven, plus you can order in and eat in your pyjamas. Win-win.
Address: 5, Ground Floor, Pheroze Building, Chhatrapati Shivaji Maharashi Marg, Apollo Bunder,Colaba, Mumbai
IV. Schezwan Fried Pork @ Ling's Pavilion
We know what you're thinking. Ling's Pavilion is so like 2001, when there were like…no other Chinese restaurants or you had to go somewhere with like, 20 relatives. Not sure why the addition of extra likes always makes something more believable but you get our drift, now back to the good stuff. Don't disregard Ling's as old news. Because as far as their schezwan fried pork goes, they've still got it. And with all that spicy, crunchy mess of pork slivers they cook up with this concoction, they have every intention to continue being the gift that keeps on giving.
Before you wonder, it's nothing like all the roadside Indianized Chinese we're used to, even if we do have a special place in our hearts for that variety. This is better quality, better fried, better balanced porky goodness all around. And you don't have to worry about the tapeworms your mother keeps freaking out about.
Address: 19/21, Mahakavi Bhushan Marg, Behind Regal Cinema, Colaba, Mumbai
V. Coffee Spare Ribs @ Ling's Pavilion
Regulars at Ling's know that there's more value in asking Baba Ling, the cherubic, delightful restaurateur who's run this joint for years along with his engineer brother, Nini, for his recommendations rather than looking at the elaborate menu. And one of his favourite suggestions are these unparalleled Coffee Spare Ribs, made exclusively by Baba himself, usually.
Though it's not a common combination over here, coffee rubbed pork is actually known to be a fantastic flavour combination and just one bite of these delicate, yet generous ribs will convince you of the same. This dish is prepared by literally stewing the spare ribs in a sauce made out of fresh coffee, which actually accentuates the bitter, smoky flavours in a way that's bound to get your mouth watering for the next bite.
Address: 19/21, Mahakavi Bhushan Marg, Behind Regal Cinema, Colaba, Mumbai
VII. Braised Pork Belly In Truffle Sauce, With Mantao Bread @ Hakkasan
This is what exotic tastes like, and it's a hell of a lot better than anything Piggy Chops could offer in her video. Yeah, we went there. We're not sure anyone does Chinese better and more authentically than Hakkasan, though we know we'll be countered on that one. Either way, this preparation involves hours of slow-braising for the meat ultimately brushed with a light truffle sauce (a flavour we can never get enough of) resulting in the most delicious sweet-meets-savoury combination of flavours. Better yet, they keep things fresh by serving it with a side of farm-fresh Pak Choi and that delicious, steamed Chinese Mantao bread we can never seem to get enough of when we're here.
Address: 206, Krystal, Waterfield Road, Linking Road, Bandra West, Mumbai\
VIII. Pulled Pork Brioche With Caramelized White Onions @ Cafe Zoe
We've had a long-standing love affair with brioche buns as it is, so when Zoe decided to stuff pulled pork and caramelised white onions between mini versions as an appetisers, we had to hold back from begging them to turn it into a main. Then we realised that their less is more mantra is what keeps us coming back for more of them anyway. Besides, the sheer rich, buttery bun that appears to be a marvel in technique is too flaky and filling to be anything larger than a bite size. The pork is a little chewier than what you may have been expecting but you'll quickly realise that it sets off the light texture of the brioche so it works together beautifully.
4 triangular halves are served up on a long, white appetizer plate, so if you're not into sharing order separate portions!
Address: Todi Mathuradas Mill Compound, NM Joshi Marg, Lower Parel, Mumbai
IX. Pork Belly Carbonara (Braised & Shredded) @ Cafe Zoe
Calorie counter? Go away. Negligible appetite? Move along. Carnivorous pig with a bottomless craving for rich, porky carbs? Now we're talking. Zoe's take on the classic carbonara doesn't mess too much with tradition but they make sure to do it justice too, and it's heavy enough to prevent you from making it dessert, though you're still likely to be tempted.
A generous helping of Al dente spaghetti is heavily coated with the egg, cream, pork belly (basically bacon) white sauce that ensured Carbonara's spot in the '5 meals I need before I die' list for most serious foodies. Perhaps not the most experimental choice on this list but if you're looking for satiating, fulfilling, authenticity in a bowl, we just made your choice for you. Word of advice—Never turn down a little extra black pepper seasoning when you're eating a carbonara.
Address: Todi Mathuradas Mill Compound, NM Joshi Marg, Lower Parel, Mumbai
X. Char Sui Pork Seoul Bowl @ Cafe Nemo
Nemo's been getting rave reviews since it opened a few months ago, and we wouldn't be surprised if a majority of that was because of this wholesome, hearty bowl of goodness—the Char Sui Pork Seoul Bowl, because we all know that few do justice to the pig the way the Koreans do. As far as flavours go, they're all the right ones. Peanuts, chilli, fresh herbs, fragrant, sticky rice, greens plus the chef's secret sauce all spin together in some stunning show of synchronicity, only to provide you with varying textures with every bite. Something we've come to appreciate as our palates turn slightly more discerning. We decided not to include it separately because this list was getting a little too packed anyway, but their Char Sui Pork Bao is also incredibly succulent and try-worthy.
Address: Thadani House, 329/A Worli Village, Opposite Indian Coast Guard, Worli, Mumbai
XI. Kakuni @ Kofuku
So you thought Kofuku was good for the best budget(ish) sushi in town and never bothered to really look at the rest of the menu? Join the club. Well, we did try the Mandu soup because this writer's pet name happens to be the same, but it wasn't anything to write home about. The pork belly Kakuni however…now that's the kind of dish you use blood instead of ink to write home about, just so that people take you seriously.
The Nagasaki-style dish includes 2-3 large cubes of pork belly—tender and juicy with a perfect fat-to-meat ratio thanks to plenty of braising in dash, soy sauce, miring, sugar and sake—left to swim in and soak up the most delicious, almost-sweet stock broth. Ultimately, you'll be dominated into complete submission by the best-cooked meat in the whole city. We suggest just ordering this with a bowl of rice for complete culinary satisfaction.
Address: 2nd Floor, Kenilworth Shopping Arcade, Level 2, Linking Road, Bandra West, Mumbai
XII. Kakuni @ Wasabi by Morimoto
And what Kofuku can do that well, a restaurant that's about 10 times more expensive, and renowned for authenticity, ought to do even better. Proportionally, Kakuni at the Taj's ludicrously expensive restaurant isn't as much better as it should be, but it does add a little more complexity to the broth (not to mention the quality of the meat) and offers pork flown directly in from Kobe - that is bound to make perfectionists shell out for the difference. And lest we forget, Chef Morimoto of Wasabi isn't exactly one for shortcuts, so if he says the pork's been slow-cooked for 18 hours to make it that tender, then he really has slow-cooked it for 18 hours to make it that tender.
Not much need to go into more description here, because like everywhere else, the Kakuni remains a 'square stew,' and a delicious one at that so if you're looking for a seriously elevated dining experience and some fabulous Kakuni, look no further than Wasabi.
Address: The Taj Mahal Palace & Tower, Apollo Bunder, Colaba, Mumbai
XIII. Pork Belly Buns @ Ellipsis
Oh, Chef Kel C. You've given us that beastly good animal style burger, those painfully L.A.- legitimate fish tacos with a twist, and even those Sunday brunch pancakes, stacked up like a fat kid's wet dream. But that wasn't enough for you. No, you decided to go and pay tribute to every little bit of the pig and give us these beautiful little mouthfuls of pork belly stuffed in buns. It's okay, though. We'll forgive you for it if you never, ever stop feeding this city.
Back to them buns, however (as if that weren't a loaded enough word already). Picture homemade steamed buns, a little dollop of apple butter and braised pork belly, the meat's imported of course, and then imagine letting them suffuse their flavours on your tongue as you reach for the next, even before you've swallowed your first bite. You'll understand exactly why the dish remains a favourite amongst the patrons.
Address: Amarchand Mansion, 16 Madame Cama Road, Colaba, Mumbai
XIV. Pig's Ears @ Ellipsis
We'll try not to fawn more over Kel C's approach to food, but it's difficult to maintain our calm when someone manages to take something as anomalous as a pig's ear and turn it into a delicacy beyond comparison. But this is hardly surprising considering Kel considers the pig to be "a culinary miracle for chefs.From the snout to tail, every piece can be utilised and made into a delicious explosion of flavour. Stand-alone restaurants in Mumbai are steadily gaining popularity and it gives chefs here the creative freedom and opportunity to use different techniques and flavours." Obviously, we concur or we wouldn't be writing this article at all.
Anyway, here's the scoop on the pig ears. A slightly chewier cut, they torch the hair and braise the meat in court bouillon, a deliciously flavoured boiled broth, to achieve the tenderness we all love and then serves it up in a heap with siracha lime, charred watermelon and man prik pao. Drool.
Address: Amarchand Mansion, 16 Madame Cama Road, Colaba, Mumbai

XV. Goan Sausage Chilly Fry @ Gables
The waiters get a nap break in the afternoon, you never know if the upstairs will be open, the hygiene might be considered questionable by some, but none of these nonsensical hurdles are too big to cross when you're on a quest for the best goddam Goan Sausage Chilly Fry in the city. One of the many perks of studying in a nearby college were our many wayward attempts to convince the owner to wake his waiters in the afternoon to feed us a portion of the perfectly balanced spicy-sour mixture of diced Goan chorizo pork, stir fried with plenty of onions, capsicums and even potatoes, on occasion. Though consistency isn't necessarily their strongest point either, as far as their choice of accompanying ingredients go, they always do the trick of absorbing all that flavourful oil, just the way you'd want it to.
One way or the other, this is the only place you should be considering when it comes to on-the-mark Goan-style pork. Except for Martin's, that just happens to be next up.
Address: Opposite Theobroma's, Colaba Causeway, Mumbai.
XVI. Goan Sausage Chilly Fry @ New Martin's Hotel
…And the sausage saga continues just around the corner from Gable's ironically. Our go-to in case the slightly larger, slightly cleaner version happened to turn us away, Martin's does Goan food better and cheaper than anyone else. And even though we almost always feasted on the ludicrously satisfying steak and fried onions, on the occasions we were experimental enough to give their Goan chorizo fry a shot, we'd usually succumb to the tears of joy that threatened to stream down our face. Partially because they take the chilly bit seriously enough, and partially because it's only one sandy beach away from Goa as far as its authenticity is concerned. Eat it. You won't regret it.
Address: Just around the corner from Gable's
XVII. Honey Orange Glazed Pork Spare Ribs @ Smokehouse Deli
Personally, we've always been bigger fans of the wonderful animations and overall vibe of Smokehouse Deli than we have been over theIR food (despite a pretty great menu) but all of that changed when we tried their Glazed Spare Ribs. We've travelled far and wide to feast on ribs, and we like to think we've tasted it all so believe us when we say there's no melt-in-your-mouth meat like the kind they pile onto plates here.
We're near tears just reminiscing about the sweet (there's no such thing as too sweet when it comes to ribs) sticky honey glaze, with only the slightest hint of Orange suffusing itself softly into the overall flavour. Served up with a side of roasted beets and mash, this is not only the best balanced plate we've eaten at Smokehouse Deli, it's one of the best balances we've experienced across the board.
Address: Phoenix Mill Compound, High Street Phoenix, Senapati Bapat Marg, Lower Parel, Mumbai & Clove At 33rd Road + B. R. Ambedkar Road, Opposite Brownie Point, Pali Hill, Bandra West, Mumbai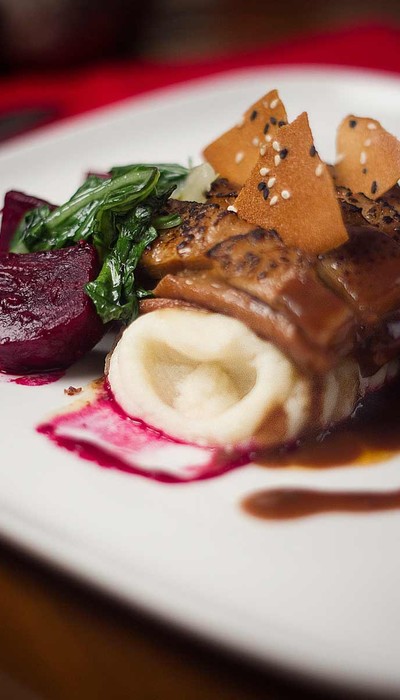 XVIII. Jasmine Tea Smoked Pork Ribs @ Yauatcha
Considering this restaurant's become most people's go-to Chinese pick of the litter (provided they've won a small lottery of course) you shouldn't be surprised that their Jasmine Tea Smoked ribs are some of the best around. It's got that no-effort meat quality we love, meaning it literally slides off the bone, which the tea flavours are just the right kind of subtle, only appearing to add another layer of complexity to the sweetness of the sauce.
Address: Raheja Towers, Bandra Kurla Complex, Bandra East, Mumbai
XIX. Vindaloo, C Dsouza
To octogenarians and their children, C D'souza is still Marosas, the Fort-based restaurant that served Goan staples as far back as the 1940's, until it finally shifted to its new, not-as-trendy spot in Kalbadevi. Not that any of these niceties matter when the menu has never changed, neither has it ever diminished in its consistency or quality.
All their Goan staples are spot on right from the sorpotel to the greasy, fatty sausage chilly fry, but the vindaloo is the one that we've never been able to rest ordering no matter what else we might experiment with. Pair it with a hunk of homemade bread so you can wipe off every last bit of that curry.
Address: 314, Cawasji Hormusji Street, Opposite Our Lady of Dollours Church, Marine Lines, Mumbai
XX. Crumb Fried Pork Schnitzel @ Imbiss
We couldn't very well omit Bandra's ultimate meat-lover's paradise from this list for fear of being ostracised by the carnivore community of Bombay, even though we will admit that their food has left us underwhelmed on occasion. Either way, for their sheer dedication to meat (there's only one vegetarian dish on the menu) their incredibly affordable prices for that German-inspired menu, and the loyalty we feel considering we used to be neighbours, let's just say their spot is well-earned.
So for a day you don't know what to order for lunch, but you're craving something to soak up the weekend hangover for cheap, this pork schnitzel is the way to go. The thing we love most about it is how well it's beaten down to be absolutely flat and only then crumb-fried with it's delicious batter. The meat's a little chewy but delicious enough to have you forego the niceties and just tear into the massive schnitzel like some sort of caveman. No really, we've done it.
Address: Lil Haven, Waroda Road, Off Hill Road, Bandra West, Mumbai
XXI. Steamed Buns With Hoisin Glazed Pork With Marinated Cucumber @ The Table
The Table's always been notorious for catering to those with more refined palates (and heavier wallets) thanks to their purist/more Western approach of keeping their cuisine ingredient driven and hence, simple with buckets of flavour to boot.
These steamed buns have a wonderful, slightly sweetish consistency that marries itself perfectly to the delicately glazed pork, succulent and tender as you'd probably suspected. The additional surprise here is definitely the pickled cucumber, which adds another element of crunch and freshness to the entire experience. Layers always get us.
Address: Ground floor, Kalapesi Trust Building Opp. Dhanraj Mahal,, Below Hotel Suba Palace,, Apollo Bunder Marg, Colaba, Mumbai
XXII. Chorizo Pasta, The Bagel Shop
It's entirely possible that of Homegrown's initial work was fuelled single-handedly by this ridiculously satisfying pasta concoction at The Bagel shop. After all, we did spend half our can't-pay-rent days there making decisions about work and menu choices. Luckily for us, the latter was made easy once we found this pasta because we rarely ever wanted anything else.
We've already discussed the awesomeness of the chorizo bagel here in our previous Breakfast compilation, so imagine all that spicy chorizo tossed around with penne and veggies, allowing the fatty chorizo oil to literally play sauce in this version. So now that we know what we're ordering for lunch, we'll just stop here.
Address: 30, Pali Mala Road, Carter Road, Bandra West, Mumbai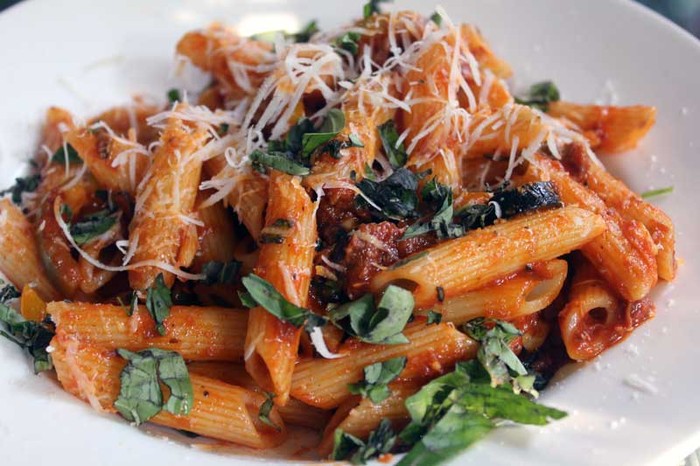 If you liked this article, we suggest you read
This Street In Ahmedabad Is A Meat Lover's Paradise
An Authentic Korean BBQ Experience In The Heart Of Mumbai