The first image that comes to mind while talking about Gujarati food is that of Dhokla, Khakra, Thepla and more. As someone who thoroughly enjoys her vegetarian food, I was ready to kiss goodbye to the idea of having non-vegetarian food while heading to Ahmedabad. However, while traversing the crowded lanes of Teen Darwaza, after visiting Ahmed Shah's Tomb and Jami Masjid, I chanced upon Bhatiyar Gali.
At this point, I had no idea about the name of the street, about the vast array of non-vegetarian food they had to offer, or that it has been in existence for over 600 years. More than half the people of Gujarat are vegetarians but for the remaining segment and the odd travellers, Bhatiyar Gali is a haven filled with Mutton Samosas, Chicken Dana, Keema Masala, and a wide assortment of Kebabs and Tikkas. While it is located only a few minutes from Manek Chowk, one of the most famous food markets in India, this street offers dishes that are much different from the usual street food finds in Ahmedabad.
The dishes available at Bhatiyar Gali changes depending on the time that one visits, but the classics such as samosa and halim are served throughout the day. Walking around these streets during dusk is a sensory experience; there is the sound of meat dishes sizzling away on grills or being fried up in hot oil, the smell of aromatic masala wafting towards you and maybe a little bit of the smoke from the stoves making you tear up. But even with the big crowd, and the smoke, it is the best place to try new things, owing to the sheer variety of dishes available as well as how easy it is on the pocket.
If you are a traveller, you may not know what the names of the dishes you are trying may be, but they are all exceptional in their own right. On a personal note, the Keema Samosa was truly a dish that stood out for me - perfectly cooked mutton keema masala, enclosed in a crumbling samosa sheet, fried to a golden brown color – it was one that could rival the samosas of Delhi streets.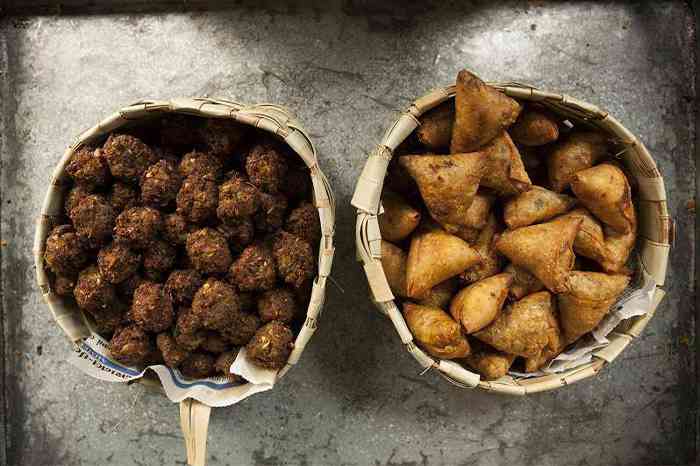 A traditional way of cooking called 'Bara Handi' is considered to be a crowd favourite – 12 different parts of a goat, cooked in 12 different ways in 12 pots. The dishes range from nihari to paya, pichota and more. They can be ordered separately according to preference, or as a bhel which is a mixture from the different dishes. These can be paired with your pick of hot Indian breads, whether it is a roti or a sheermal that are being sold nearby.
In addition to the food on the main streets, if you take to the narrow streets that extend further in to Bhatiyar Gali, there are restaurants with seating and even a few with modest AC facilities that serve non-vegetarian meals from Biriyani, to Tawa Fries and Meat Masala, all in keeping with the traditional style cooking. Among them, Akbari Hotel and ZK Hotel are considered by many to be the best.
So next time you head to Ahmedabad and want to sink your teeth into something meaty, head to Bhatiyar Gali and make sure to take your appetite and a bottle of water along. It is a delicious but spicy affair!
If you have enjoyed the article, we suggest you read:
Eating Our Way Through South Mumbai's 4 Best Khau Gallis
A Glutton's Guide To Goa's Most Delicious Street Food
From Puchka To Tikki - A Guide To India's Pani Puris And Where To Find Them