The travel industry is sometimes criticised by green activists for being wasteful. And at times, they're right, the industry can put quite a bit of strain on the environment if you think about it: burning all that fuel to get around, oversized pools, manicured lawns, and 24x7 air-conditioning. But it doesn't always have to be that way. You can choose to vacation in a way that will soothe your eco-conscious conscience, too. Hotels and consumers are both getting smarter and becoming more aware of the concept of eco tourism. And they've also come to realise that you don't need to give up on certain comforts just because you're agreeing to go eco-friendly.
If you're reading this and find yourself nodding along but think that India is far behind in environmental friendliness and probably doesn't have any eco-friendly resorts, think again. We have curated an exhaustive list of some of the most beautiful resorts in India and divided them zone-wise (Those who missed the first in the series, which chronicled all the loveliest eco resorts in South India, click here.) This time round, we bring to you, some of the best eco resorts in North and North-East India.
North
I. Kalmatia Sangam Himalaya Resort
Colonial-style living with a view of the Himalayas
Where: Almora, Uttarakhand
Best time to visit: Though Almora has great weather year-round, October to March guarantees the most spectacular views of the Himalayas.
Kalmatia Sangam Himalaya Resort sits on a hilltop about 12 km north of Almora. Its cottages have been built in the colonial style by a British captain named E.S. Jackson. The property is well-equipped, with modern facilities and attached bathrooms. There is an element of Kumaoni aesthetics through the floral patterns on the walls and tin roofs. A rainwater harvesting system that feeds into two underground storage tanks fulfils the entire resort's water requirement. And thanks to the altitude at which the property is located, there is no need for air-conditioning.
There is a centuries-old forest of pine, deodar and oak spread out over the 14-acre estate, which is home to Himalayan magpies, wild pheasants and whistling thrushes. There are also peach, plum, pomegranate, and lemon plants on the property.
Cost: Sometimes, having a good time means splurging a little. Their charges start from around Rs. 16,000 to Rs. 24,000 for two nights.
II. Nimmu House
Ladakhi culture combined with luxury
Where: Leh, Ladakh
Best time to visit: Nimmu House is a heritage boutique hotel located in the Nimmu village, which is 25 km away from Leh. There are five tents and a three-storied Tibetan style house on this property. The house has been built with local stone and Kashmiri latticed wood by one of the cousins of the former King of Ladakh. However, when it became impossible for the family to maintain it, they sold it to two entrepreneurs who were awed by its beauty. The house consists of 30 rooms—and is even reported to have two Buddhist temples inside—and is surrounded by an orchard of apricot, apple, and walnut trees.
The tents and the house are provided with solar panels for heated water. It is the perfect location if you're looking to cut off from the world and experience rich Ladakhi culture. You can also go hiking and rafting, or simply cycle around the village and take in local Ladakhi culture.
Cost: A heady dose of culture doesn't always come cheap. A night here will cost Rs. 10,500.
North-East
III. Community-run cottages with Angami Tribe
Immerse yourself in tribal culture and come away with a big dose of perspective
Where: Touphema, Nagaland
Best time to visit: During winter (October to April).
Nagaland is one of last few unspoiled Indian states and is home to 16 tribal groups—it is one of India's remotest frontiers in the truest sense. Located quite close to the cities of Wokha, Mokokchung and Kohima, is Touphema, a picturesque hilltop village overlooking thickly forested valleys. The residents of this village are the Angami, a warm, welcoming and educated tribe. Touphema is one of the very few places in Nagaland where the concept of community tourism is extremely popular.
If you're the kind of person who travels to widen his mind and likes to appreciate different cultures, you should consider visiting Touphema. Staying with the tribe in one of the community-run cottages will give you the opportunity to interact with its members and participate in their daily activities and customs. Community singing is a common practice here and women sing together while performing village chores. You can also visit the Khonoma Nature Conservation and Tragopan Sanctuary while you are here.
IV. Diphlu River Lodge
Where 'being close to nature' takes on a whole new meaning
Where: Kaziranga, Assam
Best time to visit: The climate in Kaziranga is typically tropical: hot and humid in summer (April to June), and warm days and cold nights in winter (November to January). Every year, the water of the Brahmaputra floods the park during the monsoon, making the area inaccessible. So, any time between November and April is a good time to visit.
Kaziranga National Park is situated partly in the Nagaon district and partly in the Golaghat district of Assam and covers an area of 430 sq. km with the Karbi Anglong hills to the south and Brahmaputra to the north. The park is famous for the great one-horned rhino, but it's also home to elephants, tigers, bears, panthers, and thousands of birds.
At a short distance from this park is the Diphlu River Lodge. Because it's located on the fringes of the park, it's a great spot to soak in the sounds of the jungle and sip a cocktail as you watch rhinos bathe in the river. Paddy fields surround the 12 bamboo and wooden huts at Diphlu that are built on stilts in the style of the local Mising tribe and are connected by walkways. A variety of birds fly through the property, and the absence of fences make it possible for small animals from the park to saunter through the property at dusk. With the full intention to protect the environment, conserve natural resources, and manage waste, the resort works tirelessly towards reforesting the areas around the property. Grey water is recycled at the in-house filtering pond and used to irrigate the fields where organic rice, a variety of vegetables, and mustard are grown.
You can explore the park with elephant and jeep safaris, watch local craftsmen and weavers in action, and visit rubber and tea plantations. You can also stroll along the banks of the Brahmaputra and try and spot the elusive dolphins that live in it.
Cost: It may cost you around Rs. 9,000 but that's not too much for a chance to spot the endangered one-horned rhino in the wild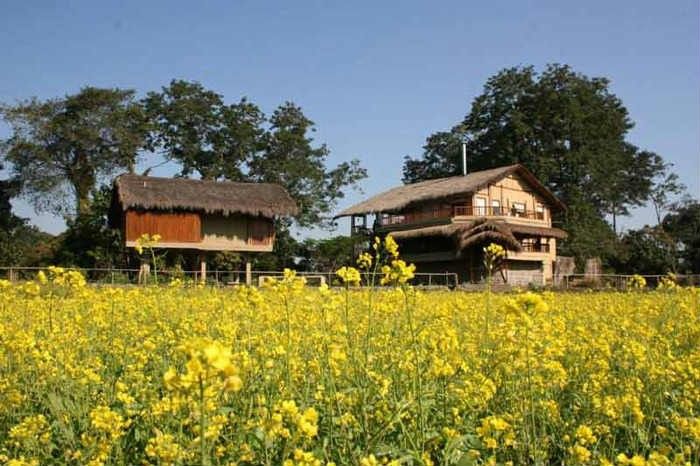 V. La Maison De Ananda
Enjoy peace, solitude and happiness
Where: Majuli Island, Assam
Best time to visit: Anytime between November to March. However, if you want to truly experience Majuli culture, you should visit the island during one of their festivals—the Ali-ai-ligang festival in February or March, Paal Naam festival towards the end of winter, or during the Raas-Leela that happens sometime between October and November.
The island of Majuli is home to 22 satras, or monasteries, and is the seat of Vaishnavite faith and practice. It has been the cradle of Assamese culture for over 500 years. Situated on the river Brahmaputra, it's not exactly easy to get here, which is what makes it worth it once you do.
There are very few accommodation options here, but we recommend La Maison de Ananda. Run by a friendly family belonging to the Mishing tribe, La Maison De Ananda consists of a group of traditional bamboo stilt houses that were built by two French architects who fell in love with Majuli. The houses have been designed in the style of the Mishing tribe. La Maison de Ananda means 'house of happiness' and we can vouch for the fact that the time you spend here is going to be pretty joyful.
Cost: For as little as Rs. 800 a night, it's a steal
VI. Potasali Nameri Eco Camp
For some of the best bird-watching to be had
Where: Nameri National Park, Assam
Best time to visit: Any time between November and March, when the days are pleasant and the weather is dry.
Nestled away amidst the dense jungles of Potasali is the Nameri Eco Camp. The camp is run by the Assam Bhoroli Angling and Conservation Association and is situated just a kilometre away from the banks of the Jia-Bhoroli river.
The homes that they provide are thatch-roofed tents made of beautiful, colourful fabric and netted lining. Each house has a private bathroom and a bed. Its close proximity to the jungle makes it a strategic location for bird-watching and if you're lucky, you spot green cochoas, the great stone plovers, mallard pochard king vultures, fishing eagles and black-necked storks. The camp's eco-friendly practice lies in its pledge to conservation—it ensures that no harm is done to the local wildlife.
The camp will even organise river rafting trips and a walk to the Bharali riverbank, where lies the shortest route to the Nameri National Park and Tiger Reserve in Assam. The national park is located at the foothills of the eastern Himalayas, straddling the Assam-Arunachal Pradesh border.
VII. Tai-Phake Ecotourism Camp
An unforgettable experience in the Amazon of the East
Where: Tipam Village, Assam
Best time to visit: September to March. But, if you're a culture vulture, then brave the cold and visit Dihing Patkai during the rainforest festival that is celebrated in the month of February.
You can start your holiday here by visiting the Dihing Patkai Wildlife Sanctuary, which is popularly referred to as the Amazon of the East, thanks to its rich biodiversity. About 42 species of mammals including elephants, beers, binturongs, pangolins, tiger, golden cat, panther, and clouded leopard, have been spotted in the dense forests of Dihing Patkai.
Tipam is a village located in eastern Assam beside the Buri Dihing river surrounded by farms, pastures, tea plantations, forest and hills surrounding it. The Tai-Phake, a tribe that migrated from Burma sometime during the 18th century inhabits this village. The Tais are followers of the Theravada sect of Buddhism and they lead a sustainable lifestyle with fishing and agriculture as their main sources of income.
The Tai Phake Ecotourism Camp (TP ETC) was started as community project by villagers to help provide a means of livelihood to their unemployed Tai youth while also playing a role in helping to conserve the wildlife sanctuary. They provide simple accommodation to visitors. You will stay in one of the small cottages that has been constructed using bamboo, or their dormitory, which can house up to 12 people.