Who set the trends before fashion week? Before you could check the latest instagram upload by that fashion-forward acquaintance you follow? Before Vogue rose, fell, then rose again as a fashion bible, only to realise they now had to share their title with thousands upon thousands of online and offline magazines, blogs and accounts who promised to forecast the future of fashion better?
In times of limited fashion accessibility, each era had its icons instead, who with their refined taste, extensive international travel or stardom set the stage for trends that would become all the rage in their era and often times, would even find resurgence on the runway in years to come. We put together a list of six path-breaking women in Indian vintage apparel; from the first woman of bohemian fashion, to the trendsetter of the hippie style to the original cabaret girl of the country. Their vintage threads and ability to truly innovate with fabric and style, paying homage to the unique availabilities of their time still holds a classic charm that very few modern day fashion icons have been able to achieve. We're even willing to bet you're still sporting some of the 'trends' they first set in motion.
I. Princess Sudhira
A princess with a chic European wardrobe.
She was one in three daughters of the Maharaja of Cooch Behar; Nripendra Narayan and Maharani Suniti Devi. The young princess was seen sporting a wide variety of the latest western trends of the 1900s. For Indian royals of the pre-independent era, the ownership and use of western goods was critically important in articulating modernity and success of the British Empire. Moreover, it was only royalty and aristocracy that could source and afford fine European clothes from their travels.
II. Amrita Sher-Gil
India's 'Frida Kahlo,' who set the trend of sleeveless saree blouses.
She is regarded as one of the biggest pioneers of modern Indian Art of the 20th century. Born to a Sikh aristocrat father and Hungarian mother, Sher-Gil traveled throughout her life, to countries including Europe, Turkey, France and India. The influence of the cultures of these places is seen both in her art styles and her fashion style; she alternated between bohemian and Indian wear. Her sleeveless blouses made a bold statement by being the first move in the 1930s to showcase skin with traditional Indian wear. Sher-Gil's paintings are among the most expensive ones by Indian women painters today, although few acknowledged the genius of her work when she was alive.
III. Maharani Gayatri Devi
The queen who made wearing silk chiffon saris a fashion statement in the 1940s.
She became the Maharani of Jaipur and one of the most iconic royals of the country when she married the Maharaja of Jaipur; Sawai Man Singh II. The simple pastel and floral chiffons that the beautiful Gayatri Devi adorned were to become an eternal statement piece of elegance for years to come. Apart from her sartorial refinement, she also became a role model for the women of Jaipur.
After a relatively freewheeling upbringing, she arrived in traditional Jaipur, where hundreds of women in the royal entourage lived under the rules of purdah, a custom by which women were kept carefully guarded from view. During festivals and state functions, she obeyed the rules by covering up or keeping to the women's quarters. On regular days she played tennis, went horseback riding and drove her own car without fearing social backlash. Eventually the women of Jaipur followed her lead. She also founded Jaipur's Maharani Gayatri Devi Girls' School, enrolling girls from wealthy families, who were almost isolated by purdah.
IV. Sadhana Shivdasani
The actress who re-christened the Audrey Hepburn fringe.
This beauty of the Indian film industry wore the Audrey Hepburn styled fringe in her debut film Love In Shimla. Soon after that the hairdo was referred to as the 'Sadhna Cut' by countless women of the 60s who wanted to imitate it. Sadhna also popularised the the body-hugging Indian suit that she wore in Yash Chopra's Waqt. It is believed that she herself along with her designer, Bhanu Athaiya conceptualised the idea of the traditional kameez giving more definition to a woman's body; a trend that is followed till date.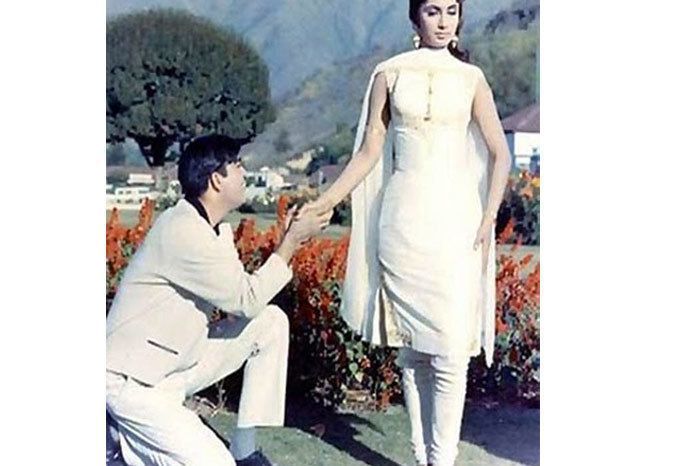 V. Zeenat Aman
The actress that brought the 'original hipster' style to mainstream Indian fashion.
Bollywood's sultry diva of the 70s; Zeenat Aman played a young hippie in the cult movie Hare Rama Hare Krishna. Sporting large bindis with western shirts, oversized glasses, loose saffron kurtas and Rudraksha beads; Aman set stage for the hipster trend in India, visible even today. These relatively free-flowing hippie clothes that had moved away from traditionally feminine garments of Bollywood came to be associated with women as strong and independent. Aman also brought the bohemian style to Bollywood from the West.
VI. Helen
The original cabaret girl of Bollywood.
Helen was known as the 'Dancing Girl' that dominated the Indian film screen from the mid 1950's till the end of the 1970's. With her sensual belly-dancing and pelvic moves she became the poster girl for cabaret in India. She adorned the screen with feather headgears, flashy diamonds and sexy black lace. Few know that this Anglo-Burmese diva's rise to stardom was not an easy one. Along with her family she fled from war torn Burma and then due to her poor financial conditions in India dropped out of school to become a chorus girl in Bollywood. Helen's popularity was so renowned that it was commonly believed that with a Helen dance sequence a film could never fail!
If you enjoyed this article you might also like:
What If This Controversial Milind Soman Ad From 1995 Came Out Today?
Meet India's First Female Doctor To Be Certified In America
How 20th Century Indian Courtesans Changed The Way You Consume Music Today