On a beautiful summer morning in Kasol valley, Ran started hearing voices that he claims were out to kill him. Smoking incessantly, parading up and down outside his room quietly, his tiny eyes shining with a ferocity that could pierce right into your soul without acknowledging your presence at all; the young, 20-something Israeli backpacker refused to eat, sleep or talk to anyone around him. That is when his fellow Israeli travellers realised that Ran had gone 'bad.' His mind had finally succumbed to the long run of consistent highs he had been on, fuelled by LSD and weed. They called the Chabad House (a religious, orthodox, Hasidic movement) in Kasol before Ran left and got lost in the mountain forests in an intoxicated state. The Chabad was not surprised. Drug abuse amongst Israeli backpackers wasn't rare, but it was certainly alarming. After meeting with Ran and seeing his condition, he was brought back to the Chabad House. It was time to rehabilitate him and send him back to Israel. It was a task they knew they couldn't handle on their own, but they knew just who to call.
Even so many years since they first swept across India in hoards, Israeli travellers remain an enigma. For anyone who has met a few on their own travels, their ability to leave whole worlds behind to explore foreign lands for months on end is no secret; immersing themselves in experiential travel and a pseudo adoption of hippie culture. A certain signature style of travelling, even a sense of inherent comfort in India, has made them instantly recognisable in a group of backpackers for the trained eye. Over the past few decades, the post-army exodus to a handful of popular destinations has become something of a rite of passage. In India, their settlements have given way to the iconic "Hummus Trail," away from the hustle bustle of the city and deep into the mountains and remote towns on the coasts of Goa, Kerala and Himachal Pradesh which see plenty of young Indian travellers as well. Amongst the many reasons (like cultural immersion, lower cost of living and great food) one of the most unspoken yet important ones for Israeli backpackers frequenting India so much is the easy accessibility of drugs. Many say the need for them is spurred by the harsh realities of the hard and compulsory military life that tends to precede it.
All Israelis are supposed to enlist for The Israeli Defence Forces as soon as they turn 18. The men have to serve for three years while women need to serve for about two before they can pursue higher education. The military requires discipline, commitment and continuous hard work, after which most Israelis choose to travel and live a more laid-back life with fewer rules, away from the country they grew up in. According to a report in Jewish Journal about a documentary on Israeli Soldier men. "After being discharged with a bonus of 15,000 shekels (about $4,300) after three years of compulsory military service, an estimated 20,000 former Israeli soldiers travel to India. About 90 percent take drugs and 2,000 of the Israeli ex-soldiers living in India 'flip out' each year."
It is at this point in our research that a telephone rings back in Tel Aviv, Israel and a dynamic old man picks up with all the answers. His appearance within the small circular Whatsapp profile reminds me of a wizard and it would not be entirely wrong to say that what he does with his company is not far short of wizard-craft. Hilik Magnus, 69, is a former secret service agent and the founder of Magnus, an international search and rescue operation team that he launched back in 1994. The idea emerged out of Magnus' love for travel and became a real possibility when a friend overheard that insurance companies were looking for someone to set up a rescuing service for travellers.
The call from India gears Magnus up. Based on the information he has received, he has already alerted his team back in India and started his work. Just one or two days later, Hilick lands in India, a country he has frequented almost a hundred times, to rescue and rehabilitate one of the many 'flipped out' Israeli soldiers, Ran.
Hilik feels that young Israeli men and women are faced with an existential crisis and acute loneliness when they are released after their military service, and they find some sort of solace in being high. In India, travellers smoke the chillum all day which has a high dosage of THC, consequently leading to psychotic episodes. "For a psychotic person, reality and imagination are the same things. He cannot tell them apart. Therefore by reasoning with him logically, he achieves the opposite of what he is after. The trick to this is to cooperate with him, to agree with his fantastical ideas. When you do, the person will realise that even you have a problem because at a subconscious level he knows that there is something wrong with him," says Hilik who rescues the addicted with calmness, love and agreement, slowly persuading them to come home with him, thereafter which they are admitted to a proper rehabilitation centres.
An Israeli backpacker himself, it's fair to call him both daring and adventurous. In an interview with the Haaretz, Hilik says,"The problem with the Israeli backpacker is that he thinks his army service has qualified him to deal with everything and anything. When I do navigation with Austrians or with Germans, I see that they are better at it than the officer who was with me in the army. We consider a person who came back from India once to be someone who knows best, I've been to India hundreds of times, and every time I understand less and less. But everyone believes the guy who just came back from India. That guy will tell you that when you go up hiking in the Ladakh region of northern India, that you don't have to rent coats and gloves, that it's a waste of 15 rupees a day, that you'll just have to carry them with you, and anyway it's hot up there. But the thing is, he was there in October when the sun blazes, and you are planning to go in April, a time of year when there are six meters of snow and the wind blows at 120 kilometres per hour. And then what happens with these friendly bits of advice? People go up to the mountain and freeze. They get altitude sickness and I come to bail them out."
For counselling and rehabilitating Israelis with a drug addiction, as well as searching for and rescuing the lost ones, Magnus has a dedicated team with trained personnel and works in coordination with the local police. With people trained in mountain climbing, intelligence and evidence gathering, psychological counselling, rope and height rescue, river rafting rescue operations and more, the team works within a given time frame and a proper budget. The company has a unique network of contacts–authorities and private organisations from across the world–advised foreign governments and security forces, and has assisted thousands of families in receiving information regarding their loved ones. In Israel, his efforts have earned him the unofficial title of "The National Rescuer."
Magnus has carried out hundreds of operations in India itself and caters to everyone in any country. Hilik tells me about a particular incident where he saved two Israeli travellers from the mountains around Kasol. "They had fallen off a cliff. As soon as we were contacted, we got our team in action. We have local co-ordinators present in multiple parts of India," he explains.
Yoav Shamir, director of the 2007 documentary Flipping Out, knows a thing or two about what it really means to be entrenched in In India's 'mini Israel' too. While speaking of a place where hashish is religion, bongs and chillum are sported freely, trance music blares, and full moon parties are a regular occurrence, Kasol is truly an 'old hippie town' in the hills. India was a hotbed for hippies in the 60's and the 70's and many Israelis still seek the life on the hippie bus. The Hippies also sought recreational drugs and the practice continues till date. Marijuana, although illegal is easily accessible and is of especially good quality in the country, especially in the hills. Yoav makes no bones about the fact that a large number of Israelis are in India for the easy access to drugs. "It is a phenomenon that many Israelis were concerned about. People who feel lost get into drugs and then end up losing themselves. Many times, they trek in an intoxicated state in the hills or venture out too far in the sea which leads to unfortunate tragedies. Drug Abuse isn't a secret in Israel, but it was a cause that needed to be addressed, that is why I decided to make this film," Yoav explains.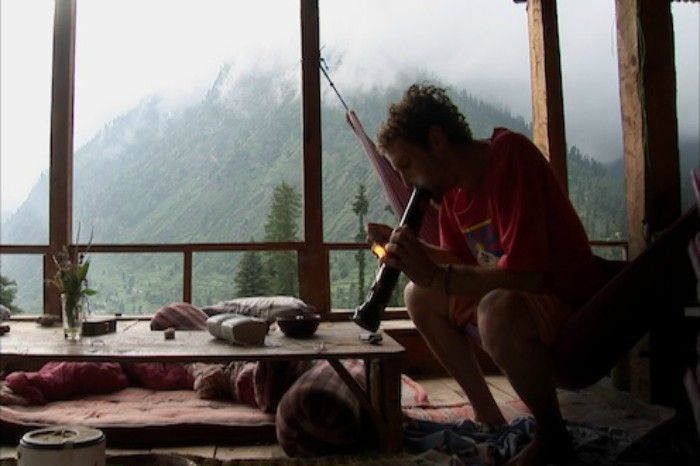 Given the incessant rise in drug abuse among Israeli travellers, the Israel Anti-Drug Authority has set up 'warm houses' in many locations along the Hummus Trail where travellers can seek counselling and also immerse themselves in many other extra-curricular activities such as reading, watching films etc. that might distract them from the drugs. The people associated with the Chabad houses also help the ones on the verge of flipping out. " We try to contact their families and other anti-narcotic agencies who work together with the embassy to help them fly out or seek medical help," says the spokesperson of the Chabad House in Goa. "We are always there for them, no matter what," she adds. When the troops are released from their military service, many NGOs and even government organisations working alert them to the harm caused by irresponsible drug usage.
However, it goes without saying that not all Israeli travellers travel to 'flip out.' 30-year-old Matan came to travel across India after his military service to find an opportunity to be able to pursue his dream of becoming a travel photographer. He insists, "I do know some Israelis that went to India and smoked drugs, but I am sure this is not their main reason to go there. India is amazing for so many reasons and most people go there to travel and not just drugs." Tom Landau, 29, who served as a software engineer in the Israeli Defence Forces and came to India as a 24-year-old agrees with him. "I journeyed across India, Ladakh, Himachal Pradesh, Amritsar, Uttarakhand, Varanasi, Delhi, Rajasthan, Karnataka, Kerala, Tamil Nadu and even went to Nepal. I never consumed any drugs. India's beauty is itself a high," he says.
Even according to Hilik, the trend of drug abuse that was high amongst Israel's drug generation travelling to India has considerably gone down. Although there are no official statistics to confirm this, Hilik says that "A few years ago, we would rehabilitate many Israeli druggies from India. But we receive many more cases of drug abuse from Europe now." While the problem may have gone down, it is far from over and a trip to any of the places on the Hummus trail will confirm that.
"The jew's soul is always searching for something. If he doesn't find it, he will take to drugs or climb the mountains," Danny Winderbaum, a former Israeli soldier who now looks after the Chabad House in Kasol, said 10 years ago in the Flipping Out documentary. In many ways, its sentiment still holds true for many Israeli backpackers frequenting the country.
While Israeli's drug generation keeps flipping out in India and other parts of the world, the joint efforts of Israeli government, rescue operations and religious institution ensures that not all travel stories end sadly, just like Ran, who found himself after being rehabilitated and visited India once again to enjoy its culture and landscape with all his senses intact.
With inputs from the documentary, Flipping Out directed by filmmaker, Yoav Shamir.
Check Out Hilik Magnus's company here.
Feature image used for representational purposes only. Source: Facebook Group GOA 90 - 2000 season. Posted by: Lindsay Kirk
If you enjoyed reading this article, we suggest you read:
Smoking Up On Vintage: Mumbai-Based Artist Uses Collage To Dismantle The Stigma Around Cannabis
Why It's Not Possible To 'Legalise' Medical Marijuana In India