To be alive at the moment is to constantly find yourself surrounded by contradictory notions and reclamations of everything that was once considered sacred by the status quo. Whether it's a conversation about sex and sexuality or the constant tug-of-war when it comes to cultural appropriation, every dialogue has its roots deep into the political madness we see evolving around us. But amidst this confusion is a man, with kohl-smeared eyes and long hair falling over his shoulders, who often spends his days trying to encapsulate the meaning of the complicated times we live in.
Long cotton drapes shrouding the cylindrical human form, anti-fit silhouettes, and predominantly monochrome hues — such is Kallol Datta's aesthetic. It is blunt, intriguing, and beyond the conventions of fashion as we know it. Almost as if an extension to his personality, this 34-year-old designer—or 'clothes-maker', as he prefers being called—does not make your regular runway clothes, which most of us might be familiar with. His work stems from his upbringing in the Middle East, his belonging to his South Asian roots, and an innate curiosity to explore native wear in as many profound ways as possible.
An artist who is known for his anti-fit, genderless conceptual designs, Kallol's work has often been described as an intersection of art and fashion, and while it may seem like he is tightroping between the two, Kallol's portfolio has a very different story to tell. Growing up in the Middle East exposed him to an environment where politics lay at the core of fashion, and his education at NIFT and Central Saint Martins in London (where he studied Womenswear) further provided him with the tools to bring form to his imagination. In 2008, he launched his eponymous label 'Kallol Datta 1955' and has subsequently been a regular at India's Lakme Fashion Week. He also participated in India's first Fashion–Art Residency at KHOJ Studios.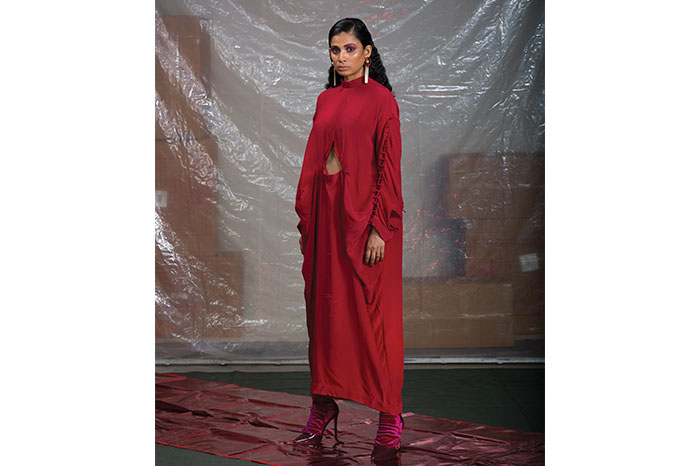 Looking back at a decade's worth of awe-inspiring work, it is not just Kallol's designs that have evolved over time. "When I started making clothes in 2008, I was raging against the system and against variables in our industry. That moved towards storytelling and social commentary. Currently, my work tries to encapsulate the meaning of our times", says the artist. Inspired by the daily instances of perpetrators of bigotry, misogyny, and homophobia being rewarded around him, Kallol's latest collection titled 'Volume 1, 2018' strays from his conventional use of monochrome hues by creating space for reds instead. However, it manages to stay true to his sensibilities by making use of the hijab or chador—something he considers to be not just a political statement but also a feminist action. "It is an acknowledgement of millions of women and men whose wants and needs have been largely ignored by 'fashion'", he tells us.
In an industry that is mostly associated with being extravagant, Kallol has strived to stay away from the bling. Even during his design school years, he avoided surface embellishment and surface texture modules. And his preference of the label "clothes-maker" reinforces the same idea, "The term 'fashion designer' brings in multiple connotations like 'trends', 'seasons', and 'celebrities'. I neither partake nor do I subscribe to any of them," he states.
Kallol's 2017 collection titled 'Low Res' was inspired by the digital age we're currently living in. His understanding of how data is constantly being created, lost, and retrieved is reflected in his application of 3D foil panels and pattern cutting techniques, embedding each garment with elements that do not reveal themselves to the superficial viewer. In 2015, his experimental hijabs left the international community in wonder of how he combined the chador—a cultural symbol—with interesting pattern cutting techniques like garbage bags and foil print.
However, steering away from the existing norms of his industry by making outfits that are essentially concept-oriented often leaves him a little dissatisfied, "There is certainly a loss in translation as my clothes, and the concepts they hold, travel from east to west. That is also because I am not making the kind of garments the West would expect a 'designer' from the Indian subcontinent to produce. Even here, I do not operate the way my industry expects me to operate."
While Kallol's exploration of the relationship between body and fabrics is a manifestation of his preoccupation with native wear across cultures, which he further skews to create template like clothing, it is also his understanding of fashion as a human legacy that pushes him to create stuff that veers away from the mainstream. "What we wear makes us immediate visible markers of cultures – we've learnt so much about past civilizations from their clothing. In fact, it's not just clothes-makers, but everybody who has a political opinion. I find it ludicrous when people say that politics should be kept away from the applied arts. The end consumer may not want to know the genesis of a garment, but to me as a creator, it is important that my product encapsulates my frame of mind", says the Kolkata-based designer.
Because, at the end of the day, Kallol's sole objective is to spark a conversation. Whether it's the lack of gender as a defining element in his designs or his passion for working with the most unexpected materials—unless it's engaging, it's just not good enough, "The interactions – with viewers, buyers and observers of my work is important to me because I don't think we have a dialogue existing in our region about progressive and thought-provoking clothing."
One of the most striking things about Kallol's designs is the inclusivity that seems to emanate from his garments. By virtue of not catering to any one section of the society, he also doesn't exclude anyone. At the same time, he makes bold and provocative statements by employing symbolism that is both local and universal in its approach—something we most definitely need considering the kind of politically-volatile times we live in.
You can follow Kallol Datta's work here.
Feature Image Courtesy: Kallol Datta/Siddhartha Hajra
If you enjoyed this article, we suggest you read:
IKKIVI – A Slow Fashion Platform For Independent Designers In India
'HUEMN Stories' Is A Beautiful Collection Of Personal Journeys, Memories & Diversity
'A Little Fly' Is The Edge The Indian Fashion Industry Needed