In a mechanised world dominated by synthetic alternatives, people are slowly moving towards choosing products that are less toxic to the environment. The idea of ethical and sustainable fashion is slowly growing in the country even though its progress vis-a-vis the rest of the world might seem slow. 'Mrittika' is one such brand pioneering eco-fashion in the country, with the aim of keeping alive the craft of traditional Indian textiles.
Brain-child of friends Vishakha Ruhela and Nandini Misra who crossed paths in Kota, while preparing for their engineering exams, Mrittika came about rather serendipitously. Fate, it seems, had other things in mind for the duo. "We discussed how much we love Indian textiles and how we would like to contribute to the Indian craft sector by doing something that involved the craft community directly. A year later, we converted this dream into reality and formed Mrittika's parent company RuMi Craft LLP", they said. Through Mrittika, they hope to create contemporary pieces with traditional Indian textiles, while working with artisans and handloom workers.
Mrittika's philosophy is reflected in the etymology of its name, which means 'born from the Earth' in Sanskrit. "We believe that there is a certain connection to the earth that human beings have that is evident in their attraction to the rustic and uneven quality of handmade fabrics. Therefore, in a world full of synthetic goods, we hope to remind our customers of their roots through our products," the founders tell us.
Their work links the traditional textile heritage of India with modern utilitarian products and contributes to the revival and promotion of unique crafts. Vishakha and Nandini felt that the high price of sustainable fashion made it difficult for young adults to switch to an eco-friendly wardrobe, which is what made them adopt an approach wherein they could use the country's traditional textiles and handicrafts to give birth to not only greener but affordable fashion as well. The team at Mrittika aims to keep prices from shooting up and to give good quality products to customers simultaneously.
The label also practices zero waste generation through upcycling. It uses disposed and donated left-over garments to make entirely new products, like bags and plastic-free packaging, which become a part of their Prithu collection. They also have a blog which is used to promote awareness about sustainable fashion, biodegradable and organic alternatives to people and engage them in a conversation around it.
Mrittika also closely works with small vendors and rural artisans. In fact, to ensure that they have enough to time to explore every craft, Mrittika works with just one craft cluster annually so as to ensure that the traditional motifs of the craft stay unaltered and the artisans get equal opportunity to contribute to each collection.
Having initiated change at a grassroots level, the founders of Mrittika now want to pursue the movement on a wider scale. They recently became a part of the Cultural Intellectual Property Rights Initiative, which is a worldwide movement supporting the recognition of the rights of craft communities. It aims to combat cultural appropriation and exploitation in the fashion industry with the increasing practice of commercial exploitation of traditional designs without giving credit to the source community or offering any form of economic compensation. It supports cultural sustainability and fashion as a form of education and promotion of cultural heritage.
"We believe in fair pay, transparency and being socially conscious of our actions as young entrepreneurs", the founders of Mrittika tell Homegrown. This reflects in their practice of ensuring that 25% of what they receive for their products is given to the artisans. The brand is also an active member of an online Indian sustainability community called Sustainable Style Speak (SUSS) consisting of shoppers and makers aiming to make more mindful choices.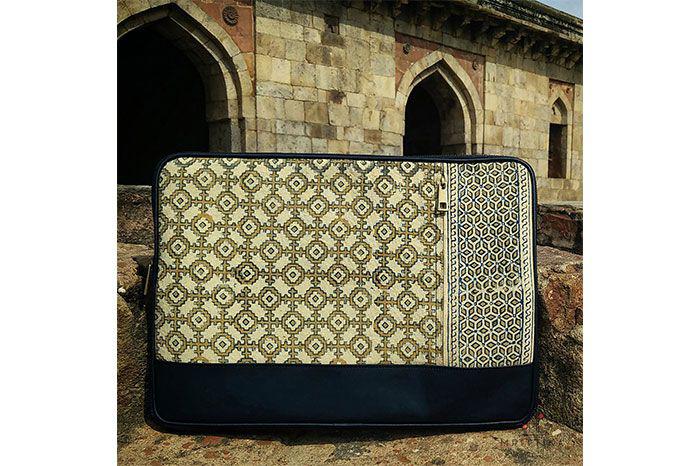 "We plan to completely switch to natural materials as we grow more and have already started using cork leather and will launch that in our next collection", they tell us. Mrittika will be using Chikankari in its next collection and will also be working on more creative ways of upcycling products between every major season. Its founders hope to use social entrepreneurship to build a transparent, socially conscious and sustainable brand, involving customers in its efforts and encouraging them to buy sustainable products and make a difference in the Indian handloom and handcraft textile scenario.
You can buy their products here. They are also available on sites like Wudbox and Etsy (on request). Click here, to know more about the CIPI.

If you liked reading this article, we suggest you read:
This Fashion Label In Nagaland Is Paving The Way For Northeastern Minimalism
These Buttons Are The Simplest Way To Make Your Wardrobe More Sustainable
IKKIVI – A Slow Fashion Platform For Independent Designers In India