Humans may have inhabited Earth for several million years, but nearly three-quarters of this breathtaking planet remain unexplored. There's a whole spectacular world under the waves that we can never really hope to discover in its entirety, but is nonetheless one worth diving into – literally – and protecting at all costs.
In a global political system that's waging a war against the environment, it's our reefs and aquatic ecosystems that are the most vulnerable – and India is certainly no exception. From the gorgeous drop-offs in the Andaman Islands to the lesser-known barrier reefs in India's western seas, it's a transfixing world that is sure to captivate you thoroughly. Not only are there a myriad of amazing sea creatures to be found in our oceans, but also species as rare as the blue whale had been spotted off our coasts for the first time in hundreds of years. But Modi's government and so many before him have repeatedly pushed an agenda of favouring economic progress over ecological conservation; we're destroying our marine ecosystems one fish thali at a time.
While major changes can only take place if the government and industries become accountable and are held responsible, if we all do our part, it can get better. Many young Indian activists have taken incredible initiatives to promote sustainable travel and marine eco-tourism options locally, as well as introduced a broad range of educational programs and resources to enjoy our beautiful world responsibly. Whether you're an adventure junkie-turned-recreational diver enthralled by the big blue or simply a responsible citizen committed to protecting our planet (or preferably, both), we've put together a comprehensive guide on all the great things that India has to offer for the marine lover in you – from the dive spots you should definitely check out to some of the best volunteer programs, courses and resources you should engage with.
Best Dive Spots
I. Barren Island, Andaman Islands
India's only active volcano, Barren Island is a truly one-of-its-kind dive site. Described as a surreal, psychedelic experience of iridescent rock formations and fluorescent aquatic life, you'll see a whole range of tones found nowhere else in the area. It's about 2.5 hours away by boat from Havelock, making it a full-day dive trip. The best dive sites here are Purple Haze and Manta Point.
What you're likely to see: The island is famous for its manta rays, but you're also likely to see pilot whales, big-eyed trevally, fusiliers, barracudas, green turtles, soft purple corals, fans, blue marlins, needle fish, reef fish, staghorn corals and much more.
When to go: February to April
Who to dive with: ScubaLov - a relatively cost-effective diving company, ScubaLov is a small, homegrown company that prides itself on offering a unique dive every time.
Costs: ScubaLov offers a full range of dive packages, beginner/discovery dives as well as certification programmes, starting from ₹5,000 for a single, one-tank dive to around ₹25,000 for a full Open Water or Advanced PADI certificate. Other options include EFR, Rescue and Dive Master Trainings. See their full price list here.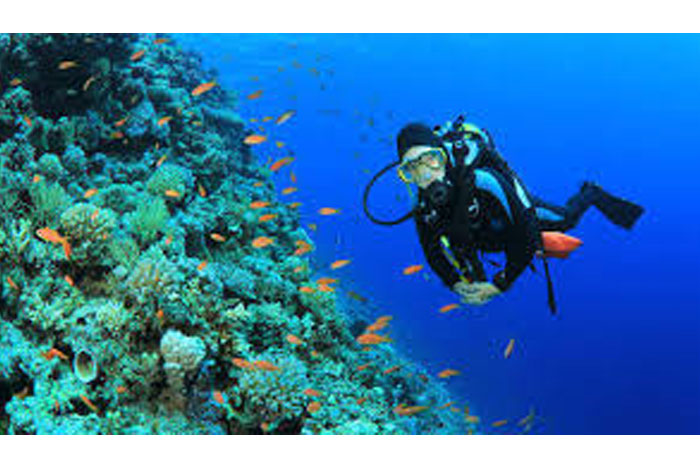 II. Chidiya Tapu, Port Blair
Also on the Andaman Islands, Chidiya Tapu is just south of Port Blair – a 40-minute drive from the airport. Beautiful and secluded, this site features the remnants of an East India Company cargo ship that sank in 1918. The wreck is approximately 75 metres long and 30 metres deep, therefore requiring an Advanced certification.
What you're likely to see: Snappers, Fusiliers, Batfish, Trevallies, Barracudas and the residential Grouper that live in and around the old and corroded ship structure.
When to go: Anytime from October until May
Who to dive with: Lacadives. They are known for their warm and personalised dive experiences with small groups and dedicated instruction. They also have a number of initiatives to minimise their ecological footprint on the reef.
Costs:
Single Dive: ₹3,000
Night Dive: ₹3,500
6 Dive Package: ₹16,500
PADI Open Water Course: ₹25,000
PADI Advanced Open Water Certification: ₹18,000
Wreck Specialty (4 Dives): ₹16,000
Where to stay: There are limited options when it comes to accommodation as Chidiya Tapu is incredibly secluded. For the most part, you'll be underwater or hanging at the dive centre - trust us!
Pro Tip: No matter where you end up staying, make sure you have solid mosquito repellent – you're going to need it.
We recommend Oceanus Resort for its stunning view of the ocean, as it lays perched up on a slight hill about a 15-minute drive from Lacadives center. They offer a variety of affordable accommodation, including breakfast, as well as bikes and cars for hire. Lacadives also has very basic accommodation that is non-AC and on a sharing basis, with all meals included at ₹1,800 a night. This option is a 10-minute walk from the centre and an easy bicycle ride away.
III. Dixon's Pinnacle, Havelock
This site was discovered by a local Andaman instructor named Dixon, and it has three pinnacles forming a triangle on the ocean floor. The pinnacles are covered in hard and soft coral in every hue your imagination can muster. This site is a favourite cleaning station for groupers, and rays have been seen soaring overhead. This is one of the most popular dive sites in Havelock - don't miss this for anything!
When to Go: October to May
Who to Dive with: Barefoot Scuba. They are the only PADI 5 star Instructor Development Dive Centre in the Andaman Islands. For those considering taking their diving to the next level, visit their website for more information on IDC and Dive Master courses.
What you're likely to see: Giant groupers, giant tuna, schools of more than 200 barracuda, trevallies, Napoleon wrasse, coral banded cleaner shrimp, dancing shrimp, moray eels, lionfish, emperor angelfish. There is just constant activity at this dive site with very large schools of fish engulfing your vision at any given moment.
Cost: For 3 days and 2 dives per day, it comes up to around ₹15,250. If you want to get certified, the Open Water Course is ₹24,000 and the Advanced Open Water Course is ₹19,700. For a special night dive, for when you want to be submerged in bioluminescence, it costs ₹3,700.
Where to stay: Since diving is an early sport, we recommend you stay as close to your dive centre as possible. Barefoot Scuba has accommodation at their dive centre. A sea facing AC Cottage at Barefoot costs Rs. 6,500 per night on average, while a regular cottage costs Rs. 4,000. Both these options include a set breakfast.
Backpacker alert: You can stay in a frame hut with a common bathroom for ₹300.
Where to eat: The absolute favourite has got to be the Full Moon Cafe's breakfast. Try the Menemen (Turkish Eggs) and Spinach and cheese omelette! If you're craving pizza, head straight to B3 at the Jetty and you won't be disappointed. Lastly, almost nothing compares to evening tea and samosa in the market and the banoffee shake at Anju Coco.
IV. Kadmat, Lakshadweep
Kadmat Island belongs to the Amindivi subgroup of Islands of the Lakshadweep archipelago. The Island is approximately 10 kilometres in length and less than 500 metres at its widest point. There are a host of dive sites off Kadmat, and we've listed the ones you absolutely shouldn't miss. The Wall, almost one kilometre in length, starts from a shallow shelf at 8 meters and drops in places to 30 meters. You'll find crevices that are home to lionfish and an array of macro life. You may also find eagle rays, devil rays, barracuda and the occasional shark gliding through these waters. Make sure to shaka at the resident turtles while you're down there!
Shark Alley is a great deep dive, usually for more advanced divers as there is a lot of current at this site.
What you're likely to see: Grey reef sharks, white tips, occasional nursing sharks, stingrays, and batfish. Some other sites not to be missed are North Cave, Potato Patch and East Channel.
When to Go: October to May
Who to Dive with: All diving in Lakshadweep is done through the Government Agency: SPORTS.
Where to Stay: Kadmat Island Beach Resort. A double room works out to approximately ₹3,800 per night per person if you stay for the week. A single room would cost about ₹5,400 per night.
V. Pondicherry
The dive sites in Pondicherry range from traditional man-made reefs to rocky outcrops and natural corals. Aravind's Wall is slowly becoming famous for its whale shark and manta ray sightings, as well as a great place for drift dives with visibility as high as 14 metres. The central part of this dive is the "hole" area; Open Water divers can swim along the top of the drop-off area and look down into the abyss, while Advanced divers can actually take the plunge into it.
What you're likely to see: Turtles, dolphins, eagle rays, parrot fish, sea snakes, triggerfish, butterflyfish, bannerfish, torpedo rays
When to go: February - April and September - November are the best months, although the dive centre is open all year round, through every holiday. The waters during these specific months reach up to about 20-30 metres.
Who to dive with: Temple Adventures. They are PADI certified and their trainers speak over 7 languages. This is a great spot for travellers who can't afford to leave the mainland just yet.
Cost: For qualified divers, the cost is ₹5,000 for 2 dives in 1 day. For the Open Water Diver Course (4 dives, 4 days) it is ₹24,500, and the Advanced Open Water Diver Course (5 dives, 2 days) amounts to ₹18,000.
Where to stay: Pondicherry has plenty of options across all budgets. A simple Airbnb search should set you well on your way. If you are still unsure, you can always check out The House of Blue Mangoes, Hotel De L'orient, and Maison Perumal.
Volunteer Programmes And Educational Opportunities
ReefWatch India, one of the country's largest marine-conservation NGOs, has a fantastic and multifaceted approach to addressing climate change on our reefs. From reef regeneration and rehabilitation programmes in the Andamans to creating innovative scientific methods for coral preservation, ReefWatch can always use an extra hand. Beyond their technological efforts, they do several outreach, education and training programs across the country as well as organize events, competitions and marine trips. You don't need to have a marine biologist background to be part of their amazing, passionate team – they welcome people from the fields of "law, media, design, film, finance and pretty much any ocean lover with time to spare." Each position is individually catered to your interests and experience, and volunteering with them is sure to be an impactful and once-in-a-lifetime experience. Find out more about how you can get involved here.
II. Marine Life Of Mumbai (MLOM)
Based out of Mumbai, MLOM is an open-repository for data, research and environmental advocacy to preserve the surprisingly diverse array of marine life off the city's shores. They are a non-profit, entirely volunteer-driven initiative that use a number of on-field approaches and public events to engage diverse audiences. If you are interested in learning more about conservation projects happening in the city, there's a lot you can help them out with, from building up their multimedia projects and organizing their workshops to actively participating in their fieldwork. Find out more here.
III. Andaman Nicobar Environment Team (ANET)
Comprised of volunteers, researchers and eco-divers, ANET links up with local communities, agencies and governments to facilitate a grassroots-approach to understanding the biodiversity in the archipelago. They are an interdisciplinary research centre and an educational facility that studies the impact of local fauna on surrounding communities as well as the underwater habitats. They offer many volunteer and internship programmes on a project-by-project basis, so the work here is far more focused and resource-effective. You can also write to them directly to get involved beyond their fieldwork; check regularly for updates here.
Pro-Tip: While diving and volunteering at dive centres are an absolutely amazing opportunity, we understand that it's an expensive passion that can break the bank. If you want to become a certified diver and learn more about marine life, most dive centers offer work-stay opportunities where you work for them in exchange for getting dives on your log book – all you need is some time to spare. Dive companies like Lacadives, Eco Diver, Barefoot Scuba and ScubaLov are known for their close-knit ties, amicable nature and passion for their communities, so don't hesitate to reach out to any of them and ask for a way around the massive costs.
And remember, you could also sign up for all their newsletters and catalogs for fresh information and motivation!
Must-Watch Films and Documentaries
If you are mesmerized by the world down under but hesitant or unable to suit up with a heavy oxygen tank and actually take the plunge – don't worry, there's a lot you can do from where you are. Here's a list of documentaries, books and online initiatives that will immerse you just as well.
I. Blue Planet
Narrated by the legendary David Attenborough for BBC Earth, the Blue Planet series is widely popular for very good reasons. It shows you with full force the immense beauty of the aquatic world – a fight between a shark and an octopus, bottlenose dolphins introducing their young calves to underwater skincare, vibrant coral reefs spanning thousands of feet – you should definitely not give this one a miss.
II. A Plastic Ocean
Shot over 4 years in more than 20 locations, researchers Craig Leeson and Tanya Streeter explore the causes and consequences of plastic pollution in the water across the world, and how we can actually change the impact we have on these ecological processes by changing our consumption patterns and behaviour. Not only is this a comprehensive, engaging and important documentary, it is also accompanied by a number of social entrepreneurship projects that are worth supporting.
III. Indian Ocean With Simon Reeve
Join Simon Reeve as he explores remote, dangerous and untouched spots across the Indian Ocean, from Sri Lanka to Seychelles. These short episodes synthesise current events, global trends and marine life into bite-sized information that will get you up-to-date on the oceans around us.
Special Netflix mentions: Chasing Coral and Mission Blue
Great Books Worth Reading
I. The World Is Blue by Sylvia Earle
Aside from her Netflix documentary, Sylvia Earle's book is a product of National Geographic's ambitious 5-year ocean initiative that focused on overfishing. Through compelling personal stories and sharp analyses, she puts the current and future peril of the ocean into perspective.
II. Field Guide To The Marine Life Of India By Deepak Apte
A comprehensive guide to the six-year-long work of a scientist in the Lakshadweep Islands, this book is an informative read for young Indians discovering the joys and threats to our oceans. His love for marine life shows through in his expansive career and in the humble passion with which he writes: "from cryptic to most obvious; from tiny to giants; from palatable to most toxic; from shallow to deep water, these creatures provide an insight into a remarkable evolutionary journey."
III. DIVE India's Underwater Photography Blog
If you are a photographer, visual learner or someone interested in taking your passion for the marine world still further: we recommend this quick blog that gives you the low-down on how to be a great first-time underwater photographer, from what equipment you need, how to use and take care of it and some pro-tips for the best results.
We have only this one planet to live in – explore and enjoy it responsibly!

Feature Image Credit: Sumer Verma
If you enjoyed reading this, we suggest you read:
Meet The Indian Woman Building A Unique Marine Learning Lab In The Andaman Sea
"Who Cares About The Ocean When There's Seafood On Your Plate, Right?"
An Underwater Photographer Shares His Deep Love For India's Oceans